Associated Skin Care Professionals is the ONLY all-inclusive source for
Professional Liability Insurance • Education • Community • Career Support
For estheticians at every stage of the journey who are passionate about skin care, ASCP is your essential partner.
Get the Support You Need
Membership Benefits
In The Know
ASCP Skin Deep magazine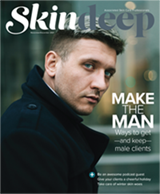 Did you know that as of 2020, men are outspending women by $10/month on salon and spa services, according to Mindbody? Learn all about how to market to, attract, and keep your male clients in our new issue of ASCP Skin Deep magazine.
ASCP Esty Talk Podcast
Whoopsie Doozie: Waxidents
Specifically created for estheticians, the ASCP Esty Talk podcast covers all the topics you can't get enough of. Join Maggie and Ella as they chat with waxing pro Belinda Swanson to reminisce about a few waxidents they've experienced and how they remedied the situations.
ASCP Esty's Guide Back to Practice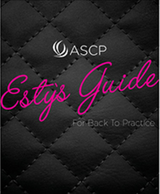 From preparing your space for the return to practice to detailed sanitation protocols, this Back-to-Practice resource provides clear and specific guidelines for when you are ready to return to work.