ASCP Membership for Spas & Esthetician Businesses
If you have 5 or more employees who are members of ASCP (or our sister associations for massage therapists, hairstylists, and nail professionals), they'll each save on membership. ASCP membership gives your employees their own individual insurance policies, protecting them if they are personally named in a lawsuit.
Our Affinity Partner program is free to join, and you'll also get access to 50+ exclusive ASCP discounts, plus the ability to view and manage your employee roster, get invites to webinars, utilize ASCP client-education materials, and more!
ASCP Esty's Guide Back to Practice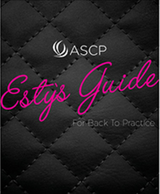 From preparing your space for the return to practice to detailed sanitation protocols, this Back-to-Practice resource provides clear and specific guidelines for when you are ready to return to work.