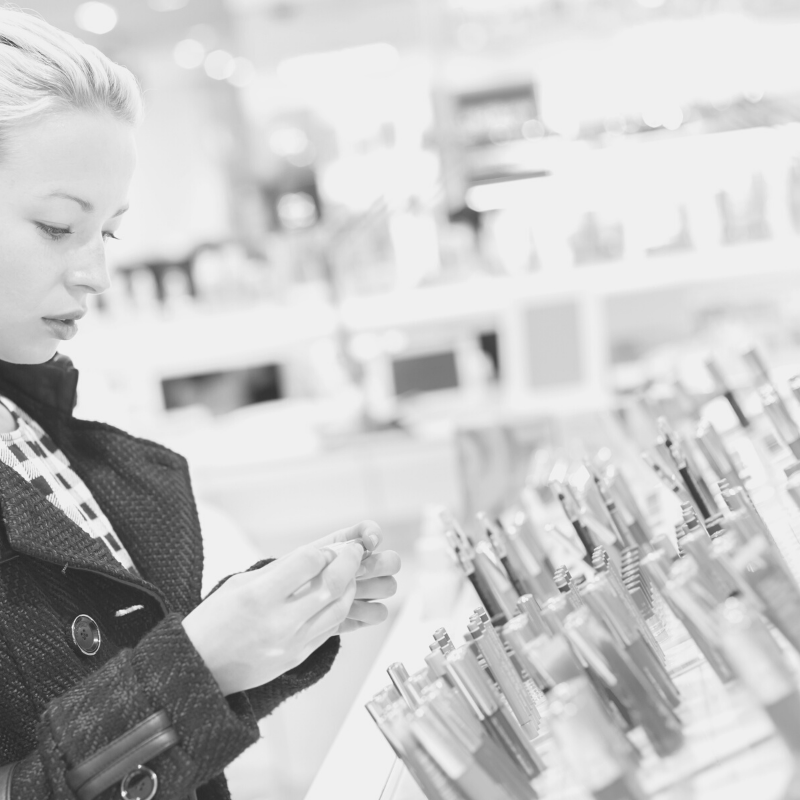 Big box beauty stores have been a mesmerizing, tantalizing, hypnotizing, wonderworld full of makeup and all things pretty! Though they carry many types of products, they have never really been known for specializing in hair care or skin care. But with the rise in consumer awareness of skin health, the skin care sections of big box beauty stores have grown! Join Maggie and Ella as they discuss these mega-stores, what some of the brands are doing right, and what both the professional and consumer need to know.
ASCP Esty Talk with Maggie Staszcuk and Ella Cressman
Produced by Associated Skin Care Professionals (ASCP) for licensed estheticians, ASCP Esty Talk is a weekly podcast hosted by Maggie Staszcuk and Ella Cressman. We see your passion, innovation, and hard work and are here to support you by providing a platform for networking, advocacy, camaraderie, and education. We aim to inspire you to ask the right questions, find your motivation, and give you the courage to have the professional skin care career you desire.
About Ella Cressman:
Ella Cressman is a licensed esthetician, certified organic formulator, business owner, and absolute ingredient junkie! As an educator, she enjoys empowering other estheticians and industry professionals to understand skin care from an ingredient standpoint rather than a product-specific view.
She has spent many hours researching ingredients, understanding how and where they are sourced, as well as phytochemistry, histological access, and complementary compounds for intentional skin benefits. In addition to running a skin care practice, Cressman founded a comprehensive consulting group, the HHP Collective, and has consulted for several skin care lines, including several successful CBD brands.
Connect with Ella Cressman:
Website: www.ellacress.com
Website: www.hhpcollective.com
About Maggie Staszcuk:
Maggie has been a licensed esthetician since 2006 and holds a bachelor's degree in business administration from Stephens College. She has worked in the spa and med-spa industry and served as an esthetics instructor and a director of education for one of the largest schools in Colorado before coming to ASCP as the Advanced Modality Specialist and Cosmetology Education Manager.
Connect with Maggie Staszcuk:
P 800.789.0411 EXT 1636
E MStaszcuk@ascpskincare.com or AMI@ascpskincare.com
About Associated Skin Care Professionals (ASCP):
Associated Skin Care Professionals (ASCP) is the nation's largest association for skin care professionals and your ONLY all-inclusive source for professional liability insurance, education, community, and career support. For estheticians at every stage of the journey, ASCP is your essential partner. Get in touch with us today if you have any questions or would like to join and become an ASCP member.
Connect with ASCP:
Website: www.ascpskincare.com
Email: getconnected@ascpskincare.com
Phone: 800-789-0411
Facebook: www.facebook.com/ASCPskincare
Instagram: www.instagram.com/ascpskincare
About our Sponsors:
About Elleebana:
Elleebana continues to push the treatment evolution envelope and influence the global market. Company director Otto Mitter is a qualified Cosmetic Chemist of the Institute of Personal Care Science and an award-winning global educator and lash brow educator. Highly passionate about product ingredients, research and development, and ongoing education, Otto is the innovator for the world famous Elleebana One Shot Lash Lift system, Elleeplex ReGEN, and Elleebana Brow Henna, as well as co-producer of the Belmacil Lash & Brow Tinting System. Otto continues to expand the boundaries of product development within the world of beauty and in collaboration with other world leaders in the industry.
Connect with Elleebana:
Website: https://elleebana-usa.com
Facebook: https://www.facebook.com/elleebanausa
Instagram: https://www.instagram.com/elleebanausa
0:00:00.9 Speaker 1: You are listening to ASCP Esty Talk. Where we share insider tips, industry resources and education for estheticians at every stage of the journey. Let's talk 'cause ASCP knows it's all about you.
0:00:16.3 Ella Cressman: Hello and welcome to ASCP Esty Talk. I am Ella Cressman, a licensed esthetician, certified organic skincare formulator and content contributor for Associated skincare professionals.
0:00:27.1 Maggie Staszcuk: I am Maggie Staszcuk, licensed esthetician and ASCP's cosmetology education manager.
0:00:32.4 S1: And welcome back, Tracy.
0:00:35.0 Tracy Donley: Hi guys. If you don't know me, my name is Tracy Donnelley and I'm the executive director of ASCP. And this is a great opportunity for me to say, we're all out there now on the road. I'm out there all the time at all the trade shows, speaking and doing classes. So if you are at any of the shows out there that serve our industry, the professional esthetician, licensed esthetician. Please track me down. Come say hi. Come to my class or even tell me what you hate. I'll take that too. I need friends [chuckle]
0:01:12.0 EC: Don't we have a big party coming up?
0:01:13.3 TD: Oh, we have a big party coming up. This is the biggest one. And if you like to meet super cool people. No, I'm not just talking about the three of us. I see the look you guys are giving. No, we will be having our ST of the year will be announced. There will be influencers, ASCP's influencers. So that's the big Mac daddies, all those Instagram heavy duty people and best of all, readers choice awards. So it'll be music, fun and free drinks at a big club in Las Vegas. So that's... I believe it's the June 25th, 26th, right around there. So look up, go to IECSC, Las Vegas and watch for stuff coming out from ASCP 'cause we are promoting it like a crazy.
0:02:03.9 EC: But maybe not all things that happen in Vegas [laughter], should stay. So you'll be able to bring home a ton of education.
0:02:11.4 TD: Oh! I see how you did that. That's cute. Very cute, Ella. Cute. Okay.
0:02:15.6 EC: So you guys, I have something really exciting to talk about today and I need some help. And can you guys help me?
0:02:23.0 TD: I'm here.
0:02:23.7 EC: Okay. So some things have been happening lately. About... Maybe the last about year. As you know, when we're doing consultations, I'm very thorough. And so one of the things that I do is I have them bring all the products that they have, anything that touches your face. So that's makeup, that's brushes, that's all the skincare they've been using and we go through it. So something that I pride myself on is, I usually take an ingredient standpoint to use this as an opportunity to explain what might be working for them, what might be working against them and opportunities for getting them to the goals they need to go to. But what I've noticed lately is a certain brand has been a part of these routines and this brand specifically.
0:03:07.3 TD: So they're bringing it in... The brunch? Okay.
0:03:08.4 EC: They're bringing it in. And usually this is how it usually happens. Like [chuckle] that's cute. You write all this over the counter stuff or this masked beauty stuff. Okay, cool. So this is gonna be super easy. I usually turn over the ingredient deck. I usually point out why this isn't supreme or why this might be inferior or why this might be okay. So there's one product that comes in continually. It's very simple and not a lot of ingredients, but in looking at the inky deck, I'm like, "Wow, this is actually pretty good." So I decide,"that's not too bad. And let's move on to things that are... "
0:03:43.6 TD: Are you gonna tell us what product that is?
0:03:46.8 EC: No.
0:03:46.8 TD: Oh! Kill me.
[chuckle]
0:03:48.6 EC: So, fast forward to, I need mascara. And one of my favorite things in the world is going into a Big Box beauty store.
[laughter]
0:03:56.4 EC: 'Cause I feel it's the most magical place.
0:04:00.2 TD: Its so counterintuitive for you to say that, but I love it.
0:04:03.2 S1: Oh, I love it. But anyways, Big Box beauty stores to me have been mesmerizing, tantalizing, hypnotizing, wonderful, full of makeup and all things pretty. And though they have had many different types of products in them, I have never really known them or considered them to be specializing in hair care or skincare. But what I noticed this last time, when I went in for my mascara, that there is more skincare than ever before. And there's a section devoted to ingredient based skincare.
0:04:38.6 TD: What?
0:04:40.3 EC: And I took notice of this product that I had kept seeing coming into the shop and it was right there and I went to check it out. And this product was, when I say reasonably priced I'm like, this is... Should be unreasonable.
0:04:51.9 EC: [laughter] It should be unreasonable. It's unreasonably priced.
0:04:56.3 EC: Yeah. I'm like, "No, this doesn't make any sense to me." And I see that their packaging is doing a lot of the right things. I see simplicity, but cohesiveness. And so I bought a product to try it out.
0:05:09.1 TD: Oh boy.
0:05:09.4 EC: Because it was unreasonably affordable [laughter] Or it was very reasonably priced.
0:05:13.9 TD: Like it was lunch money.
0:05:15.8 EC: But I have to say that with... In my opinion, with the rise in consumer awareness, we've all seen the commercials where we're talking about different brands using ingredient-based things like hyaluronic acid or niacinamide or the different ingredient things. Ingredient focuses have come out that consumer awareness of skin health that makes sense that skin care section has grown at these big box beauties places. So what does that mean for us. What do you think?
0:05:45.5 MS: Well, I think that the lines are blurred between professional and over-the-counter products. And I think our consumers or our clients coming through the door are way more educated than they used to be.
0:05:56.8 TD: That scares me you guys, just to think... It scares me for you guys a little bit. What is the plan then? How do you address it? What do you say when you see that product?
0:06:08.3 EC: Well, I think fear is a natural initial emotion and I think... I kind of felt that too. I felt threatened.
0:06:15.6 TD: Yeah. Threatened it's perfect. Yeah.
0:06:16.7 EC: I had a WTH moment.
[laughter]
0:06:21.2 EC: What the heck. What the heck is this? I felt like, what is going on?
0:06:24.5 TD: Wait, wait, wait, I'm turned upside down, that kind of feeling.
0:06:27.3 EC: Yeah, this goes against everything I've been preaching for the last 10, 15 years of the superiority, the class system, if you will of products, like the efficacy of products and other things. So, let's talk about products and what we have. We have basically three different categories, if you will. We have mass beauty, prestige beauty and professional beauty. So in mass beauty, we have brands like L'Oreal, Aveeno, Say Yes To, Maybelline, The Ordinary, these are over-the-counter OTC brands. And then in prestige beauty, we have products that you traditionally saw like a Neiman Marcus or a Nordstrom, and these would be MAC, Yves Saint Laurent, Lancome, Tarte Tape Face, and then even now, like e-commerce, Kylie Beauty [chuckle]
[overlapping conversation]
0:07:13.9 TD: Oh yeah, that's gotta be a new... Yeah, that's a new subset.
0:07:17.5 EC: Shiseido's one, and another one that I feel like I grew up with, because I watched my mom apply was Clinique.
0:07:25.5 TD: Oh my gosh.
0:07:26.0 EC: I remember going with her to the counter and sliding, there was like four little sliders, and that's how we found the dramatically different lotion and...
0:07:33.3 TD: That is so nostalgic for me, can I just say it, I mean, literally that was the first time in my life that I did a system, 'cause otherwise it was like, Oh, I got some Bonne Bell this and a little bit of Clearasil that...
0:07:47.7 EC: Stridex.
0:07:48.7 TD: Yeah, Stridex or Naxima whatever.
0:07:50.9 EC: Naxima.
0:07:51.7 TD: That stuff was like multi-use.
0:07:53.4 EC: I think that the companies who started this idea if you have to have a system it's gonna be Avon and Mary Kay...
0:08:00.6 TD: Ohh yes, let's not forget them, let us not forget those.
0:08:04.3 EC: Where would that classify? Over the counter, but...
0:08:06.7 TD: E-commerce.
[chuckle]
0:08:09.2 EC: Yeah, I don't know.
0:08:11.0 TD: That was before e-commerce.
0:08:11.0 MS: Triangle beauty, like pyramid.
[laughter]
0:08:13.8 TD: Yeah, I think it's a pyramid beauty, 'cause I don't think you can buy it ever, unless your neighbor came over and sold it to you right?
0:08:19.3 EC: Yeah, well these are made sense, there was definitely previously a delineation. We have these over the counter, and whether their business model was to have an upline or a downline, [chuckle] or some slidey things at the mall counters, or the gift with purchases.
0:08:34.0 TD: Ohh I love those.
0:08:34.8 EC: I do too. I'm a sucker, in fact I asked her, when I bought my mascara, I'm like, "How do I get that bag?"
0:08:39.4 TD: Well you can buy this too with lipstick.
0:08:42.0 EC: It was a Clinique.
0:08:42.0 MS: I think it's important to note too that L'Oreal mentioned being part of Mass beauty. But they also own professional beauty lines.
0:08:51.0 TD: So many that I mean... They are behind all of it.
0:08:53.3 MS: And they're not the only ones. You know like, Johnson and Johnson, for instance.
0:08:58.2 EC: Unilever.
0:09:00.7 MS: Yeah, Unilever totally.
0:09:01.3 EC: Unilever infact owns...
0:09:04.7 TD: Dermalogica.
0:09:06.1 EC: A majority portion of a well known professional brand.
0:09:08.2 TD: And Elizabeth Arden, I believe does too.
0:09:11.2 EC: So, that could be why previously there was a delineation online in the stand between over the counter and professional beauty like those recommended and sold by professionals. And now that ideology that we had before of professional, and we're gonna teach you about ingredients, and how they work with the skin is now being transferred to what we see in the magazines, if you're still reading magazines...
0:09:35.2 TD: Okay, I am. I love them.
0:09:36.8 EC: Same. I love them. I save them like harder, or on commercials that I skim passed [chuckle] when I'm fast forwarding through.
0:09:45.2 TD: You just see the one where in, Retinol.
0:09:46.4 EC: Retinol, niacinamide, like I said, or there's all kinds of different... It seems that they're all ingredient-focused and that...
0:09:53.1 TD: They are.
0:09:53.6 EC: I saw that coming. And then when I went to Big-Box Beauty store a.k.a 'Magic Land end of the rainbow,' that I saw this whole section dedicated to that, and I'm like, oh no.
0:10:05.1 TD: You know what's really weird too, that just dawned on me, it's like, I think all the products are so focused on ingredients like what you're saying, 'cause remember back when Estee Lauder or what have you, they wouldn't call something like, Oh, this is your new high Ralonic, blah, blah, blah, or What have you... They'd be like, "Oh, this is your sweet love mist or your night cream," or they just had those kind of names for it.
0:10:29.7 EC: They use words like luxury and an indulgent instead of function, and that's where we are now. Is We're into functional skin care, in my opinion.
0:10:40.3 TD: Yeah.
0:10:41.1 MS: That's an interesting perspective.
0:10:42.8 EC: Yeah. I think so, 'cause it's about restoring and we see that with these over-the-counter brands.
0:10:48.9 TD: I think it's also about putting the power... It's empowering the end user. I think that's why they're doing it. They must have studies out there... I know, I feel like that. It's that you want to feel empowered to make the choices, you want to feel empowered to know and understand, even if it's a recommendation that, yes, this is right for me, whereas before, it would just be like, put the yellow lotion on your face, from Clinique.
0:11:17.1 EC: Put the lotion in the basket, and it doesn't ask questions.
[overlapping conversation]
0:11:22.9 TD: But there was only one Clinique lotion, there was just the yellow one.
0:11:27.1 EC: And it was Dramatically Different.
[chuckle]
0:11:29.1 TD: It was Dramatically Different.
0:11:30.8 EC: Or there's the $400 one from, was it Shiseido that had one?
0:11:35.0 TD: It wasn't really that fancy.
0:11:37.4 MS: Hey guys stop. Let's take a quick break.
0:11:39.9 S?: Elleebana, Australian born globally loved Elleebana's story is simple. They love lashes and brows, they shoot for the stars and lift lashes to new heights. Their addiction is real, their passion is popping, and there is nothing more they crave then offering excellence, service and innovation in products. Elleebana lash lift allows you to offer your customers luscious lifted lashes that can last up to 12 weeks in one save 20 minute treatment. Learn more at Elleebana-usa.com.
0:12:17.9 TD: Let's get back to the conversation...
0:12:21.4 EC: So it makes sense that that would be something that happened. And then now that we have partnering with these big box beauty stores with Alton and Target, for example, or Sephora that is now at Kohl's and even JC Penney.
0:12:33.5 TD: Yeah.
0:12:35.7 EC: That what's happening now is that we have even more access and easier access as consumers to these things that seemed far away, like prestige beauty. You had to go to a department store and now you can pick up some carrots, get some socks, pick up a MAC lipstick and be out the door, right.
0:12:55.1 MS: Do you think that social media has anything to do with this too? Because we talked about Kylie Beauty, for instance, a huge influencer, and she is sold online, and isn't she out like Sephora too? You can go to Kohl's, get your Kylie Jenner product, flash your selfie, and let everybody know that you're as cool as Kylie, all in one fell swoop.
0:13:15.8 TD: Yeah, I think one thing that some of the brands are kind of doing out there is that they're limiting some of the access, like that instant access at Sephora, for instance. You have to get it online if it's a brand new lip kit for Kylie. You can't get it if you want to be number one.
0:13:33.9 MS: Limited edition.
0:13:34.6 TD: Limited editions, and you...
0:13:35.7 MS: Limited release.
0:13:36.5 TD: Right. Yeah, yeah, but if you want standards, you can be standard and just go and get a lip kit.
0:13:42.3 EC: Okay, so I have Kylie eye shadow.
0:13:44.3 TD: Oh, I didn't even know she...
0:13:45.4 EC: For that reason that you're talking about, [laughter] I wanna pretend like I'm not influenced by these things, but I am.
0:13:51.6 TD: I don't even know if I've seen you wear eye shadow. Oh, you do have it on today. [laughter]
0:13:55.9 EC: Yeah. Every day.
0:13:58.3 TD: Duh.
0:13:58.9 EC: But I have this Kylie eyeshadow now and I also have Two Faced, and I also have all of the main brands and the limited releases that they come out that is only this one, and MAC has this one, and I'm a sucker for that. But one time somebody stayed at my house and I couldn't find my Kylie eye shadow, this certain colour.
0:14:15.4 TD: Did you think they kept it? Did they steal it?
0:14:18.0 EC: Yes, I did.
0:14:18.6 TD: Stop it.
0:14:19.0 EC: I did. I swear to God, I did, and I was so disappointed.
0:14:23.0 TD: Oh my god.
0:14:25.1 EC: So I went and bought a new one, and then about a month later, I found it. And so now I have two.
0:14:30.6 TD: Oh, I'm disappointed in you. [laughter]
0:14:34.1 EC: I can see that. I can see that.
0:14:34.9 MS: The worst slumber parties I'll ever...
0:14:37.7 TD: Yeah, so actually I just let her check my bag on entrance and exit.
0:14:40.8 EC: Now, it's locked up in my bathroom, which is not accessible to the public. I bought that and some Dusty Rose lipstick. [laughter]
0:14:49.3 TD: 'Cause no one can ever have enough tubes of Dusty Rose.
0:14:53.5 EC: Yes. 1999 and 2000 tubes.
0:14:56.5 TD: I don't even... I can't believe that you're not talking about Silver City Pink. I wore that for three years. Revlon, Silver City Pink, extra frosty. Oh, wow.
0:15:06.2 EC: Now those days are over. [laughter] Was that like with Pamela Anderson eyebrows days.
0:15:11.9 TD: Yeah, you mean those non-existent eyebrows that...
0:15:15.0 EC: Yeah.
0:15:15.5 TD: No, I don't think that... ____.
0:15:18.3 EC: I'm a little older than you.
0:15:23.5 TD: It isn't really fair.
0:15:26.8 EC: Back to understanding make-up right?
0:15:27.3 TD: Yes.
0:15:27.4 EC: Makeup. No problem, I'll do that. I'll admit all the things, and if I'm sending my clients... 'Cause they ask me what brands are good and I do, I go to the stores and things I thought were good, I'll check them again and make sure. I don't know. I can pull out my Skin Pro and look up the ingredients, but often times...
0:15:44.8 TD: Yeah, pull out that ASCP Skin Pro.
0:15:46.7 EC: But that's how I find...
0:15:47.4 TD: Right in the store.
0:15:48.4 EC: That's how I find brands to refer my clients to 'cause I don't carry make up. It doesn't make sense for me to hold inventory personally. I tried it. I tried it, but it just didn't make sense, so I refer there. But now am I referring? Am I teaching them about ingredients, referring them to these stores? And then they're gonna see these brands and what happens to me? [laughter] They're scared.
0:16:11.3 TD: They're gonna, "Oh, what's that sparkly brand over there? Oh, and it's such a good deal."
0:16:16.5 EC: I'm gonna get this lip gloss she said. I'm gonna get this Dusty Rose lip gloss she said. I'm gonna get this foundation that she said.
0:16:23.8 TD: So maybe you should start...
0:16:24.4 EC: Oh, she said something about this ingredient. Should I pick this up?
0:16:27.1 TD: I know.
0:16:28.1 EC: But are all of these brands so bad? What are they doing right? The thing that they're doing right is that some of them are keeping it simple, some of them are being honest, and some of them are...
0:16:37.7 TD: I think there's a brand called Honest.
0:16:39.9 EC: Yeah, at Whole Foods.
0:16:41.0 TD: Yeah, Jessica Albas.
0:16:43.0 EC: And some of them are well-intended.
0:16:48.5 MS: I think a lot of the brands that we mentioned earlier are very specifically make-up, and some of them maybe do make-up and they do skin care, and some are just skin care. I think that when we're talking about make-up, it is all over-the-counter mass beauty or it is prestige beauty. When it comes to professional beauty, and maybe I'm wrong, but I don't know that for the aesthetician necessarily, unless they are a big spa, it doesn't make sense to carry that retail and maybe you are just referring your client to the big box beauty store to get the make-up they need.
0:17:25.2 TD: I know but what Ella said though, that's real. Every time I go to Target for roll of toilet paper, I walk out $400 later. That's real. It's like, I'm gonna get that mascara that Ella recommended.
0:17:39.4 MS: For make-up.
0:17:40.2 TD: Right, but then I'm going to see the skin care brand out here, and I'm gonna go, "Well, it's so cheap, I'll just get it." And so then that goes into the pile that I bring to Ella, that where it's like, "Okay, look at all this." But I'm just saying there is some kind of slippery slope there. I don't think that... And I think that all aestheticians should be prepared for that. I'm not saying start carrying make-up just so you don't send them anywhere, but I'm saying, what's the story? What are we saying?
0:18:09.6 MS: I think that it's a combination of things. One, to some degree the aesthetician has to embrace this blurred line. And then two, like we say in every podcast, it's educating the client. Yeah, there are over-the-counter products that are doing it right, but when you compare to a professional line, how far does that over-the-counter product stretch in comparison to your price point? In my opinion, your professional line is more concentrated, more active, and when you're comparing price per price, yes, it's more expensive, but when you look at how long your professional line is going to last you, you're probably saving money purchasing from your aesthetician.
0:18:52.8 TD: And that actually does go into another aspect, it might be a whole nother podcast but, the amount that you're using, right? Literally the quantity that you put on your face.
0:19:04.7 MS: Yeah. Though The one line that we did not mention is Oil of Olay, and Oil of Olay puts all of their money into research and into marketing. But if you look at the product itself, yeah it has a lot of actives, but it's at the bottom of the ingredient deck, it's like 1%. So it may be the same product that you're purchasing from your aesthetician, in terms of active ingredients. But it is not the same product when you're talking about its ability to make change in your skin.
0:19:31.5 TD: So you'd have to dump the bottle on your skin, and hopefully bathe in it, to get as much as in a professional product, is that what we're saying?
0:19:40.4 EC: I think that there are some brands. I think we need to go to these stores, I think you need to not shy away from... You need to not scoff at them when you're walking by 'em at a Target, you need to pick it up and need to look at it. Because I think there are some brands that are doing it right. But those still require professional guidance, and that's one point. The other point is that's one ingredient, one product... And that goes back to the system mindset that Maggie was talking about, and that you talked about too Tracy. And that is the thing, is that, skin care is a system, it's a partnership between what they're doing at home, what you're doing as a professional. And so the professional is the overseer of all of that. And it's a partnership of you and the client together. And so at some point, we should talk about weaning up, or leveling up, so they might be able to afford the Ford Focus, hyaluronic acid serum at this point, great, at least they have a hyaluronic acid serum. Now let's get you on a higher quality retinol product or a higher quality peptide product, let's use that money to get this peptide product, and then when we can, we're gonna upgrade you to the Cadillac of hyaluronic acids, and that's the one I carry.
0:20:48.2 TD: Okay, so I'm liking this. So I'm hearing, "Yes." you're telling everyone who's listening to this, here is your assignment, go out there, get familiar, don't wear blinders, know what these other products are.
0:21:00.9 EC: Yes. You, get your skin Pro app, head on out, check it out. Figure it out. Take some pH strips, I bought pH strips too, and not all products will register that. But to be able to talk to that, not just flicking your nose at all of these. Really looking and saying, there are brands that are doing it right and that's okay. And it doesn't have to be competition, it could be complementation and how you incorporate it into what you can provide and what they cannot provide.
0:21:25.7 TD: And then maybe that leaves room for being able to afford a more professional, higher grade product that's over here. And maybe you're getting a less expensive, reasonable, decent product for inexpensive, 'cause it's a cleanser. You know?
0:21:41.9 EC: A cleanser, or any other thing that will free it up and level up, and that is a commitment. What you're doing when you say that is, "We're in this for a while."
0:21:50.9 TD: And together.
0:21:51.8 EC: Together for a while. So you've already at that point booked four appointments out.
0:21:56.1 TD: Okay, I feel better.
0:21:57.1 EC: 'Cause you're saying weaning on to that, and that's what made me feel better when I was like, "Oh, my gosh." [chuckle] when I left I had to reconcile... I actually called Maggie.
[laughter]
0:22:06.2 EC: I'm like, "Oh, my gosh, Maggie... "
0:22:06.5 TD: Maggie, I am in my car right now having a breakdown.
0:22:11.0 EC: "We gotta think about this." it's gonna happen, because I bought a product and I took it home, and I liked it.
0:22:16.0 TD: I hate that I love it so much.
0:22:16.5 EC: I liked it a lot, I did not wanna like it, but I'm like, "Okay, how can I incorporate this with somebody? Where would this go?" And so that's my advice.
0:22:25.1 TD: Okay, I like it.
0:22:26.4 EC: And the same for consumers who are listening in, is that you need to understand that just going willy nilly, if you will, into the store and picking out all these product does not mean that it's gonna turn out great.
0:22:36.1 TD: Well, they're not working together. They're not a team.
0:22:37.8 EC: You still need the advice of the professional. Team Yey Healthy Skits.
0:22:42.8 TD: Team Yay Healthy Skin. That's our next T-shirt, make a note, Team Yay Healthy Skin.
0:22:48.5 EC: And on that note, listeners, we really wanna hear from you, what are your thoughts on big box beauty and their role in skin care? As a professional, how do you address these products in a professional setting? Let us know by reaching out on our social media platforms, especially Instagram and Facebook, or by emailing getconnected@ascp.com. We wanna know all the details. In the meantime, thank you for listening to ASCP Esty Talk. For more information on this episode or for ways to connect with Maggie or myself, or to learn more about ASCP. Check out the show notes. And stay tuned for the next episode of ASCP Esty Talk.
[music]
0:23:25.5 S1: Thanks for joining us today. If you like what you hear and you want more, subscribe. If you wanna belong to the only, all inclusive, association for aestheticians that includes professional liability insurance, education, industry insights, and an opportunity to spotlight your sick skills. Join at acpskincare.com, only 259 per year for all this goodness. ASCP knows. It's all about you.
[music]Page Break