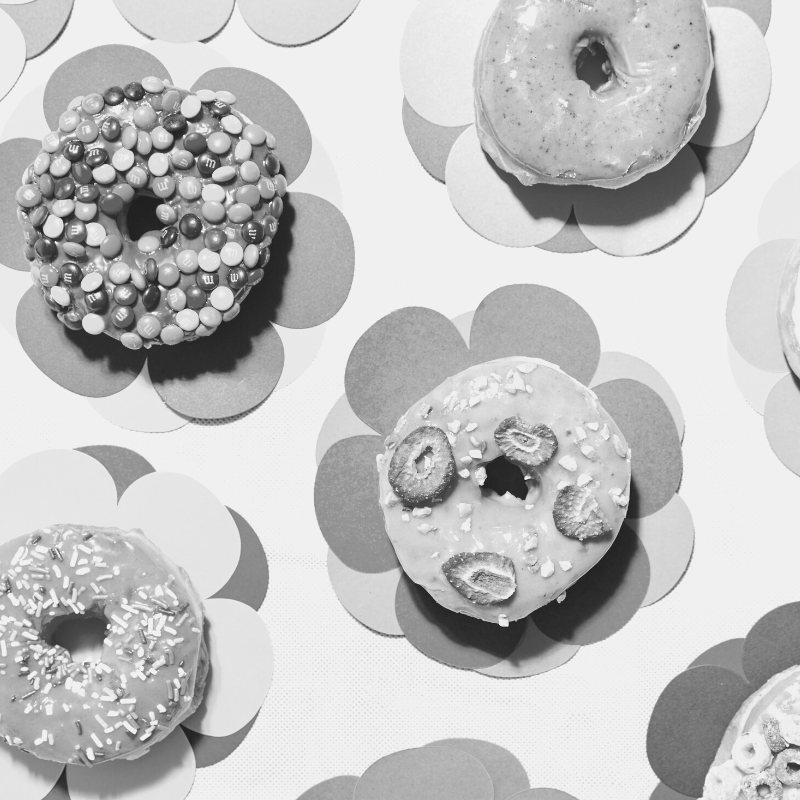 Food is the hottest thing to hit beauty this season, and if your makeup palette smells and looks like your favorite breakfast cereal or a sweet doughnut, you're on trend. In this episode of ASCP Esty Talk, Maggie and Ella discuss the cosmetic companies who have teamed up with seemingly unrelated brands and why these partnerships work.
ASCP Esty Talk with hosts Ella Cressman and Maggie Staszcuk
Produced by Associated Skin Care Professionals (ASCP) for licensed estheticians, ASCP Esty Talk is a weekly podcast hosted by licensed estheticians Ella Cressman, ASCP Skin Deep Magazine contributor, and Maggie Staszcuk, ASCP Education Specialist. We see your passion, innovation, and hard work and are here to support you by providing a platform for networking, advocacy, camaraderie, and education. We aim to inspire you to ask the right questions, find your motivation, and give you the courage to have the professional skin care career you desire.
About Ella Cressman:
Ella Cressman is a licensed esthetician, certified organic formulator, business owner, ingredient junkie and esthetic cheerleader! As an educator, she enjoys empowering other estheticians and industry professionals to understand skin care from an ingredient standpoint rather than a product-specific view.
In addition to running a skin care practice, Cressman founded a comprehensive consulting group, the HHP Collective, and has consulted for several successful skin care brands.
Connect with Ella Cressman:
Website: www.hhpcollective.com
LinkedIn: www.linkedin.com/in/ella-cressman-62aa46a
About Maggie Staszcuk:
Maggie has been a licensed esthetician since 2006 and holds a bachelor's degree in business administration from Stephens College. She has worked in the spa and med-spa industry, and served as an esthetics instructor and a director of education for one of the largest schools in Colorado before coming to ASCP as the Cosmetology Education Manager.
Connect with Maggie Staszcuk:
P 800.789.0411 EXT 1636
E MStaszcuk@ascpskincare.com or AMI@ascpskincare.com
About our Sponsors:
About Elleebana:
Elleebana continues to push the treatment evolution envelope and influence the global market. Company Director, Otto Mitter is a qualified Cosmetic Chemist of the Institute of Personal Care Science and award-winning global & lash brow educator. Highly passionate about product ingredients, research and development and ongoing education, Otto is the innovator for the world famous Elleebana One Shot Lash Lift system, Elleeplex ReGEN and Elleebana Brow Henna, as well as Co-Producer of the Belmacil Lash & Brow Tinting System. Otto continues to extend the boundaries of product development within the world of beauty and in collaboration with other world leaders in the industry.
Connect with Elleebana:
Website: https://elleebana-usa.com/
Facebook: https://www.facebook.com/elleebanausa
Instagram: https://www.instagram.com/elleebanausa/
About Associated Skin Care Professionals (ASCP):
Associated Skin Care Professionals (ASCP) is the nation's largest association for skin care professionals and your ONLY all-inclusive source for professional liability insurance, education, community, and career support. For estheticians at every stage of the journey, ASCP is your essential partner. Get in touch with us today if you have any questions or would like to join and become an ASCP member.
Connect with ASCP:
Website: www.ascpskincare.com
Email: getconnected@ascpskincare.com
Phone: 800-789-0411
Facebook: www.facebook.com/ASCPskincare
Instagram: www.instagram.com/ascpskincare
Ep 119 - ASCP Esty Talk - Makeup and Food_FINAL
[music]
0:00:00.7 Speaker 1: You are listening to ASCP Esty talk where we share insider tips, industry resources, and education for estheticians at every stage of the journey. Let's talk 'cause ASCP knows it's all about you.
0:00:16.6 Maggie Staszcuk: Hello and welcome to ASCP Esty talk. I'm your co-host Maggie Staszcuk and ASCP's cosmetology education manager.
0:00:23.4 Ella Cressman: And I'm Ella Cressman licensed aesthetician certified organic formulator ingredient junkie and content contributor for Associated Skincare Professionals.
0:00:32.0 Tracy Donley: And I am Tracy Donley, executive director of Associated Skincare Professionals. And just your comic relief. Hopefully.
0:00:39.0 MS: Alright guys. So my question for you today, did you guys use Lip Smackers back in the day?
0:00:44.1 TD: Oh My gosh. I loved those for Christmas and that little candy cane. All those varieties.
0:00:49.0 MS: Yeah.
0:00:49.0 EC: Oh, I like the ones even from Avon.
0:00:51.0 MS: Oh, Avon had Lip Smackers?
0:00:53.4 EC: Not the brand, but yeah, the flavored ones and that's the one thing I would've ordered.
0:00:57.7 TD: Orange crush.
0:00:57.8 EC: Orange Crush... Dr. Pepper.
0:00:58.7 MS: Yes. Okay. I loved Lip Smackers my absolute favorite. Loved it. Fruity frosty pink. That was my favorite.
0:01:06.4 TD: Oh, I don't think I ever had the frosty ones.
0:01:08.7 MS: Yeah. They had like a pink frost.
0:01:10.9 TD: Ooh. My mom would've been very '80s.
0:01:12.9 EC: That's too much like lipstick.
0:01:13.7 MS: Yeah. Yeah. So a little statistic here for you. According to Click Americana Lip Smackers was dubbed the world's first flavored lip balm with basic flavors like, you know, your cherry and strawberry and in 1975, it expanded to name brand collaborations, teamed up with some of the biggest candy and soda brands like Dr. Pepper, Orange Crush, Tootsie roll. Just to name a few. So Lip Smackers, they're not the only cosmetic company to team up with what seems like opposite or unrelated brands. So we're gonna go through some of a couple here and then we're gonna talk about it. What is it about makeup and food and these collaborations. So, um, Ella, if you wanna flip through some of these with me, I'll let you go through the first one there.
0:02:01.0 EC: So Hipdot makeup has marshmallow Peeps, Tapatio hot sauce and Reese's inspired creation.
0:02:09.5 TD: Whoa.
0:02:12.0 EC: Yeah.
0:02:13.9 MS: Revolution, makeup teamed up with Fruity Pebbles.
0:02:15.0 TD: Mm, yummy...
0:02:16.4 EC: And Sally Hanson and Mentos fresh and full of life yep.
0:02:19.5 TD: I love those.
0:02:21.2 MS: Yeah. Color pop cosmetics. They teamed up with Halo Top Ice Cream. If you don't know Halo Top, they are like...
0:02:27.5 EC: They're like the non-dairy one.
0:02:30.9 MS: They Are.
0:02:32.8 EC: Oh, this is 2, 2, 2 checks. [laughter]
[laughter]
0:02:35.1 MS: Yeah.
0:02:35.6 TD: Vegan. Now are all these things that you guys are mentioning, are they all just ChapSticks and lip...
0:02:41.7 EC: Oh, no!
0:02:42.3 TD: Oh, no? Oh, okay.
0:02:45.2 MS: These are like full cosmetic lines. Sally Hansen and Mentos that was a nail Polish.
0:02:50.3 TD: What?
0:02:53.3 EC: So that white Mentos looking.
0:02:53.4 MS: Yeah. Smart.
0:02:54.3 EC: And we have Morphy and Lucky Charms and Coca-Cola.
0:02:58.6 MS: Elf cosmetics. This was a big one. They teamed up with Chipotle and then their most recent collaboration was Dunkin Donuts that came out just this year.
0:03:06.0 TD: Okay. I could totally get Dunkin Donuts, but Chipotle, like What?
0:03:10.2 MS: Yeah. We're gonna talk about them.
0:03:12.4 TD: Like corn salsa on your face.
0:03:14.4 MS: Totally. So one of the number one cosmetic and food brands on the list is Glam Light. The founder, she suffered from years of bullying for her weight. She started the cosmetic business to create products that was made for all. And this company almost exclusively sells beauty products that are inspired by food. So their very first eyeshadow palette was a pizza palette.
0:03:37.9 TD: Oh, I love that.
0:03:39.7 MS: Yeah.
0:03:40.4 EC: I love it.
0:03:40.7 TD: I think those colors would look good too.
0:03:40.8 MS: Yeah. Their most recent collaboration was with Hershey and this was for a makeup line inspired by Hershey Kisses.
0:03:48.3 TD: Wow. Okay. Okay.
0:03:50.4 EC: This is a thing.
0:03:51.6 TD: I guess. So it's not just a fragrance. It's colors.
0:03:54.2 EC: It's all... It's the experience.
0:03:56.8 TD: Okay.
0:03:57.7 EC: It's what does that represent to you?
0:03:58.2 TD: Okay.
0:03:58.9 EC: Then when we like my favorite lip smacker was Dr. Pepper because we couldn't drink pop for a while when we were kids so that was as close as I could get to it. But in this instance with Glam Light, it's, it's her taking power of these things that were naughty. In my opinion, this is just, I don't know her.
0:04:16.4 TD: Oh, we love a naughty cosmetic. Don't we? [laughter]
0:04:18.1 EC: And she was like, you know what? I can't have it, but I'm gonna make, you know, you can't tell me I can't have it. I can have it. And I'm gonna make it an eye shadow palette. So poof take that.
0:04:26.6 TD: Yeah. I'm wearing it. Yeah.
0:04:28.3 EC: Yeah.
0:04:29.5 MS: So this is my question to you. Are these companies just simply both influencers that are playing into each other's followers?
0:04:36.1 TD: Ooh. I mean, I have to tell you, I think it's brilliant for the brands to partner because it's like advertising. I mean, it's brilliant. I think that if there are certain food enthusiasts, like let's say I was a Chipotle diehard, like I loved it and I would definitely buy that Chipotle beauty product, then, you know, I get it. I get it. I don't know that I'm the ideal consumer for these products, but I know my 7-year old daughter would be.
0:05:08.7 MS: I was gonna say it depends on the... I think it plays highly on the demographic that you're going after.
0:05:14.2 TD: Yeah.
0:05:15.2 MS: So if you're thinking of Chipotle, for example, okay. Lip Smackers we were younger, right? Those are important to us. If you go a little step further I'm starting to wear makeup. I'm showcasing my independence male or female and you go to... But I love Chipotle. I love Chipotle so much because I'm that age that we have these brand alliances and these brand loyalties and wait a minute. What?
0:05:36.7 TD: Well, I mean, I think Starbucks, like I, I think about like Starbucks should do a collaboration. I mean, those kids at 10 years old are like, I want Starbucks. I can't get enough Starbucks.
0:05:47.1 MS: I don't doubt that they will.
0:05:49.2 TD: Yeah.
0:05:51.1 MS: I bet they probably...
0:05:51.2 TD: They probably...
0:05:51.5 EC: They probably have. Totally.
0:05:51.8 MS: Because weren't they doing some cross promotion too with the... I know we said the Chipotle one a lot, because that one for me was hard. I was like...
0:05:58.6 TD: It's just me too.
0:06:00.7 MS: But what colors? I don't understand.
0:06:00.8 TD: Yeah.
0:06:01.0 EC: But we looked at it and it was guacamole green, lettuce green.
0:06:04.9 TD: Oh, okay.
0:06:06.5 EC: Brown Pinto Beans and it even had sofrito in there. So it had a little vegan option...
0:06:10.5 MS: It had the yellow, yeah. For the corn. Yep.
0:06:13.0 TD: What?
0:06:13.2 EC: And then steak chicken. [chuckle]
0:06:15.0 TD: Oh my goodness. That's crazy.
0:06:16.2 MS: It looked like it was set up like a Chipotle line.
0:06:20.1 TD: Oh really nice...
0:06:20.7 MS: Like when you go. And yeah, it was really cool.
0:06:23.2 EC: Yeah.
0:06:23.6 MS: Well, let me explain how this came about.
0:06:24.4 TD: Okay. Please do.
0:06:25.6 MS: So in 2019, Elf was the largest marketing campaign on TikTok. And in fact, they were the only mass cosmetic company that really was doing anything on this platform as far as a cosmetic company was concerned.
0:06:39.4 TD: What was that year again?
0:06:40.9 MS: 2019.
0:06:42.2 TD: Just as recent as 2019? That blows my mind.
0:06:45.1 MS: Yeah. And the only other brand in terms of size comparable to Elf that was doing this was Chipotle. So Elf and Chipotle said, we've got a thing going, let's get together. Let's do a collaboration. Yeah. Some of the marketing campaigns that Elf did was if you buy their compact, their eyeshadow compact, you get a free chips and guacamole.
0:07:06.9 TD: I love that. Maybe I'd get behind that palette now. [laughter]
0:07:10.1 MS: Because you're not just gonna get the chips and guacamole, you're gonna get a burrito and a soda.
0:07:14.6 TD: Or the chocolate chip cookie. I've never had that.
0:07:17.3 MS: You know what I mean? It's not like you're not just gonna go in just to redeem. Chances are pretty slim.
0:07:23.9 EC: And I read that obviously it's eccentric, it's exclusive. And when this compact sold out, people were calling up customer service, crying that they couldn't buy the eyeshadow.
0:07:36.4 TD: That is just so brilliant. I'm taking it all in right now. So...
0:07:40.0 MS: But that exclusivity, that limited edition...
0:07:43.1 TD: Oh, limited edition.
0:07:43.8 MS: Through the ages. The limited release only available for a little bit of time that lends to the urgency of getting it and being a part of something. I loved this, and we saw that with like Kylie lip kits even, limited release and they sold out in hours. So next time I gotta get it and I gotta jump. There's no walking past it. There's no walking past it, you gotta decide that you want it right now.
0:08:06.8 TD: Yep.
0:08:06.8 EC: Yeah, totally. So we've kind of touched on this, but why are these partnerships working? Is it simply the target markets and these companies both have the same target goals? I mean, I think we've determined it's a young demographic.
0:08:18.7 TD: Yeah. And I think also too, I mean, think about it, Chipotle for instance, the younger demographic probably isn't paying for their own Chipotle burrito, right? But it's bringing them into the fault of being like I'm a Chipotle loyalist.
0:08:32.5 MS: Yeah, totally. I think also you can say that companies perhaps have similar values and goals. So if you have a company that is all about sustainability.
0:08:41.1 TD: Ooh, I love that. Yes.
0:08:42.2 MS: Right?
0:08:42.6 TD: Yep.
0:08:43.3 MS: One of the things possibly too, is that if a product is vegan or cruelty free and we had a whole podcast that was about that as well and you have a food company that is also offering vegan food, perhaps perfect partnership, right?
0:09:00.6 EC: Absolutely.
0:09:00.7 TD: I mean, I think about... So we've talked a lot about more beauty products versus skincare products as of now. But I would think to myself, I love a vitamin C product. I love the way it smells, or I love a coconut product. I love to slather it on 'cause it feels like vacation. So if there were for my demographic, if there were something that I slathered all over my face or my body that was reminded me of vacation, I mean being nostalgic, I think that that would be awesome too.
0:09:31.0 EC: Yeah.
0:09:31.1 MS: Like Delta Airlines Facial Mist?
[laughter]
0:09:33.4 MS: And like Sandals Resort, body lotion? [laughter]
0:09:36.2 TD: No, I was thinking more like Hawaiian Tropic, whatever. I think it's the W yeah. The W when you go into those Ws that always have a signature sent?
0:09:47.0 MS: Yes.
0:09:47.4 TD: And if you had a really good time at that, hotel, you'd probably wanna slather that scent all over you or wash your face with it.
0:09:55.4 EC: 100% that olfactory system talks to the limbic system and it's a recall of memory. All that smell is a recall of memory. So that has an effect on how you chill out and relax. And that has an effect on your skin, like there's widely researched.
0:10:09.1 TD: Hey guys, stop. Let's take a quick break.
0:10:12.9 Speaker 1: Elleebana, Australian born, globally loved. Elleebana's story is simple. They love lashes and brows. They shoot for the stars and lift lashes to new heights. Their addiction is real. Their passion is popping and there is nothing more they crave than offering excellence, service and innovation in products. Elleebana Lash Lift allows you to offer your customers luscious lifted lashes that can last up to 12 weeks in one safe 20 minute treatment, learn more at Elleebana-usa.com.
0:10:50.4 TD: Let's get back to the conversation.
0:10:52.8 TD: Yeah. You know what that reminds me of is if you look at a ton of men's care lines right now, it's bourbon and whiskey everything.
0:11:00.7 MS: Yeah.
0:11:00.7 TD: So... [chuckle]
0:11:01.6 MS: There was a collaboration for men. This is not exactly. I don't know, I'll just tell you. So it was a bar of soap that, and I think the company is Duke Cannon.
0:11:12.0 TD: Yes. That's what my boyfriend uses.
0:11:14.6 MS: They partnered with PBR, pops brewing.
0:11:18.2 TD: Oh, I believe it.
0:11:19.3 MS: And so all of the packaging and the bar of soap looks like a PBR.
0:11:23.6 EC: Well, that's what they're gonna do because that's sometimes men complain, "I don't need a soap. Oh, it's PBR. Okay. I do." [chuckle]
0:11:30.0 TD: Oh, well it made me feel like I'm at a bar. [chuckle] Perfect.
0:11:34.0 EC: Interesting.
0:11:34.8 MS: Yeah. Fascinating.
0:11:35.8 EC: Very interesting. I know.
0:11:36.9 TD: What a really cool topic.
0:11:37.7 EC: Yeah, yeah, exactly. It makes me think too, like in terms of estheticians, we talked about this in our last podcast, just about cross referrals and collaborating. You know, we are talking about, and I forget what you called it. Was it you Tracy or Ella?
0:11:54.5 TD: A wellness coach.
0:11:56.1 EC: Yeah. If you're partnering with a wellness coach or life coach, nutritionist. Somewhat unrelated, but getting those cross referrals and building your business.
0:12:06.5 MS: Cause you get their clients, they get your clients.
0:12:08.5 EC: Yeah.
0:12:08.8 TD: Well, what if you partnered with a bar. Like seriously. If you had a men's line that was like bourbon and whiskey or maybe it's Duke because bourbon and whiskey, everything or tequila. I've seen lots of tequila products out there. I mean, Hey, why not. You're like, "Come here, get this body treatment and here's a coupon to go get a shot."
0:12:31.2 MS: Yeah. I think depending on what your offerings are, I think the esthetician that maybe is more focused on permanent make-up, and waxing and things like that, a bar maybe goes together a little bit better.
[laughter]
0:12:42.5 TD: Yeah.
0:12:42.8 MS: As opposed to the aestheticians, like holistic facials and...
0:12:46.1 TD: Yeah, well, maybe you go to the juice bar.
0:12:48.0 MS: Yeah.
0:12:48.1 EC: They have smoothie inspired skin care. Interesting.
0:12:54.5 TD: Yeah?
0:12:55.2 MS: I have a signature scent that I diffuse in my shop.
0:12:57.6 TD: Ooh what is this?
0:13:01.9 MS: It's proprietary.
[overlapping conversation]
0:13:02.0 MS: It's a mix of two essential oils. Because my tagline is a splash of skin perfection, and so one of the marketing people I had years and years ago put an orange on my branding, I was like, "Okay, cool." And so there's an orange scent mixed with a little bit of clove. I don't know.
0:13:21.0 TD: Oh yeah.
0:13:21.2 MS: So when you walk in there's that smell.
0:13:23.7 TD: Yeah.
0:13:25.0 MS: I'm nose blind to it at this point, when people come... "Oh my God, just smells like your shop when we've been out, it smells like your shop, this remind me of your shop." Like, Oh.
0:13:32.3 TD: So on that same note then, since there's memory with the old factory, is that you could actually have candles made in your signature scent. You could probably have...
0:13:44.0 MS: Oh partnering with a candle company.
0:13:45.3 TD: That's what I'm saying. And then you could sell those candles there in your shop. There's just so much you can do. I love it when we start to go down these paths, because this is really where the esthetician can truly niche themselves out to really find their space, find their groove and be inspired and excited every day about what they've created.
0:14:09.9 MS: Absolutely.
0:14:10.7 TD: I love that.
0:14:12.3 MS: My mom, when I was a kid, I had all of a sudden gained some weight, something had happened to me.
0:14:17.8 TD: Trauma?
0:14:18.3 MS: Trauma. And she did her best, my mom, but she was thinking, "Oh, it's food thing, it's a food thing." So she got me chocolate-flavored lip gloss, compact, with different flavors of chocolate.
0:14:32.1 TD: Oh I loved those. I remember those.
0:14:33.2 MS: In order to curb my cravings, 'cause she had read psychologically, it was a psychology thing that there was that. So there could be something else too for those. We talked about a demographic who is a loyalist to a brand, but there's also those who don't necessarily have access to it. Like maybe they can't afford Chipotle. But these E-L-F or Elf, however you pronounce it, these are... I don't even know what the price point is, but this is something they can have, and they feel like a certain thing...
0:15:03.8 TD: Yeah. I think that's what I was saying about Starbucks. Starbucks is ridiculously expensive. And there's a lot of people out there who just, myself included, that I cannot see spending $5 on a beverage for a seven-year-old. [chuckle] But she thinks it's cool. But when I...
0:15:23.2 MS: But a lip gloss that she has all the time...
0:15:25.9 TD: Yeah, I would.
0:15:28.0 MS: That she can hook on to her backpack.
0:15:28.3 TD: Yes, exactly. Or a hand sanitizer.
0:15:29.1 MS: And maybe she's 44 years old. I don't know.
[laughter]
0:15:31.2 TD: Maybe she is, I don't know.
0:15:31.3 EC: I would do that. I'm a big fan of Starbucks. Honestly, if Starbucks had a skin care line that came out like a hand lotion that came out in Americano, Caramel Macchiato.
0:15:42.5 TD: I love the Caramel Macchiato one.
0:15:44.7 EC: Vanilla. [chuckle]
0:15:45.1 TD: You're welcome Starbucks. Go ahead and run with it.
0:15:48.0 EC: So something I just found out, is that there is a Starbucks lip product.
0:15:54.6 TD: Oh okay.
0:15:55.4 EC: I had no idea.
0:15:56.5 TD: Well there you go.
0:15:57.1 EC: There's a couple of them.
0:15:58.4 TD: What?
0:15:58.9 EC: One is their secret menu lip kit, or they mean this is people who just did this on their own, but Starbucks coffee lip gloss and it's organic from Etsy. So there's all these other options, I'm super excited right now.
0:16:12.9 MS: My mouth is watering.
0:16:14.8 EC: I'm gonna clip it to my backpack because these... I would buy this. I'm 44.
0:16:20.6 MS: Thank you for your honesty.
0:16:22.6 EC: Yeah, I'm 44, I had to do the math real quick.
[laughter]
0:16:26.0 TD: After 40 it doesn't matter.
0:16:27.6 EC: I'm in my 40s and I would get this because for me, it makes me feel good. When I go to Starbucks, I don't need a coffee, I need an emotional hug, sometimes.
0:16:35.5 TD: A pick-me-up, right? That's why you're going.
0:16:37.0 EC: The ritual of going and getting it. So it's more to me, the ritual of it, the emotional experience of it, than anything. So when we look at... Even these other companies like Glam Light, wow, that's fantastic. I think it's good, and I would support that cause, even if I didn't... I don't really need a pizza shaped...
0:16:58.0 TD: Even if it wasn't for you. I love it, yeah. I think it's fantastic. And any time that there's new and different products out there, I mean, I know I'm paying attention.
0:17:07.4 MS: Yeah, I think that's what it does, is it captivates your attention where you're going to look and see what is this, but first, because you're not expecting it.
0:17:15.0 TD: Right. Well, I might walk past Elf displays all day long in Target, and not even think to ever consider purchasing those products, but I see this brand that is so well-known, and then I'm like, "Hey, what? Wait, why is that here?" So even if I don't end up purchasing that specific product, it now has made me go, "Oh, what's this Elf product?"
0:17:38.5 EC: I think that's kind of a thing. You totally said it. You walk past it in Target and you're like, "Oh, that $2 eye shadow, I'm so not interested." But then all of a sudden, Dunkin Donuts or Chipotle or Starbucks is paying attention to them, now I'm paying attention.
0:17:52.0 TD: Yes, it's a... I'm telling you it's follow the leader.
0:17:55.4 MS: Yeah.
0:17:56.5 EC: Tapatio.
0:18:00.9 MS: Yes.
0:18:01.0 TD: Who would've thought Tapatio? That sounds spicy.
0:18:01.4 MS: Yes.
0:18:01.4 TD: Tacos, yes. Lip gloss, no. You know what I mean? [chuckle]
0:18:03.6 MS: Yeah, it's like a lip plumper.
0:18:06.5 TD: Is that what it is?
0:18:07.2 MS: Yes it's a lip gloss.
0:18:08.1 TD: Okay that makes sense, I would get it for a lip plumper. 'Cause I'd be like, the spicier the lip plump, the more plumping you get.
0:18:14.7 MS: Yeah, well the thing with Tapatio is that, they have a very cult following, and their perspective is people would carry this around in their purse, put it on everything, and they're like, "Alright, they probably need a lip balm too."
0:18:29.4 TD: I would do it.
0:18:30.2 MS: Capitalizing on that, more of it.
0:18:32.5 EC: Yeah. I think the only thing I would say as the ingredient junkie resident here...
0:18:36.3 TD: Oh, okay, here we go, Debby Downer, no I'm just kidding. [chuckle]
0:18:37.0 EC: Turn it over, look at at the ingredients, and make sure there's no talc. Whether it's eye shadow, or blush or anything else, make sure there's no talc in it.
0:18:46.6 TD: Are there any weird preservatives that... Different preservatives that you would have to put in some of these lip balms to support these strange ingredients?
0:18:55.4 EC: I don't know that it would be strange. It depends on what their actives are, so I'm assuming it's some kind of capsaicin for the lip plumping. Any kind of preservatives, there's all kinds, but potassium sorbate would be a good version versus some... Potentially like a methyl-paraben, for example. So you definitely want to... I mean, that's what we do...
0:19:17.0 TD: Read the label.
0:19:17.7 EC: We're conscious about... And that's the thing I think was some of these... You get so excited that you'd skip that step. So just don't forget those step. [chuckle]
0:19:25.7 TD: Alright, good to know.
0:19:26.8 MS: Now, listeners, we wanna hear from you. Have you purchased a cosmetic brand an influencer collaboration? We wanna hear all about it. Share with us on social media by commenting on our Instagram or Facebook posts or by email, and get connected at ascpskincare.com. Thank you for listening to ASCP Esty talk and for more information on this episode, or ways to connect with Ella and myself, or to learn more about ASCP, check out the show notes.
0:19:52.0 S1: Thanks for joining us today, if you like what you hear and you want more, subscribe. If you wanna belong to the only all-inclusive Association for estheticians that includes professional liability insurance, education, industry insights and an opportunity to spotlight your six skills, join at ascpskincare.com, only $259 per year for all this goodness. ASCP knows, it's all about you.
[music]Page Break