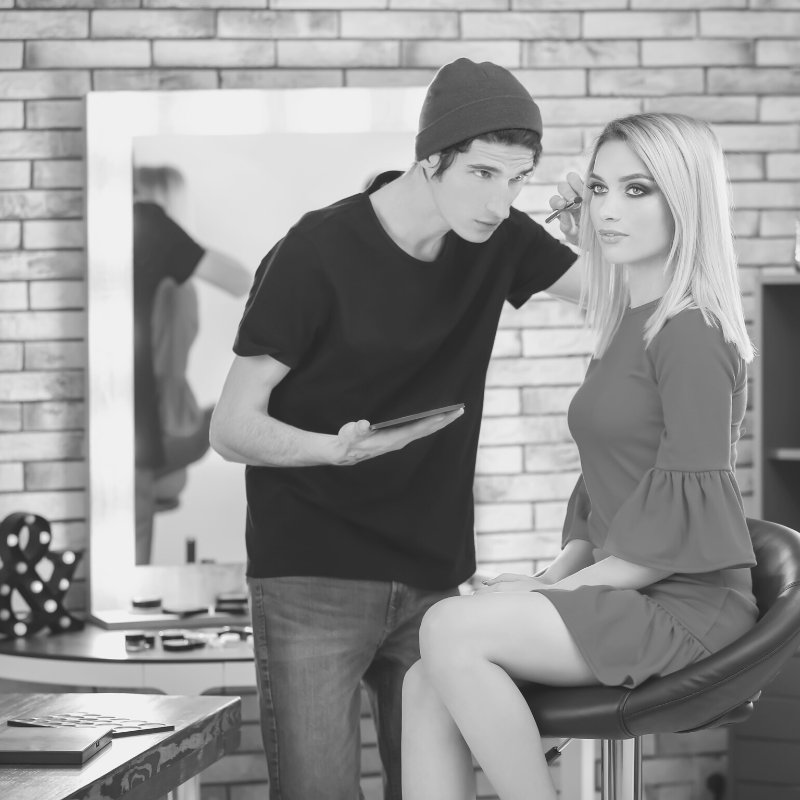 The esthetic industry has long held a tradition of female practitioners providing services to female patrons. In recent years, we have seen an increase in male clientele and a market shift targeted at men's skin care. Now, we also notice an increase in professional male estheticians. In this episode we examine this change and celebrate both female and male professionals.
ASCP Esty Talk with Maggie Staszcuk and Ella Cressman
Produced by Associated Skin Care Professionals (ASCP) for licensed estheticians, ASCP Esty Talk is a weekly podcast hosted by Maggie Staszcuk and Ella Cressman. We see your passion, innovation, and hard work and are here to support you by providing a platform for networking, advocacy, camaraderie, and education. We aim to inspire you to ask the right questions, find your motivation, and give you the courage to have the professional skin care career you desire.
About Ella Cressman:
Ella Cressman is a licensed esthetician, certified organic formulator, business owner, and absolute ingredient junkie! As an educator, she enjoys empowering other estheticians and industry professionals to understand skin care from an ingredient standpoint rather than a product-specific view.
She has spent many hours researching ingredients, understanding how and where they are sourced, as well as phytochemistry, histological access, and complementary compounds for intentional skin benefits. In addition to running a skin care practice, Cressman founded a comprehensive consulting group, the HHP Collective, and has consulted for several skin care lines, including several successful CBD brands.
Connect with Ella Cressman:
Website: www.ellacress.com
Website: www.hhpcollective.com
About Maggie Staszcuk:
Maggie has been a licensed esthetician since 2006 and holds a bachelor's degree in business administration from Stephens College. She has worked in the spa and med-spa industry and served as an esthetics instructor and a director of education for one of the largest schools in Colorado before coming to ASCP as the Advanced Modality Specialist.
Connect with Maggie:
P 800.789.0411 EXT 1636
E MStaszcuk@ascpskincare.com or AMI@ascpskincare.com
About our Sponsors:
About Truth Treatment Systems:
Truth Treatment Systems, developed by Benjamin Knight Fuchs, registered pharmacist, nutritionist, skin care chemist, and star of the Rogue Pharmacist podcast series on ASCP Esty Talk, was founded with a scientific and holistic approach to skin care—always taking into consideration the mind, body, skin connection.
Benjamin Knight Fuchs has been developing pharmacy-potent skin health products for estheticians, dermatologists, and plastic surgeons for 30+ years. He believes correcting the skin is about the health of the skin, which directly correlates to the overall health of the body.
If you want the "Truth" on results-driven skin care, visit www.truthtreatmentspro.com or download the Truth360 app anywhere apps are found. Get instant access to continuing education from Benjamin Knight Fuchs and Truth Treatment Systems line of products.
ASCP members receive a $70 discount on the VIP PRO Level subscription on the Truth 360 app. Only $29.95 per month for ASCP members! Log in to your ASCP account and sign up today.
For more information on Truth Treatment Systems Products
ASCP Members: Truth360 App Discount
About Elleebana:
Elleebana continues to push the treatment evolution envelope and influence the global market. Company Director, Otto Mitter is a qualified Cosmetic Chemist of the Institute of Personal Care Science and award-winning global & lash brow educator. Highly passionate about product ingredients, research and development and ongoing education, Otto is the innovator for the world famous Elleebana One Shot Lash Lift system, Elleeplex ReGEN and Elleebana Brow Henna, as well as Co-Producer of the Belmacil Lash & Brow Tinting System. Otto continues to extend the boundaries of product development within the world of beauty and in collaboration with other world leaders in the industry.
Connect with Elleebana:
Website: https://elleebana-usa.com/
Facebook: https://www.facebook.com/elleebanausa
Instagram: https://www.instagram.com/elleebanausa/
About Associated Skin Care Professionals (ASCP):
Associated Skin Care Professionals (ASCP) is the nation's largest association for skin care professionals and your ONLY all-inclusive source for professional liability insurance, education, community, and career support. For estheticians at every stage of the journey, ASCP is your essential partner. Get in touch with us today if you have any questions or would like to join and become an ASCP member.
Connect with ASCP:
Website: www.ascpskincare.com
Email: getconnected@ascpskincare.com
Phone: 800-789-0411
Facebook: www.facebook.com/ASCPskincare
Instagram: www.instagram.com/ascpskincare
Ep 124 - ASCP Esty Talk - Male Practitioners_FINAL
0:00:00.0 Ella Cressman: Achieve real results for your clients with the help of the new Truth 360 app, brought to you by Truth treatment systems. The Truth of 360 app makes client at-home care recommendations easy and features a customizable storefront to make at-home care recommendations and purchases simple. No big opening orders required, plus get access to advanced skin care education developed by Benjamin Knight Fuchs. Professional discounts on products and earned up to 30% commission on all products sold through your Truth 360 app storefront. Visit truthtreatmentspro.com or download the Truth 360 app from your phone's App Store. ASCP members log on to ascpskincare.com now to access your limited time discount code.
0:00:55.2 EC: You are listening to ASCP Esty talk, where we share insider tips, industry resources and education for aestheticians at every stage of the journey. Let's talk 'cause ASCP knows, it's all about you.
0:01:10.6 EC: Hello and welcome to ASCP ST talk, I am Ella Cressman, licensed Estheticians, certified organic skin care formulator and content contributor for Associated Skin Care Professionals. And today my co-host Maggie is out, but I'm once again joined by Tracy. Hi, Tracy.
0:01:27.6 Tracy Donley: Hi guys, I'm Tracy Donley, the Executive Director of Associated Skin Care Professionals, and I really hope I can sort of fill Maggie's big shoes.
0:01:37.0 EC: Big shoes.
0:01:37.7 TD: Big shoes to fill.
0:01:38.7 EC: Absolutely. So today, I wanna talk about something, It's kind of cool, it's gonna be a very interesting topic because it's... I don't know, it's kinda weird to talk about at all.
0:01:48.8 TD: Oh yeah.
0:01:49.6 EC: So let's start with recently, there was this conference of sorts, it was called MECA, which stands for...
0:01:55.9 TD: That's sounds fun, I like MECA.
0:01:58.2 EC: And it stands for Men's Estheticians Conference and Associates and it was held in Phoenix, Arizona.
0:02:05.9 TD: Intriguing, tell me more.
0:02:07.8 EC: I know, I thought it was interesting. It was held, it was really put together by this gentleman Moto Kinja from, now Arizona, but he's of Japanese descent, and he is the sweetest guy. I gotta tell you, he reached out to me on social media and invited me, I couldn't attend because my schedule wouldn't allow. But I just thought it was very interesting. So I did watch the conference.
0:02:31.5 TD: And he's an Estheticians?
0:02:32.8 EC: He's an Estheticians.
0:02:33.6 TD: Oh I love that.
0:02:34.4 EC: He's so much more that an Estheticians.
0:02:36.8 TD: Oh, so cool.
0:02:37.7 EC: Check this out.
0:02:38.9 TD: Okay.
0:02:39.2 EC: He has been licensed for two and a half years, he and his partner owned a salon in Phoenix, Arizona, he is going back to school to get his cosmetology license, and he said, "I just wanna learn everything, I wanna learn every part of the business that we own", and I thought, "Oh, that's really cool." So what he's been doing in those two and a half years is he's been going to different conventions, he's been going to ____ Nursing pro, the IECSC, all the trade shows, and what he noticed was mostly of the attendees and the exhibitors were female.
0:03:11.9 TD: Yeah that's true.
0:03:13.7 EC: Yeah, he would see maybe one or two male aestheticians there, if any.
0:03:18.0 TD: If any, because a lot of the times, if you were seeing men there, they're typically working for the skin care manufacturers... Right?
0:03:25.3 EC: Yep.
0:03:25.8 TD: Yeah.
0:03:26.0 EC: Absolutely. And that's an important point. An expert, right?
[chuckle]
0:03:31.1 EC: So what he... This is the cute part, I know I shouldn't say cute, but it was an endearing story to me, I said... I called him after the conference, and said how did it go? He said," Oh, it was so nice, It was very well received" and honestly, I had feedback from other colleagues who went and they said, Oh, it was a really good conference, and I said... You know I called to congratulate him and ask him how it went and will he be doing it next year? And then I asked him, I said, What made you wanna do this?
0:03:56.3 TD: Yeah.
0:03:57.0 EC: And he said, years ago when he came from... Well, his background is in an International Tax Manager.
0:04:04.6 TD: Boring. [laughter]
0:04:06.7 EC: It goes further boring.
0:04:08.2 TD: Oh gosh.
0:04:08.6 EC: For a Multi-national corporation. I'm like that is a mouthful. But what he said he noticed is, with his... In his work environment, of course, male dominant, and he had witnessed or was aware of the female co-workers kind of gathering together to, strength in numbers, so to speak.
0:04:31.0 TD: Okay.
0:04:31.5 EC: So, and they would get together and they would advocate for each other for workplace concerns.
0:04:36.9 TD: I'd love to think that that is always true, but keep on keeping on.
0:04:41.0 EC: And it hit me... Like it made sense to me because as you know, I come from construction, industrial construction.
0:04:47.5 TD: I know, I've worked my construction in the day too.
0:04:50.3 EC: Right, In the male dominant industry.
0:04:52.1 TD: Yeah.
0:04:52.2 EC: So we are very well aware that when you're in these type of industries that camaraderie and this team us is important. So he had that in the back of his mind, and the way he tells his story is very... It made me laugh and I was like, ah, that's funny.
0:05:08.3 TD: Okay, you're putting me on the edge of my seat Ella, tell me, tell me.
0:05:13.4 EC: Alright, so when he got into aesthetics, and he remembered that part, when he's in aesthetics and he's at these conferences and he thought, this is how they felt.
0:05:21.9 TD: Oh, I love it. He had a Aha, moment.
0:05:23.2 EC: Yeah.
0:05:24.8 TD: Those are always the most... They make the biggest impact, right? In your life. You'll never forget it.
0:05:30.3 EC: Yes.
0:05:30.6 TD: Yeah.
0:05:30.6 EC: And that's what he said. It came to him. So he also really... Was the name like MECA, right? Men's Estheticians Conference, but the most important word to him, and he kept saying it to me over and over during our phone call was, and Associates. He said he wanted to make sure that I understood that it was important to him. He named it that way, so that male practitioners would be drawn to these type of shows because he didn't feel like there was a pull to the other.
0:06:01.2 TD: But he didn't wanna exclude and make people feel like it's a Boys Club right?
0:06:07.4 EC: And associate.
0:06:08.6 TD: Yeah, I love that.
[chuckle]
0:06:09.8 EC: Yeah.
0:06:09.9 TD: Yeah, no, it's great. And I love the name MECA, 'cause when you start to think of the word MECA, you think so much about like, Oh, this is our place, this is our MECA, this is like... You know, I think that's cool. I love it.
0:06:21.8 EC: It was really cool and he wanted... He kept saying over and over again that we wanna make sure we appreciate the female aestheticians, but just like the nursing industry changing the narrative of this female dominant industry.
0:06:34.6 TD: Oh that's such a good parallel to draw... Oh, I love that one.
0:06:37.7 EC: Yeah.
0:06:37.9 TD: The nursing industry.
0:06:38.8 EC: To take it away from being feminine...
0:06:42.3 TD: Gender-specific.
0:06:45.2 EC: Taken away from being feminine, this a nurturing role into non-gender specific like you said.
0:06:51.1 TD: Yeah, yeah.
0:06:52.2 EC: So I thought that was very interesting and ambitious. Here's this guy, right? Everybody listen, male estheticians, female estheticians, hear this. Here's this person who is licensed for two and a half years who was doing huge things, and I think that is... There's like a surgence of popularity of it as an option.
0:07:12.2 TD: For sure.
0:07:12.6 EC: Of being an esthetician as an option. Not of just being an esthetician, but going to an esthetician.
0:07:19.2 TD: Oh yeah, that's a great point. You mean consumers actually seeing the value of, it's not just a fluffy thing, it's actually as valuable as going to see your therapist or your doctor.
0:07:29.6 EC: 'Cause we've had estheticians since the '50s, '60s, '70s, '80s.
0:07:32.6 TD: But that's so young compared to...
0:07:34.2 EC: Sure. But...
0:07:35.2 TD: To the culture.
0:07:36.2 EC: But back in the '50s, '60s, '70s and '80s, it was luxury.
0:07:39.4 TD: It was so luxury.
0:07:40.7 EC: It was luxury, so you couldn't... It wasn't fathomable, it was something you saw people do breakfast at Tiffany's or in the movies, they were going... They were the rich people that were at the spa, you're interrupting my spa hour, but it wasn't seen as it is now.
0:07:57.2 TD: Like a necessity.
0:07:58.3 EC: As a part of self-care.
0:08:01.2 TD: Yeah, absolutely.
0:08:03.0 EC: Yeah.
0:08:03.2 TD: Thanks COVID. Just kidding.
[laughter]
0:08:07.4 EC: Okay, absolutely. So back to Moto Kinja, what he wanted to do, I asked him, "Why did you wanna come up with this event too?" And he said that he wants to make sure that there's support and network for people to inspire each other and it was important to him that people see each other not as competition but as complementation, that's my word, but that's what he meant to say.
0:08:29.2 TD: Okay, I got that. New word, saying that, he did coin it.
0:08:33.4 EC: Together we can grow even better by supporting each other, so that was really cool. All nice, great, fluffy. So I asked him, "Are you gonna do it again next year?" So mark your calendars everyone, male estheticians and associates at the end of April, he'll be doing or they will be doing it again but he...
0:08:50.1 TD: Question, question. Can I have one question? So was there sponsors of the show, did they have product lines and skin care manufacturers present there that had specific men's lines, or was it not targeting the men and user, but more about celebrating the male esthetician?
0:09:10.4 EC: It was all about the male practitioner.
0:09:12.1 TD: Okay, got it.
0:09:13.3 EC: It was like a trade show.
0:09:14.4 TD: Okay.
0:09:14.7 EC: There were sponsors, there were product lines there as booths, so to speak, or tables, I think it was more that size, they had panels, they had education.
0:09:22.7 TD: I love it. I'm going next year.
0:09:24.8 EC: I think it was a smaller trade show, but I think that it definitely has the... Come on, he did it in months, it took him months, and you know what it's like to do...
0:09:33.7 TD: Oh, an event?
0:09:34.3 EC: Trade shows.
0:09:34.9 TD: Oh, my goodness.
0:09:35.7 EC: It's like a year or longer.
0:09:37.5 TD: Yeah, yeah.
0:09:38.0 EC: So I think what he did was really amazing, and I think more importantly, it was the spirit behind it. So it got me thinking about the male practitioner.
0:09:47.8 TD: Hey guys, stop. Let's take a quick break.
0:09:51.0 Speaker 3: Elleebana, Australian born, globally loved. Elleebana' story is simple, they love lashes and brows, they shoot for the stars and lift lashes to new heights. Their addiction is real, their passion is popping, and there is nothing more they crave then offering excellence, service and innovation in products. Elleebana Lash Lift allows you to offer your customers luscious lifted lashes that can last up to 12 weeks in one safe 20-minute treatment. Learn more at elleebana-usa.com.
0:10:29.1 TD: Let's get back to the conversation.
0:10:31.6 EC: Something that happens to me a lot is you guys know that I run that group of estheticians on Facebook.
0:10:37.0 TD: Colorado Bestheticians.
0:10:38.1 EC: There's about 5000. Oh, there's about 6000 now. And the one thing that chaps my hide more than anything is when I see posts that say, "Hey ladies, I just have a quick question." Or, "Hey, girls."
0:10:49.9 TD: Oh yes.
0:10:50.6 EC: And I think, I'm quick to correct, I've done a lot of posts, "Hey, we're ladies and gentlemen and everyone else, so can we just say, hey guys, or whatever." But it happens over and over, and I think it's because there's a deep impression that this is a female industry.
0:11:06.9 TD: I know. It's so hard, we could go down the rabbit hole of just all those generalizations, it's challenging, but if we can change just this one that would be fantastic.
0:11:18.0 EC: Absolutely, but it got me thinking about the fact that this men is newer, but it's not two and a half years ago new.
0:11:26.3 TD: Right, that's true.
0:11:26.9 EC: There's been men in the industry for a long time.
0:11:28.9 TD: Yeah.
0:11:29.4 EC: So I talked to a couple of my friends and colleagues. So I talked to Michael Moore, who has been an esthetician for a long time.
0:11:40.2 TD: Oh, and if you don't know Michael Moore, I'm shocked. [laughter] Right.
0:11:45.0 EC: And then I talked to Dylan Magnuson, who was my intern, who ended up working for me.
0:11:49.4 TD: And actually, side note, we'll put it in the show notes, I interviewed him for one of our very first Esty Talks back in the day.
0:11:57.9 EC: The male perspective, was it him?
0:11:58.9 TD: The male perspective.
0:12:00.8 EC: Oh, good one.
0:12:00.9 TD: Yeah, so check that out. It's kind of fun.
0:12:02.9 EC: Yeah, absolutely. That was a good one. It was the summer of 2020.
0:12:06.3 TD: Yeah.
0:12:06.6 EC: I'll check it out earlier. Oh, it's a good one. So yeah, Dylan Magnuson worked for me, and then I did also reach out to David Wagner, who is also an ASCP contributor too, and he's got a long time in the industry, so I asked a couple of questions.
0:12:23.5 TD: I'm dying to hear.
0:12:24.4 EC: Here we go.
0:12:25.3 TD: Let's go.
0:12:26.1 EC: So I started with Michael, and I have a funny story about Michael.
0:12:29.1 TD: Oh boy, of course, you do. Michael, Michael, Michael. [chuckle]
0:12:31.8 EC: So Michael, I asked him, "Do you think male practitioners face unique industry challenges that are different from your female counterparts?" And he said most definitely. Of course, he would. But first of all, he said... This is verbatim, "First of all, I think that they're not trusted in some ways, in other ways, they put themself in authoritative roles. Without knowing who I am or anyone who knows anything about me, people trust the advice that I give because I'm a male, but in the treatment room, it could be very much the opposite, especially for waxing or spray tanning."
0:13:07.7 TD: Oh, I'm sure, I'm sure.
0:13:09.6 EC: Interesting.
0:13:10.4 TD: Yeah.
0:13:11.6 EC: So one of my favorite stories about Michael is I worked with him down at his studio in Cherry Creek, and we worked side by side doing make-up. Granted, I had done make-up for a long time, and not as long as him, 'cause he's way older than me.
[laughter]
0:13:26.1 TD: Did you hear that, Michael?
[laughter]
0:13:28.6 EC: But it was funny because we would do these make-up lessons and make-up applications, and these women would sit in my chair and go, "Are you sure that's the bronzer I should be wearing?" And I say, "yeah, I'm sure." They're like, "can you check with Michael?" I'm like, "sure. I'll check with Michael."
[laughter]
0:13:45.4 TD: Did you love that?
0:13:46.3 EC: No, I was biting my tongue and I'm saying a lot of cuss words under my breath, like "sure. No problem. Excuse me, Michael, Can... Do you mind giving your opinion on this bronzer?" He'd come over and sure enough he'd picked the bronzer I picked or the eyeshadow I picked or whatever, but something in these women did not trust the fact that I could pick out a bronzer or eyeshadow or where I was putting it. Right. And the same with skincare, like I know skincare inside out. They would trust what he would say. They would question what I would say. I'd give them a routine and then they would go check with him. Is this what you would tell me to use?
[laughter]
0:14:19.8 EC: Okay. No problem. So it took a lot for me to be let that roll off, right?
0:14:25.1 TD: Yeah.
0:14:25.1 EC: But I was talking to my friend, Sheri Tennessee, about it, I said, "This is the weirdest thing. It's the weirdest observation that I've noticed. This is what happens." And she said "that's because we don't... We as women don't trust ourselves."
0:14:37.1 TD: Well okay. I don't know that, that I really believe that because why... I understand that the consumer is saying, I don't trust myself. Right. But why is she not trusting you?
0:14:50.9 EC: Because she sees herself in me.
0:14:53.6 TD: Okay.
0:14:54.7 EC: So, because she sees herself in me, she doesn't trust me.
0:14:58.3 TD: So he... I guess my question then is he didn't really have to overcome this then in the treatment room.
0:15:04.9 EC: He doesn't have to overcome this at all. So he can sell retail to anybody. But when it comes to treatment room, as far as like the other parts.
0:15:14.5 TD: Like doing a facial.
0:15:16.8 EC: More like spray tanning and waxing for example.
0:15:18.5 TD: Okay. Okay. Waxing.
0:15:19.7 EC: Anything that was perceivably, like more intimate and more vulnerable. Well, for me not wearing mascara is extremely vulnerable.
0:15:27.3 TD: I know. I know how you are. Yeah. Yes, for sure.
[laughter]
0:15:29.7 TD: So really quick before we even get off the Michael Moore aspect, I do wanna just tell everybody who's listening, who happens to be an ASCP member that Michael Moore, if you don't know who he is, he has done a series of really amazing technique videos for our members. So you can just go into the on demand, video library and check out all of his technique videos. They're fantastic. Sorry for that little PSA.
0:15:55.3 EC: So then we talked, I talked to David Wagner. Now he's been in the business for a long time.
0:16:00.7 TD: Oh. And he's a great educator. I mean, our members love him.
0:16:03.2 EC: Absolutely.
0:16:03.7 TD: He's fantastic.
0:16:06.1 EC: He's fantastic. So I asked him what made him wanna be an aesthetician in the first place?
0:16:09.5 TD: Ooh. And how long has he been an aesthetician for? Do you know?
0:16:12.1 EC: 30 years.
0:16:13.1 TD: Wow. Okay.
0:16:13.7 EC: He's been in the business 30 years.
0:16:15.3 TD: That's insane. Yeah. Okay.
0:16:17.1 EC: And he has previously... He has education background.
0:16:21.0 TD: Oh, that makes sense.
0:16:21.8 EC: It makes a lot of sense. Doesn't it?
0:16:23.4 TD: Yes. Yeah.
0:16:24.1 EC: And so we talked about a lot of different things and I asked him why he wanted to become an aesthetician. And he said, because he saw a niche that no else had.
0:16:33.9 TD: He's so smart. Yeah. I mean, really?
0:16:35.9 EC: Yeah.
0:16:36.2 TD: So smart.
0:16:36.6 EC: So back years and years ago, he saw an opportunity to come in and, and the road that he took was different. It wasn't... He ended up working with a lot of lines. Well known lines and becoming an educator as well. So that would make sense different from a practitioner, so different, so obstacles to overcome. But I did ask him what changes do you see in the next five years concerning male practitioners in the industry? And he had a very good point.
0:17:03.3 TD: Okay.
0:17:04.0 EC: He said, languaging will become more inclusive. And I was like, "Ooh, yup. I agree." [laughter] So it's not going to be.
0:17:12.2 TD: She did this in her product line in her practice and...
0:17:18.3 EC: Possibly a more androgynous look to marketing spiels and packaging too.
0:17:21.6 TD: Oh, for sure.
0:17:22.6 EC: So less feminine, less rose gold and, and matte pink. And you know, I'm thinking of Kylie cosmetics.
0:17:30.0 TD: Are you thinking like ASCP take note, get on androgynous. Well, I mean, I think back we're, on a rebrand mission right now, but I think what you would, if you look at our site right now, what is it?
0:17:41.6 EC: Pink and black.
0:17:42.6 TD: It's fuchsia in your face, black and white. Right. And so not that pink is not masculine, pink's masculine, but you know what I'm saying?
0:17:55.0 EC: The inference.
0:17:55.1 TD: Yeah.
0:17:55.0 EC: So he said, I think as the industry evolves, more men will come into the skincare industry. So I think we have gotta be prepared for that. He said there will be growth within the men's market. And he said, men are becoming more of a savvy customer, just like we were talking about. He said they research before they buy. And they're very loyal clients, which has been my experience.
0:18:13.6 TD: I just wanna say "Hala." I mean, literally loyal, loyal, loyal. I've talked to waxers all the time who say that they've had the same male clients for like 25 years.
0:18:24.6 EC: And it's been my experience too. And they're very compliant. They listen, they do what they're told. They come back when you tell them, they buy what you need them to buy their dreams.
0:18:33.9 TD: Why can't all husbands be like that? [laughter] I don't know. I digress.
0:18:37.7 EC: He also said, and this is a really good point that he said, he said, the guys, the male, the men that are in this industry now will be considered pioneers. So if...
0:18:47.7 TD: Jump in.
0:18:49.1 EC: So if you are a male practitioner, kudos.
0:18:52.7 TD: Kudos.
0:18:53.7 EC: Yeah.
0:18:54.0 TD: Celebrating you. Whoop. Whoop.
0:18:55.4 EC: Yeah. So why do you think Tracy, why do you think that women... Do you think women trust advice of men more than women?
0:19:03.3 TD: That's challenging, challenging question. I think sometimes it depends on the topic that it's about, but I'll tell you what, show me a good male aesthetician I'll sign up right now. I have no problems whatsoever actually sounds quite lovely.
0:19:22.2 EC: And what do you think what do you think about changing the language when dealing with our mount counterparts?
0:19:28.0 TD: Oh, I think that's a must, you know, I don't wanna be part of that industry who's last to get on board with it. Like, you know, I think we should all get on board. We should have been on board with it years ago. You know?
0:19:41.9 EC: I think so too. And I think for me it sound, it feels like why aren't we there yet?
[chuckle]
0:19:47.2 TD: Yeah.
0:19:47.5 EC: Why are we still leaning that way?
0:19:48.6 TD: Like, it's kind of like uh...
0:19:49.6 EC: Leaning to the... Leaning to the frilly the pampering. I think that the, the verbiage will change. And I think it's changing too, that we won't have like, marketing about pamper yourself and feel this luxury. I think that will be... Some people will stick with that, but I think we might move away from that and more to other things. And I think we've seen that. Right.
0:20:09.4 TD: Yeah. And I think, you know what, everybody should find... We talked about niche, right? You just mentioned this was a niche and he saw an opportunity. I mean, everyone should define their niche. You should really always find your niche. Meaning like, maybe you are just luxury and pampering, but maybe you're more clinical or maybe you are results driven or maybe, you know, it's a whole wellness that you're providing. So I would just encourage everybody to just keep being true to who they are and to keep defining their niche, whatever that, whatever that is.
0:20:40.9 EC: I love that advice.
0:20:42.2 TD: Yeah.
0:20:42.4 EC: That's the advice I give to people too. Like what is your passion? And then what is your skincare philosophy?
0:20:47.2 TD: Yeah.
0:20:47.8 EC: Because if your philosophy is about providing relaxation, then maybe not dermaplane or chemical peels.
0:20:54.3 TD: Right.
0:20:54.9 EC: But, or if you like meticulous attention to detail, lashing might be your game versus a massage.
[laughter]
0:21:02.1 TD: Yeah. Don't be who you're not right. Don't force it. Just go with the flow.
0:21:05.7 EC: It's so interesting 'cause our industry is so broad.
0:21:08.5 TD: Oh, that's what makes it the best. There's something in there for everybody there really is.
0:21:13.1 EC: Yeah. Now listeners, we really wanna hear from you. What are your thoughts on male aesthetic practitioners? What challenges do you see they will face and how can they overcome them? Let us know, reach out on our social media platforms, especially Instagram and Facebook or by emailing get connected@ascpskincare.com. We wanna know all the details. In the meantime thank you for listening to a ASCP Esty Talk. For more information on this episode or for ways to connect with Maggie or myself, or to learn more about a ASCP, check out the show notes and stay tuned for the next episode of ASCP Esty Talk.
0:21:48.9 S3: Thanks for joining us today. If you like what you hear and you want more subscribe, if you wanna belong to the only all inclusive association for aestheticians, that includes professional liability insurance, education, industry insights, and an opportunity to spotlight your sick skills. Join at ascpskincare.com only $259 per year for all this goodness, ASCP knows it's all about you.Page Break