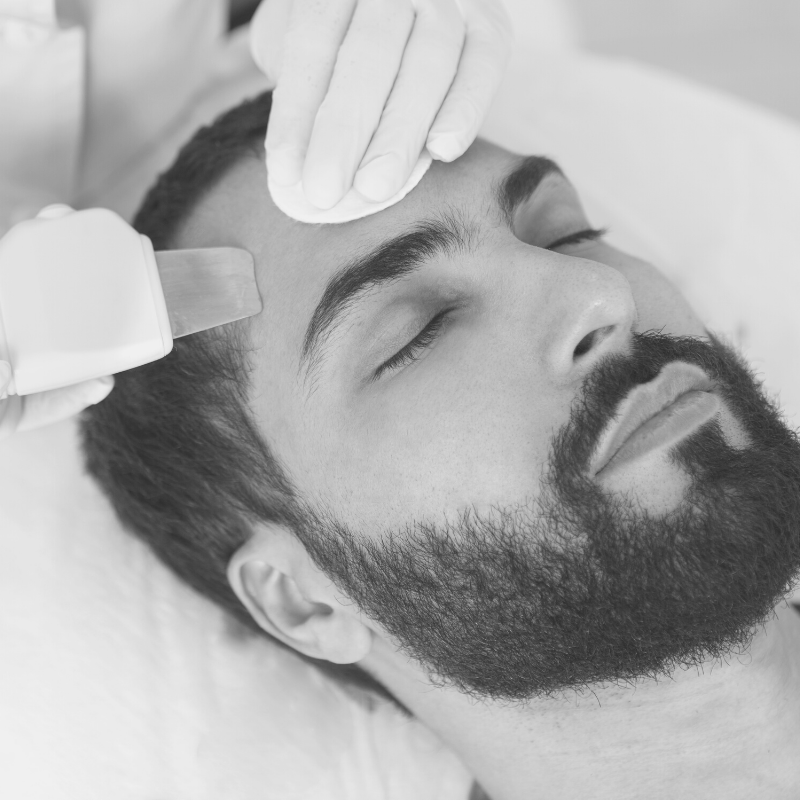 Once thought of as feminine, the practice of caring for one's skin is now seen as self-care. With skincare companies and practitioners moving to gender neutral products, packaging, marketing, and services, we can expect a shift in verbiage and service menu offerings. In this episode, we discuss history, statistics, influencers, and all things related to gender bending in professional esthetics.
ASCP Esty Talk with Maggie Staszcuk and Ella Cressman
Produced by Associated Skin Care Professionals (ASCP) for licensed estheticians, ASCP Esty Talk is a weekly podcast hosted by Maggie Staszcuk and Ella Cressman. We see your passion, innovation, and hard work and are here to support you by providing a platform for networking, advocacy, camaraderie, and education. We aim to inspire you to ask the right questions, find your motivation, and give you the courage to have the professional skin care career you desire.
About Ella Cressman:
Ella Cressman is a licensed esthetician, certified organic formulator, business owner, and absolute ingredient junkie! As an educator, she enjoys empowering other estheticians and industry professionals to understand skin care from an ingredient standpoint rather than a product-specific view.
She has spent many hours researching ingredients, understanding how and where they are sourced, as well as phytochemistry, histological access, and complementary compounds for intentional skin benefits. In addition to running a skin care practice, Cressman founded a comprehensive consulting group, the HHP Collective, and has consulted for several skin care lines, including several successful CBD brands.
Connect with Ella Cressman:
Website: www.ellacress.com
Website: www.hhpcollective.com
About Maggie Staszcuk:
Maggie has been a licensed esthetician since 2006 and holds a bachelor's degree in business administration from Stephens College. She has worked in the spa and med-spa industry and served as an esthetics instructor and a director of education for one of the largest schools in Colorado before coming to ASCP as the Advanced Modality Specialist.
Connect with Maggie Staszcuk:
P 800.789.0411 EXT 1636
E MStaszcuk@ascpskincare.com or AMI@ascpskincare.com
About our Sponsors:
About Truth Treatment Systems:
Truth Treatment Systems, developed by Benjamin Knight Fuchs, registered pharmacist, nutritionist, skin care chemist, and star of the Rogue Pharmacist podcast series on ASCP Esty Talk, was founded with a scientific and holistic approach to skin care—always taking into consideration the mind, body, skin connection.
Benjamin Knight Fuchs has been developing pharmacy-potent skin health products for estheticians, dermatologists, and plastic surgeons for 30+ years. He believes correcting the skin is about the health of the skin, which directly correlates to the overall health of the body.
If you want the "Truth" on results-driven skin care, visit www.truthtreatmentspro.com or download the Truth360 app anywhere apps are found. Get instant access to continuing education from Benjamin Knight Fuchs and Truth Treatment Systems line of products.
ASCP members receive a $70 discount on the VIP PRO Level subscription on the Truth 360 app. Only $29.95 per month for ASCP members! Log in to your ASCP account and sign up today.
For more information on Truth Treatment Systems Products
ASCP Members: Truth360 App Discount
About Elleebana:
Elleebana continues to push the treatment evolution envelope and influence the global market. Company Director, Otto Mitter is a qualified Cosmetic Chemist of the Institute of Personal Care Science and award-winning global & lash brow educator. Highly passionate about product ingredients, research and development and ongoing education, Otto is the innovator for the world famous Elleebana One Shot Lash Lift system, Elleeplex ReGEN and Elleebana Brow Henna, as well as Co-Producer of the Belmacil Lash & Brow Tinting System. Otto continues to extend the boundaries of product development within the world of beauty and in collaboration with other world leaders in the industry.
Connect with Elleebana:
Website: https://elleebana-usa.com/
Facebook: https://www.facebook.com/elleebanausa
Instagram: https://www.instagram.com/elleebanausa/
About Associated Skin Care Professionals (ASCP):
Associated Skin Care Professionals (ASCP) is the nation's largest association for skin care professionals and your ONLY all-inclusive source for professional liability insurance, education, community, and career support. For estheticians at every stage of the journey, ASCP is your essential partner. Get in touch with us today if you have any questions or would like to join and become an ASCP member.
Connect with ASCP:
Website: www.ascpskincare.com
Email: getconnected@ascpskincare.com
Phone: 800-789-0411
Facebook: www.facebook.com/ASCPskincare
Instagram: www.instagram.com/ascpskincare
Ep 127 - ASCP Esty Talk - Gender Blender_FINAL
0:00:00.0 Speaker 1: Achieve real results for your clients with the help of the new Truth 360 app, brought to you by Truth Treatment Systems. The Truth 360 app makes client at-home care recommendations easy and features a customizable storefront to make at-home care recommendations and purchases simple. No big opening orders required. Plus, get access to advanced skincare education, developed by Benjamin Knight Fuchs. Professional discounts on products and earn up to 30% commission on all products sold through your Truth 360 app storefront. Visit truthtreatmentspro.com or download the Truth 360 app from your phone's App Store. ASCP members log on to ascpskincare.com now to access your limited time discount code.
[music]
0:00:55.2 S1: You are listening to ASCP Esty talk, where we share insider tips, industry resources and education for estheticians at every stage of the journey. Let's talk 'cause ASCP knows it's all about you.
0:01:10.3 Maggie Staszcuk: Hello and welcome to ASCP's Esty talk. I'm your co-host, Maggie Staszcuk, and ASCP's cosmetology education manager.
0:01:18.0 Ella Cressman: And I'm Ella Cressman, licensed esthetician, certified organic formulator, ingredient junkie and content contributor for Associated skincare Professionals.
0:01:26.9 Tracy Donley: Hello. Hello, and I'm Tracy Donley, executive Director of ASCP. And I'm here hanging out with these ladies, seeing what I can add to the conversation for you guys today.
0:01:37.3 MS: Today we're talking men's skincare. And there are a lot of estheticians out there who would argue that skincare should not be defined by gender. But I'm here to tell you, traditionally, aesthetic services and products have been geared towards women, and it would be unthinkable for a man to consider using cosmetics or receiving SPA services until now.
0:01:58.0 EC: Now there's a long history of the perception of masculinity and beautification. So if we look back through the ages, we can remember. Nobody here's gonna remember, but...
0:02:09.9 TD: It's like from Cleopatra days.
0:02:12.3 EC: Oh, yeah. Men would wear Eyeliner. But then you had the powdered faces rouged with wigs. And men were the first to wear high heels.
0:02:22.8 TD: Oh yeah.
0:02:23.4 EC: So there's that. But for the last few decades, men's products or male grooming products, if you will, or beautification products, they fell into a category of their own. So we call this men's grooming. And with that we had full function products like shaving, face, body moisturizer, deodorant, etcetera. That was about it. And then the packaging screamed masculinity.
0:02:48.1 TD: It was like a whiskey bottle.
0:02:49.4 MS: Yeah, entirely.
0:02:52.0 EC: Or like gunmetal, black, gray, navy blue, and as we mentioned, well, most of the products were multi-function because we can count on men's, have separate products. And then the marketing campaigns were very, very masculine. I think there is lumberjacks or that remember the Marvel man?
0:03:15.0 TD: Oh yeah. Well talk about health.
0:03:17.0 EC: Not that they are endorsing that. Or like Bounty, the Bounty man.
0:03:21.2 MS: Yeah.
0:03:21.7 EC: The Brawny man. Brawny.
0:03:23.9 TD: Oh Brawny?
0:03:24.6 EC: Brawny man? .
0:03:25.6 MS: Yeah, Brawny.
0:03:26.7 EC: Yeah. I don't even use that product. I use ____ towels. So I wouldn't know. [laughter]
[overlapping conversation]
0:03:30.7 TD: Okay.
0:03:31.9 S1: But a masculine way to clean up a spill. Nonetheless.
0:03:33.7 TD: Yeah. That's a hard worker.
0:03:35.1 EC: We know that the beauty industry is ever evolving. And that includes the perception masculinity, right?
0:03:41.6 TD: Right.
0:03:42.2 EC: So today, what we're seeing our gender norm's changing. Stereotypes lifting and men are embracing their skins wellbeing.
0:03:50.1 TD: Can I just say that I do not hate the fact, I think sometimes we're too tough on niche marketing. It's one niche right?
0:04:04.7 MS: You are saying that men is a niche market.
0:04:07.6 TD: Well, no I'm saying manly men as a niche market.
0:04:11.3 MS: Okay.
0:04:12.2 TD: There's also two teeny boppers. That could be male or female, that could be older generation that could be a male or female, but everybody's... It is really important in marketing to define your niche. So I don't wanna hate on it, but we don't wanna have assumptions that if you're a man, a male, then you are gonna want a lumberjack plaid bottle to smell like pine needles. And that is gonna get you to buy the product.
0:04:43.5 MS: Entirely. And historically, that was men's products.
0:04:47.8 TD: Yes. I agree, I agree.
0:04:48.6 MS: And today that's evolving.
0:04:50.1 TD: Yeah.
0:04:50.1 MS: I think we're moving away from that. So looking at some statistics, men's personal skincare market is expected to hit 276 billion by 2030, which is insane.
0:05:03.5 TD: I love it so much. Take care of your skin men.
0:05:07.1 EC: Yeah, right, yeah.
0:05:08.6 TD: Look good for me please.
0:05:09.7 MS: They're embracing it. And there was a survey, it was conducted by Euro monitor. More than 56% of US male respondents admitted to using some sort of facial cosmetic like foundation concealer or even BB cream.
0:05:23.4 TD: Oh, I love that. They get sets too. I mean men... All of my husbands, all of my boyfriends, they've always came along and said," Oh, I got a set, can I just use that?"
0:05:36.6 MS: Yeah.
0:05:36.9 TD: "Can I just cover that up really quick."
0:05:38.8 EC: You like reality TV? Remember Vanderpump Rules?
0:05:42.3 TD: Oh, I still watch it.
0:05:43.9 EC: And Tom Sandoval.
0:05:45.4 TD: Oh, yeah.
0:05:45.5 EC: He would wear foundations and BB creams and...
0:05:47.4 TD: And he would gel his brows.
0:05:49.4 EC: Hyper-masculine.
0:05:50.7 TD: Yeah.
0:05:50.7 EC: But I use a tinted moisturizer on every single client.
0:05:55.0 MS: I love that, and I used to do that too, because they would walk out looking steen. Despite gender, every single client.
0:06:04.9 TD: Oh yeah, I think that's fantastic. The first time I gave the some tinted sunscreen to my oldest son, he was like, "Oh, mom, I look good." Then he started wearing it more often.
0:06:18.8 MS: Absolutely. So Google searches for male makeup have increased 67%, and searches for male makeup looks have jumped nearly 80%.
0:06:31.8 TD: What?
0:06:32.4 EC: I think this goes to your point, Tracy though. I think this goes to your point that. Let me tell you. I drive through Starbucks all the time. And there is this one Starbucks in particular that all the baristas, all of the baristas have their eyebrows done. They have lashes on and they have amazingly perfect eyeshadow. All of the baristas.
0:06:54.8 TD: They're put together.
0:06:56.1 EC: Put together.
0:06:57.0 TD: Yeah.
0:06:57.6 EC: And despite gender.
0:07:00.6 TD: I love that.
0:07:00.7 EC: Yes, I do too. And I think that there is, a parallel movement here, in my opinion.
0:07:05.2 TD: Mm-hmm.
0:07:06.0 EC: There's this movement because we can look at the hyper masculine market and we can also look at the hyper feminine market.
0:07:11.6 TD: That's what...
0:07:11.8 EC: And there was this, everything was pink and floral and there was this expectation of femininity that we were held to, or that the perfect, not that I'm looking right at you Maggie, but blonde hair, blue-eyed perfect person.
0:07:26.3 MS: Very feminine.
0:07:27.4 TD: Yeah.
0:07:27.5 MS: Very soft.
0:07:28.3 EC: Yeah. But now we see inclusivity throughout the female market.
0:07:32.5 TD: Mm-Hmm.
0:07:32.8 S1: And we see that inclusivity in the beauty market happening more.
0:07:37.9 TD: I love it. I mean, that's, you were exactly driving home what I was trying to articulate earlier in the conversation here is that it's, we don't just say male market. We don't just say female market. There are so many niches within there. And that's what I think is cool.
0:07:55.8 EC: Like the eyelash market.
0:07:57.1 TD: Yeah.
0:07:57.7 EC: And how that's spanned over gender.
0:08:00.8 TD: Yes. Brows, especially. I mean, there are men out there getting their brows laminated, tinted. I mean, that's become a normal.
0:08:10.8 MS: Yeah. You guys make a really interesting point though, because I don't agree that it's just the beauty market. I think that there is still the male market and there is still the female market. It's just how we're marketing to each segment.
0:08:27.4 TD: Yeah. Segments within the segments.
0:08:29.8 MS: Segments within the segments.
0:08:30.8 TD: Segments within the segments.
[laughter]
0:08:33.1 TD: And the beautiful thing is, from a branding and a marketing standpoint, marketing expert standpoint is that you're gonna do a lot better if you really niche down, especially when you're talking about the billions of dollars that Maggie has referenced here. I mean, don't be all things to all people.
0:08:51.8 MS: Yeah. It's just, it's not hyper masculinized.
0:08:54.5 TD: Yeah.
0:08:54.8 MS: It's either we're moving now more gender neutral or brands are realizing that they don't need to be this hyper masculine marketing in order to target the male market.
0:09:06.9 TD: Hey guys, stop. Let's take a quick break.
0:09:09.9 S1: Elleebana, Australian Born, Globally Loved. Elleebana's story is simple. They love lashes and brows. They shoot for the stars and lift lashes to new Heights. Their addiction is real. Their passion is popping and there is nothing more they crave than offering excellence, service and innovation in products. Elleebana Lash Lift allows you to offer your customers luscious lifted lashes that can last up to 12 weeks in one safe 20-minute treatment. Learn more at elleebana-usa.com.
0:09:47.9 TD: Let's get back to the conversation.
0:09:50.0 EC: Do you remember the man your man could smell like? I'm on a horse. Do you remember this old spice?
0:09:56.7 TD: No. I don't. [chuckle]
0:09:57.0 EC: It was like, I don't know, 10 years ago, maybe it was a handsome, good looking guy. I mean, there were some very artsy commercial. I think it debuted on the super bowl. The man, your men, I am the man you men could smell like, and it was this hyper masculine man, gorgeous taking through all these masculine type activities. And then he ends the commercial with I'm on a horse. Like.
[laughter]
0:10:20.7 EC: He's implying, I dare you to say something to me.
0:10:23.5 TD: Yeah.
0:10:23.8 EC: Look how manly I am. And so we're moving away from just that this X deodorant is gonna make me get all the chicks into, like, oh, let's I, you can use an eye cream and don't have to worry about.
0:10:37.9 TD: Let's just care about the circles under our eyes.
0:10:38.8 EC: Yeah.
0:10:39.6 TD: And or yeah, or making sure that those serums will work on my skin or, and deliver the results I want.
0:10:46.8 EC: And I think Maggie's absolutely correct. There's still a male market and a female market. And I think that messaging is more leaning to, "It's okay to be you," like inside each of those in inclusivity in both of those 'cause you see dad bod commercials too, right?
0:11:03.3 TD: Mm-hmm.
0:11:03.5 EC: And you see, "This t-shirt will make you look real good." [laughter] Like, is it more of an acceptance away from the man your man could smell like to, "No, you're pretty cool just like you are. Don't worry."
0:11:14.6 TD: I just think you can have it all. I mean, you can have hyper male rugged, like I'm gonna make this cleanser smell like bourbon kind of a thing. And then you can have like a very gender neutral. You can have, you can just, you can have it all, but you just gotta figure out what you won't.
0:11:31.5 EC: Listen. I drive a lot. I don't want to smell like bourbon, [laughter] just in case, 'cause I drive fast. [laughter]
0:11:37.7 MS: I love it, Ella. That's funny. It's just becoming more acceptable for men or men are embracing it more into their every day.
0:11:44.6 TD: Yes. Yes. And whatever it takes to get them, whatever messaging they need to align with to get them to embrace skincare, skincare products and taking care of their skin. Right. Hey, I'm all for it.
0:12:02.2 MS: So here's the ultimate question for all the estheticians out there and I'm sure you've got an opinion on this too, Tracy.
0:12:08.4 TD: Oh, boy. Okay.
0:12:08.8 MS: Okay. Do men and women need different formulations?
0:12:11.6 TD: I'm gonna let Ella go first.
0:12:14.4 EC: No. [laughter] They do not. So no it's based on this, the face. It should never be just about the gender. It should never be about ethnic background. It should be based on the face. What does this skin need? This person, this client, this individual, what do they need? That's my opinion. What do you think?
0:12:31.9 MS: I agree with you 100% men, I guess you could argue, stereotypically have different skin from women. Maybe it's more oily. Maybe it's thicker, but it all comes down to your skin analysis and the product is the product you're going to pick what's appropriate for the skin in front of you regardless of gender.
0:12:50.6 TD: Okay. But before, and maybe I'm giving away a little something that you're saving for the end here. But before we started the podcast, we were all chatting and you did mention like, "Well it depends on what level their facial hair is at." Right. So, I mean there is that, what do you guys think about that? Like, I mean, as far as saturation, so like if, for instance they've got just a little 5 o'clock shadow versus, maybe it's a two-day shadow.
0:13:17.0 MS: Yeah, I think... Well, you are making a good point. I did some research and according to Statista, there's supposed to be huge growth in products designed not just for skin type and gender, but also different degrees of stubble, which, that's one of the biggest differences, obviously, in men versus women, they're shaving every day, they have facial hair growth that women don't have...
0:13:40.5 EC: Except for me. [laughter] You guys remember my story about the laser hair removal? [laughter] So I'm gonna need the name of that. [laughter]
0:13:50.2 TD: Stop it. You don't have facial hair.
0:13:53.0 EC: Not anymore.
0:13:56.8 TD: But there is dermaplaning and that also brings up another thing that's interesting, if you are focusing on a male clientele, regardless if it's manly men or not or whatever, I mean, are you asking them before they come in to get a treatment, are you saying, hey, can you make sure that you have a freshly clean shaven face?
0:14:16.1 MS: No, I don't.
0:14:17.6 EC: You can and it depends, I don't either. I'm with Maggie. I don't want that because shaving compromises what I can and can't do, so that's another form of exfoliation. So that's gonna limit what I can do. I'd rather them come in with a two-day beard versus a fresh shaven face, because sometimes it depends like if what we're addressing, but not on the first visit.
0:14:38.9 TD: And then you'd even you'll be able to see like, how is there, how do their follicles respond, do they get ingrowns? Are they reactive in that way, right, you can do a better assessment?
0:14:49.0 EC: Yes, yeah.
0:14:51.0 TD: Interesting, okay. I can't think of any other way to kinda be like, no, it should be different. I think you guys, I mean, you're the experts.
0:15:00.5 MS: I would say, I guess the product is what it is, and maybe it just comes down to marketing, because...
0:15:04.5 TD: I really think it's all marketing and fragrance...
0:15:07.5 MS: In fragrance could be, yeah, too, because in my research, I've read that if a product is geared more towards women, that could be a barrier for men deciding they want to use that, but on the flip side, I think a lot of men are embracing products that potentially their wife or their girlfriend or their sister or whoever is introducing them to.
0:15:30.8 TD: But I think that they're not going out to the store and saying, "Oh, I'm gonna pick this product off the shelf, this looks fabulous, I love this." But I think that they may find a product that they love that happens to be in the medicine cabinet of their wife, girlfriend, sister, what have you.
0:15:50.7 EC: My man has his own little set up, and it doesn't matter the color, he's like, It's Friday night, this is exfoliation night, and I need eye cream, so he's got his set and he even has a tinted moisturizer, he would die, if you guys told him I told you...
0:16:05.1 TD: I know, I've been telling Chris not to listen to these podcasts and Mark 'cause I talk about his...
0:16:10.1 EC: But he has tinted moisturizer, cause it stops that blue cast 'cause I used physical block, and he's been working outside, so he's got a little, he's probably Fitzpatrick IV.
0:16:21.0 TD: Yeah, he's got great skin.
0:16:22.7 EC: Yeah, and so he uses that. So it negates the argument of, oh, I have this blue cast or this white cast or whatever.
0:16:31.0 TD: Yeah, I think that whenever I think it's really easy. I think we're influencers as women, regardless of how we look at it, we are influencers in men's skincare, because if you have any kind of relationship with men, even your dad, right when I was on COVID lockdown and I was waiting for my... I was living with my parents. That's true, I'm almost 50, so you guys can just make fun of me, but anyhow, I got my 70-something Dad using, showing him how to correctly shave, making sure that he was exfoliating his skin, making sure he used facial oils and now he's a junky. He's always, whenever I come back to Wisconsin, he's like, "Hey, what did you bring me this time?" So we're influencing.
0:17:21.8 EC: Yeah, you're right. Well, and to that point, there are some male influencers out there that are breaking that gender norms, for instance, Machine Gun Kelly, he launched his own nail product line.
0:17:36.2 TD: Oh, I love that... Nail, nail colour?
0:17:38.3 EC: Nail colour.
0:17:39.1 TD: Oh, I love that.
0:17:40.2 EC: Yeah, it's called UN/DN LAQR.
0:17:42.4 TD: Oh, I love it.
0:17:43.6 MS: Yeah, I think that's really interesting. And then also, Harry Styles has the launched his own skincare line called Pleasing.
0:17:51.5 TD: See those guys, they really know how to name their stuff.
0:17:54.6 MS: They do, right?
0:17:56.7 TD: I think some of these male-focused brands, I would use the skincare line called Pleasing, [laughter] but I think that they do a good job, and I think that...
0:18:09.6 MS: Their team does a good job.
0:18:11.4 TD: Okay, yeah, their team... It goes back to the, even the other podcast that we had before, it's like, but do the research, right? Know the products. Don't just get into it 'cause it's called Pleasing.
0:18:25.4 EC: Entirely.
0:18:26.2 MS: Now, listeners, we really wanna hear from you, are you seeing more men in your treatment room, what are you doing to market to the male clientele? Reach out on our social media platforms, especially Instagram and Facebook, or by emailing, get connected at ascpskincare.com. We wanna know all the details. In the meantime, thank you for listening to ASCP Esty Talk for more information on this episode or for ways to connect with Ella or myself, or to learn more about ASCP, check out the show notes. Stay tuned for the next episode of ASCP Esty Talk.
0:18:58.1 S1: Thanks for joining us today. If you like what you hear and you want more, subscribe. If you wanna belong to the only all inclusive Association for estheticians that includes professional liability insurance, education, industry insights and an opportunity to spotlight your sick skills, join at ascpskincare.com, only $259 per year for all this goodness. ASCP knows, it's all about you.
[music]Page Break