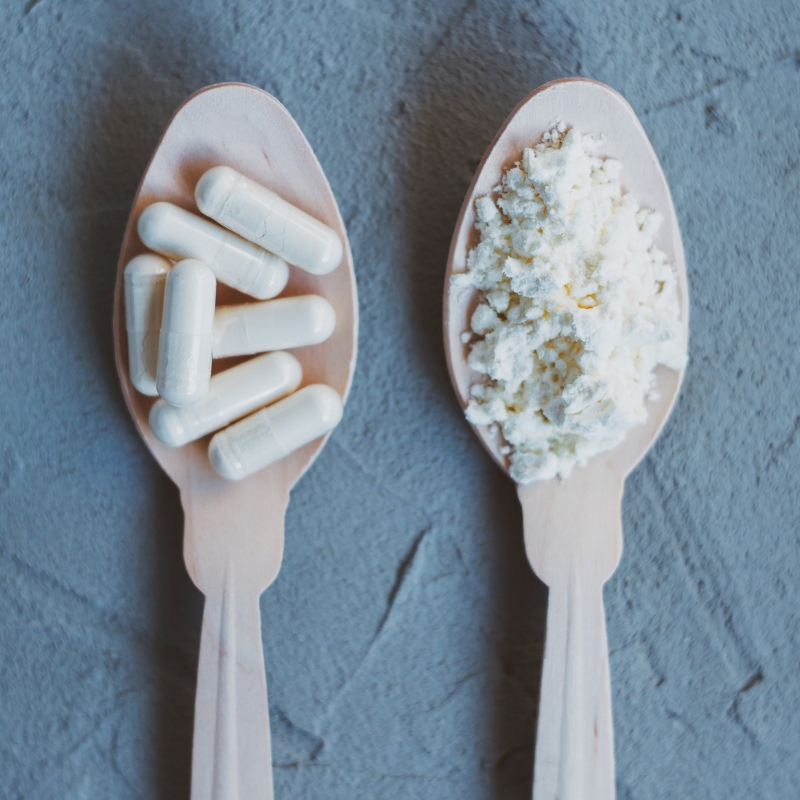 Shown to improve the skin's elasticity, help with sensitivities, and rid the skin of irritation, colostrum could be the wonder ingredient your skin is missing. Some people may wrinkle their nose at the thought of colostrum in skin care, but it's a trending ingredient for many reasons. In this episode of The Rogue Pharmacist with Benjamin Knight Fuchs, RPh, Fuchs shares what estheticians need to know.
Associated Skin Care Professionals (ASCP) presents The Rogue Pharmacist with Benjamin Knight Fuchs, R.Ph. This podcast takes an enlightening approach to supporting licensed estheticians in their pursuit to achieve results-driven skin care treatments for their clients. You can always count on us to share professional skin care education, innovative techniques, and the latest in skin science.
Benjamin Knight Fuchs is a registered pharmacist, nutritionist, and skin care chemist with 35 years of experience developing pharmacy-potent skin health products for estheticians, dermatologists, and plastic surgeons. Ben's expert advice gives licensed estheticians the education and skin science to better support the skin care services performed in the treatment room while sharing insights to enhance clients' at-home skin care routines.
Connect with Ben Fuchs:
Website: www.brightsideben.com 
Phone: 844-236-6010
Facebook: www.facebook.com/The-Bright-Side-with-Pharmacist-Ben-Fuchs-1011628013346...
About Our Sponsor:
LAMPROBE
The popular and revolutionary LAMPROBE utilizes radio and high-frequency technology to treat a wide variety of Minor Skin Irregularities™ (MSI)—non-invasively—with instantaneous results. Common conditions treated by the LAMPROBE include: vascular MSI, such as cherry angiomas; dilated capillaries; sebaceous MSI, including cholesterol deposits and milia; and hyperkerantinized MSI, such as keratoses and skin tags.
The LAMPROBE uniquely assists modern, capable, and skilled skin care practitioners to do their work more effectively and with greater client and professional satisfaction. Setting standards in quality, education, and training, the LAMPROBE has become an essential tool enabling skin care practitioners around the world to offer new revenue-enhancing and highly in-demand services.
Connect with LAMPROBE:
Website: www.lamprobe.com
Email: info@lamskin.com
Phone: 877-760-2722
Instagram: www.instagram.com/lamprobe
Facebook: www.facebook.com/theLAMPROBE
About Truth Treatments:
All Truth Treatment Systems products have one thing in common—they work! Our products are made with 100 percent active and functional ingredients that make a difference to your skin. No fillers, preservatives, waxes, emulsifiers, oils, or fragrances. Our ingredients leverage the latest biochemical understandings and use proven strategies gleaned from years of compounding prescription skin health products for the most discerning physicians and patients.
Connect with Truth Treatments:
Website: www.TruthTreatmentsPro.com 
Facebook: www.facebook.com/truthtreatments 
Private Facebook Pro Group: www.facebook.com/groups/truthtreatments 
Instagram: http://www.instagram.com/truth.treatments
0:00:00.0 Speaker 1: Do you see yourself as the rebel who challenges the status quo on skin health? Learn how to be a critical thinker, discover innovative solutions to skin conditions and facilitate individualized healing on a deeper level with Truth Treatment Systems. Truth Treatment Systems provide you the products and tools to unveil the truth behind skin conditions. Sign up for a wholesale account today at truthtreatmentspro.com and receive 10% off your first order. That's truthtreatmentspro.com.
0:00:37.9 S1: This podcast is sponsored by Lamprobe. Lamprobe is a popular aesthetic tool that enables skin care practitioners to rapidly treat a wide variety of common minor skin irregularities, or MSI. Red MSI treated by Lamprobe include dilated capillaries and cherry angiomas, yellow MSI, cholesterol deposits, and sebaceous hyperplasia, and brown MSI treated include skin tags and more. Lamprobe MSI treatments are non-evasive and deliver immediate results. Lamprobe can empower your skin practice with these new and highly in-demand services. For more information, visit lamprobe.com, that's L-A-M-P-R-O-B-E.com, and follow Lamprobe on social media @lamprobe.
0:01:33.0 Maggie Staszcuk: Hello and welcome to ASCP and the Rogue Pharmacist with Benjamin Knight Fuchs. In each episode, we will explore how internal and external factors can impact the skin. I'm Maggie Staszcuk, ASCP's Education Program Manager, and joining me is your favorite skin care formulator and pharmacist, Ben Fuchs. Hey Ben.
0:01:51.2 Benjamin Knight Fuchs: Hey, Maggie, good to see you.
0:01:53.5 MS: Good to see you. Today we're talking all about colostrum in skin care. So some people may wrinkle their nose at the thought of this, but it's really a trending ingredient right now, and for a lot of reasons.
0:02:04.0 BF: What? Why would they wrinkle their nose? It's just milk.
0:02:07.4 MS: Yeah, it's just milk.
0:02:09.4 BF: It's not exactly milk, it's first milk.
0:02:11.8 MS: First milk.
0:02:13.4 BF: Yeah, do you know... It sounds like you know a little bit about colostrum.
0:02:14.9 MS: I know a little bit about it, but tell us what we need to know, why is this trending? Why is it such a great thing.
0:02:19.7 BF: Okay. Yeah. It's a powerful, it may be the single most powerful nutritional food source. Eggs are up there, but arguably, colostrum is this, along with eggs, is the most concentrated, nutritionally concentrated food source of anything you could possibly ingest. It's designed to grow a baby, and it's especially designed to grow a baby's intestine, the intestinal lining, is especially designed to support a baby's immune system, and we know that the skin has a lot of things in common with the immune system, or with the digestive system, and it's also an immune organ, so it makes a lot of sense that colostrum would have skin benefits. There's also epidermal growth factors and various skin growth factors in the skin as well. Nature has designed mother's milk to be... And colostrum is, they call it first milk, it's the first mother's milk, it's the most concentrated form of mother's milk in terms of nutritional value and nutritional contents.
0:03:16.5 BF: Nature has designed mother's milk to be the quintessential food source for baby growing. We're called mammals because we are born early and we depend on mammary glands in order to grow. Mammal babies are born with big heads, human babies are especially born with big heads because we've got big brains. But in order for the baby to come out of the birth canal, the head in the baby is not fully developed so that the baby can come out of the birth canal without cause... It's already stressful for the baby to come out of the birth canal, nature has designed the physiology of the baby to mature after birth. So it requires the physiology of the baby, the development of the physiology of the baby requires growth factors.
0:04:04.1 BF: Nature has set up a system where the baby will be born early and those growth factors will support the rest of the baby's growth, and that's why babies, when they're born, their intestine is premature, it's not fully developed, their digestive tract is not fully developed, and their immune system is not fully developed either, nature has set it up so that the growth factors in the mother's milk will grow the baby. So mother's milk is loaded with growth factors. It's loaded with immune factors, all of which are designed to build the baby's immune system and to grow the baby, particularly at the level of the digestive system after birth. So mother's milk is incredibly nutritional, and colostrum is the most powerful form of mother's milk. So colostrum as a nutritional supplement is incredible, because it's got all of these wonderful nutrients in it that are supposed to grow a baby, but they'll grow anybody, they'll grow any kind of human.
0:04:53.7 BF: So colostrum as a nutritional supplement is one of the most fabulous nutritional supplements you could ever ingest, especially for the immune system and especially for the digestive system, for the intestine, for folks that have leaky gut or any kind of intestinal problem, Crohn's disease, ulcerative colitis, colostrum can be a godsent. Some of the components in colostrum have actually been used in the COVID protocol, for fighting COVID. There's a special molecule in colostrum called lactoferrin. In fact, lactoferrin makes up a good 10% or 15% of colostrum and mother's milk, and lactoferrin has powerful antibacterial and antiviral properties. It's one of nature's most effective antimicrobials, and it's in mother's milk and it's in colostrum. There's also various growth factors that are specifically designed for growing epithelia, the covering tissue, the lining of the intestine as well as the skin. And colostrum also has all of the building amino acids and growth peptides.
0:05:46.6 BF: So internally, colostrum is fabulous. But as it turns out, colostrum has got some interesting skin benefits too. Now, it is water-soluble, colostrum, so you're not gonna necessarily get the colostrum through the skin, but as we talked about with ATP, if there's wounds, or after peel, or after a laser procedure, or even after exfoliation at home, when the stratum corneum is a little disturbed, putting colostrum in the skin can have some interesting healing and interesting anti-aging benefits. Post-wounding or post burns or trauma, colostrum can also have some healing benefits as well. It isn't necessarily gonna get through the stratum corneum, it might have a little bit of benefit if you put it in a cream, but in a mask, if you can make a colostrum mask or use a patch and put colostrum underneath the patch, that can help drive the colostrum into the lower levels. It really needs to be into the cells where the basal layer and into the derms if you're gonna get the good benefits from colostrum. But really colostrum shines as an internal nutritional supplement, and I can't think of very many nutritional supplements that are more well-rounded for building and for fighting diseases or for supporting immunity than colostrum.
0:06:58.5 MS: That was one of my questions, was it being applied topically and is it really absorbed into the skin, so you answered that for me. So if it is being applied topically, and we're seeing that trending right now, how is this added to a product and made stable?
0:07:14.5 BF: That's a very good question, 'cause it's very unstable. It's hard to stabilize colostrum, that's why you don't see it in a lot of products. However, even if it's unstable or even if it's destabilized, the proteins in colostrum and proteins in general have a hygroscopic water trapping property, so they can leave the surface of the skin even if they're not biologically active. From a mechanical perspective, they can absorb water and it can act like a pretty nice moisturizer. In a product, you're not gonna be able to get the wonderful advantages of the growth factors and the immune supporting factors in a product necessarily, but what you can do is you can make your own. You can buy colostrum powder. It goes right in the water, and you can make a colostrum spray. Or you could add colostrum to your favorite topical product, you can add colostrum to your favorite mask and put it in a mask. And masks in general are effective because active ingredients sit on the surface longer and they're usually in higher concentrations in masks than they are in creams or lotions, and so masks are really a good way to deliver certain active materials. So if you have a mask that you like, like a clay mask of some kind that you like, put colostrum in there, and then just leave it on your skin, or your favorite creamy lotion, you can add colostrum in it too.
0:08:23.2 MS: But when it's dehydrated and becomes a powder, isn't it losing those properties?
0:08:27.6 BF: Absolutely, it's gonna lose a lot of its properties in powder, but it'll still maintain a lot of it too. But really breast milk is so fabulous, and it's so... When you think about it, it's designed to grow tissue, it's designed to grow a being. It's such a powerful source of nutrition. Now we do drink milk, so milk has a lot of those nutrients. And by the way, one of the problems with milk is the ethical side of things. So for people who are vegans, for example, they're not gonna be able to use colostrum, and they're not gonna be able to use milk. Also, this kind of mean spirited, how we get colostrum. We get it from cows, and they're not making it for us, they're making it for their babies. So we're either keeping a cow pregnant in order to get its milk and get its colostrum, or we're taking it from the baby.
0:09:11.9 BF: So there's ethics that are involved with milk and with colostrum, and then of course, because of all the immune factors and all the proteins, some people can react to colostrum or react to milk. If there's no lactose, if you're lactose intolerant, you don't really... There's not a lot of lactose anyway, so you don't have to really worry about lactose. But any time you have a food that is highly active, has lots of peptides in it, lots of immune factors in it, you can get reactions, so there's that side of things too. Sometimes people will react to colostrum, although not as reactive as milk, and sometimes people will react to milk. So it's not like the 100% perfect in the sense that it's reactive, but as far as nutritional value goes, it's hard to beat.
0:09:51.1 MS: Now what about people that have things like eczema or psoriasis?
0:09:54.4 BF: Yes, ma'am. Yes, ma'am. Absolutely. Burns, I would use colostrum right on it, if you don't have any problems with it, with reactivity, or if you're not a vegan, absolutely. Eczema, any kind of broken skin, even acne, the immune factors, the anti-inflammatory factors, all of these things can help support any skin inflammation and putting colostrum in the skin can be very helpful from a medicinal, from a therapeutic standpoint. I'm a big fan of topical colostrum for those kinds of purposes. Even for anti-aging, it's not gonna hurt you. I don't know that you'll necessarily get the wonderful benefits that you would post-burns or post-trauma, but it's definitely not gonna hurt you and it sure will make your skin feel good because of all those proteins and the hygroscopic properties of this protein. Do you do colostrum? Have you done it?
0:10:36.4 MS: No, I've never done it.
0:10:37.6 BF: If you have anybody, if you know anybody who has leaky gut or anybody who has any kind of like IBS or ulcerative colitis or any of those things, colostrum is absolutely amazing for the digestive system. As you know, a lot of skin are secondary to leaky gut, so by using colostrum to patch up a leaky gut or to repair a leaky intestine, you might be able to help prevent or help reduce or eliminate skin problems, and that includes acne, by the way.
0:11:01.2 MS: Interesting. Because it has antimicrobial properties?
0:11:04.8 BF: Because it has anti-microbial and immune-boosting properties. You gotta be a little bit careful with colostrum and with milk because sometimes people will react when you take it internally, but I've seen remarkable things for the digestive system with colostrum and I take colostrum not every day, but five or six times a week I put it in my smoothie.
0:11:20.3 MS: That concludes our show for today, and we thank you for listening. But if you just can't get enough of Ben Fuchs, the ASCP Rogue Pharmacist, you can listen to his syndicated radio program at brightsideben.com. For more information on this episode or for ways to connect with Ben Fuchs or to learn more about ASCP, check out the show notes.