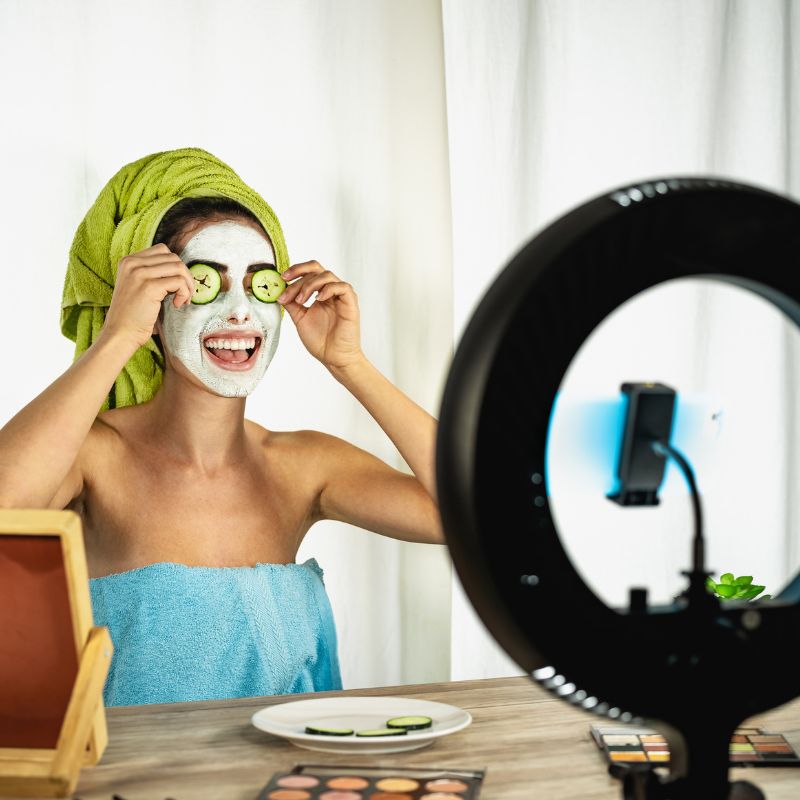 TikTok has the potential to inspire and educate both our clients and us with its weird and sometimes wonderful beauty advice. However, it's also known for being controversial, with unqualified individuals sharing their opinions on how products and services function. In this episode of ASCP Esty Talk, Maggie and Ella talk about the issues with TikTok beauty trends and discuss a few of those trends making the rounds on TikTok right now.
ASCP Esty Talk with Maggie Staszcuk and Ella Cressman
Produced by Associated Skin Care Professionals (ASCP) for licensed estheticians, ASCP Esty Talk is a weekly podcast hosted by Maggie Staszcuk and Ella Cressman. We see your passion, innovation, and hard work and are here to support you by providing a platform for networking, advocacy, camaraderie, and education. We aim to inspire you to ask the right questions, find your motivation, and give you the courage to have the professional skin care career you desire.
About Ella Cressman:
Ella Cressman is a licensed esthetician, certified organic formulator, business owner, and absolute ingredient junkie! As an educator, she enjoys empowering other estheticians and industry professionals to understand skin care from an ingredient standpoint rather than a product-specific view.
She has spent many hours researching ingredients, understanding how and where they are sourced, as well as phytochemistry, histological access, and complementary compounds for intentional skin benefits. In addition to running a skin care practice, Cressman founded a comprehensive consulting group, the HHP Collective, and has consulted for several skin care lines, including several successful CBD brands.
Connect with Ella Cressman:
Website: www.ellacress.com
Website: www.hhpcollective.com
About Maggie Staszcuk:
Maggie has been a licensed esthetician since 2006 and holds a bachelor's degree in business administration from Stephens College. She has worked in the spa and med-spa industry and served as an esthetics instructor and a director of education for one of the largest schools in Colorado before coming to ASCP as the Advanced Modality Specialist.
Connect with Maggie Staszcuk:
P 800.789.0411 EXT 1636
E MStaszcuk@ascpskincare.com or AMI@ascpskincare.com
About our Sponsors
Truth Treatments:
All Truth Treatment Systems products have one thing in common—they work! Our products are made with 100 percent active and functional ingredients that make a difference to your skin. No fillers, preservatives, waxes, emulsifiers, oils, or fragrances. Our ingredients leverage the latest biochemical understandings and use proven strategies gleaned from years of compounding prescription skin health products for the most discerning physicians and patients.
Connect with Truth Treatments:
Website: www.TruthTreatmentsPro.com 
Facebook: www.facebook.com/truthtreatments 
Private Facebook Pro Group: www.facebook.com/groups/truthtreatments 
Instagram: http://www.instagram.com/truth.treatments
About DMK:
Founded by botanical visionary Danné Montague-King, DMK is the World Leader in Paramedical Skin Revision™. Our revolutionary concept of REMOVE. REBUILD. PROTECT. MAINTAIN.® aims to match an individual's biochemistry with the appropriate skin therapy. DMK believes that the origin of most skin conditions is a result of disharmony within the skin. Using the principles of biochemistry, DMK has formulated a range of Enzymatic Treatments and Home Prescriptives that encourage the skin to return to its most balanced and healthy state. For skin care professionals whose business depends on generating long-lasting clinically-proven results, DMK's education-first approach has become essential. Hundreds of salons, spas, and even industry experts have recognized the effectiveness of the DMK concept, witnessed by thousands of people worldwide whose lives have been changed forever.
Connect with DMK:
Instagram:
https://www.instagram.com/dmkinternational/
TikTok:
https://www.tiktok.com/@dmkinternational
Facebook:
https://www.facebook.com/dmkinternational
About Rhonda Allison:
Rhonda Allison Skincare recognizes that every person's skin is unique—we have beautiful skin down to a science.
For more than 30 years, we have looked to nature for inspiration, blending the best active, quality-driven, natural ingredients with highly beneficial, scientifically developed compounds to create superior products.
CEO Shannon Esau and world-class biochemists are in constant research to uncover the latest scientific advancements and next-generation ingredients to give you time-tested, proven ingredients that will transform the condition of your skin.
No matter what your skin care needs may be, we have a skin care line that will meet those needs with quality products proudly free of synthetic dyes, synthetic fragrances, sodium lauryl sulfates, and parabens. Everything you want in skin care try it today!
Connect with Rhonda Allison:
FB: https://www.facebook.com/raskincare
IG: https://www.instagram.com/rhondaallison/
web: https://rhondaallison.com/
blog: https://ra.skin/blogs/news
About Associated Skin Care Professionals (ASCP):
Associated Skin Care Professionals (ASCP) is the nation's largest association for skin care professionals and your ONLY all-inclusive source for professional liability insurance, education, community, and career support. For estheticians at every stage of the journey, ASCP is your essential partner. Get in touch with us today if you have any questions or would like to join and become an ASCP member.
Connect with ASCP:
Website: www.ascpskincare.com
Email: getconnected@ascpskincare.com
Phone: 800-789-0411
Facebook: www.facebook.com/ASCPskincare
Instagram: www.instagram.com/ascpskincare