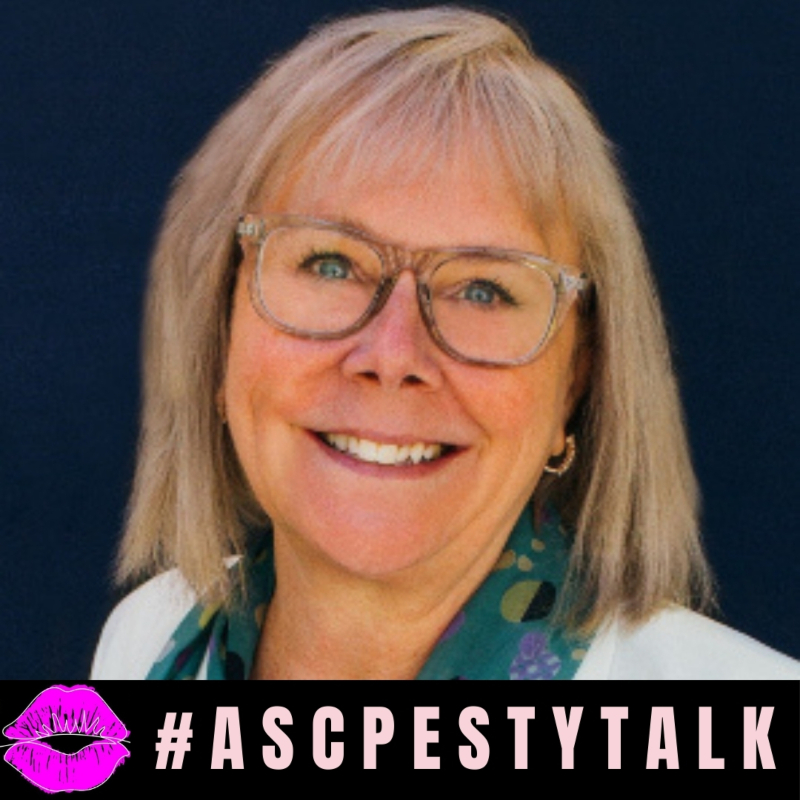 With so many changes in the industry—salons and spas opening and closing, schools going remote, and new legislation to promote the safe practice of advanced esthetics—it's hard to know whether estheticians should take the time and the money to advance their education. In this episode of ASCP Esty Talk, we sit down with industry expert Mary Nielsen, vice chair of the Oregon Board of Certified Advanced Estheticians and diplomat with the American Board of Laser Surgery in Cosmetic Laser Procedures to determine why it is so important for estheticians to continue their education throughout their career.
Author Bio:
About Mary Nielsen:
Mary Nielsen has a unique perspective in providing laser and esthetic service training. She has worked as a technician and nurse and was instrumental in the introduction of lasers and esthetics beyond cosmetic surgery. Since 2006, Mary has worked as a clinical trainer, providing education and training confidence to new laser operators in the Pacific Northwest and Canada. Her point of view and experience as a business owner has built successful management and marketing tools that she shares to help estheticians prosper.
Mary is the owner and a primary educator at Spectrum. She is a licensed esthetician in Oregon, a master esthetician in Washington, a licensed esthetic instructor in Oregon, and a licensed practical nurse. Mary was selected to the Oregon Board of Cosmetology Rules Advisory Committee for Esthetics and also serves on the Board of Certified Advanced Estheticians. Mary is also the author of A Compendium for Advanced Esthetics: A Guide for the Advanced or Master Aesthetician, as well as several policies and procedure manuals for medical spas. She is also the founder and executive director of Fearless Beauties, Skintelligent Resources, and Cascade Aesthetic Alliance.
In her spare time, she enjoys being a grandma, hiking, fishing, and camping with her hubby and family.
​​​​​​​0:00:00.1 Speaker 1: Award-winning Celluma light therapy devices are the choice of esthetic practitioners around the world. Celluma may be used for stand-alone acne, anti-aging or pain treatments, and as an add-on following micro-needling, surgery, laser and peels. With 11 models to choose from, offering head-to-toe treatment options, Celluma offers the best low-touch, affordable and portable devices on the market today. And with the new battery-powered I-series, both clinic and mobile practitioners can take their light therapy treatments anywhere. Visit Celluma.com, call 714-978-0080 or email info@celluma.com to find the device that's right for you.
[music]
0:00:48.8 Speaker 1: You are listening to ASCP Esty Talk, where we share insider tips, industry resources and education for estheticians at every stage of the journey. Let's talk because ASCP knows it's all about you.
0:01:06.0 Maggie Staszcuk: Hello, everyone, and welcome to ASCP Esty Talk. I'm your host today, Maggie Staszcuk. I've been a licensed esthetician since 2006, and I'm the Advanced Modality Specialist here at Associated Skin Care Professionals, where no topic is off-limits. We share all kinds of great information on this podcast, from ingredients and the science of the skin, to business and beauty diversity. We hope you come away having learned more about your career in the industry and maybe even life, in general. Today, we are joined by Mary Nielsen, a technician, educator, mentor and business owner. Mary Nielsen has been at the forefront in medical aesthetics since its infancy in the early 1990s. She is a certified advanced esthetician in the state of Oregon and a master esthetician in Washington. She is a licensed esthetics instructor and also a licensed nurse. She is currently vice-chair and industry expert on The Oregon Board of Certified Advanced Estheticians, and she is also a diplomat with the American Board of Laser Surgery and Cosmetic Laser Procedures. Mary is the author of 'A Compendium for Advanced Aesthetics: A Guide for the Master Aesthetician' and 'Fearless Beauties: Treating Skin of Color with Confidence', and she has authored four chapters in the newest 'Milady Standard Esthetics' textbook, released in May 2019.
0:02:25.7 MS: Mary is the Executive Director of Spectrum Advanced Aesthetics, the founder of the Cascade Aesthetic Alliance, as well as the creator of Skin Intelligent Resources and Fearless Beauties. Please welcome Mary Nielsen into the podcast. Hello, Mary.
0:02:42.5 Mary Nielsen: Good morning, Maggie. So nice to talk to you.
0:02:45.2 MS: I'm happy to have you on the show today. So, Mary, you've had such an extensive background in esthetics, but education really is at the root of everything you do. Why is it so important that professionals continue their education throughout their career?
0:03:00.5 MN: I think education really keeps you and the services that you do relevant. We are in a fast-changing industry, there's always new technology. There's always new devices out there. There are skin care innovations and new scientific advancements all the time, and so we miss out on being the best that we can be, both as a professional, and we miss out on really giving our clients the very best skin care that they deserve.
0:03:29.6 MS: Yeah, absolutely. Do you think... Just out of curiosity, is it important that estheticians are following the trends and staying on top of the latest and greatest, as it comes to the market?
0:03:43.2 MN: I think that it's really important that they have a finger on the pulse of what's happening, 'cause their clients are in on it, they're very much into all of it, and they're gonna be asking them, and they need to... Maybe they don't perform the service, but they should have knowledge about it. I think that's really important.
0:04:02.4 MS: Yeah. Yeah, definitely. And I agree with you, clients are as educated as ever these days, so you certainly want to be abreast when your clients come in through the door, and know what they're talking about, at the very least, for sure. So, what are the steps you recommend for professionals who want to earn additional certifications, but maybe they don't quite know where to start?
0:04:26.7 MN: That's a great question. I think there's a lot of options for getting additional certifications, they don't have to cost a fortune. People are worried about, "I've spent so much money on education. And is it gonna be valuable?" I think that if they're gonna look at getting additional certifications, they really should think about what their existing clients are asking them for, what are their clients asking about, look at their clients, what kind of services are they getting somewhere else, that maybe they could bring in and offer, if you had the expertise, and they wouldn't have to go somewhere else. But then I think ASCP is a great resource for education. You have education, you have webinars, videos. You have so many free opportunities to build on your profession, whether it's in professional growth or skin advancement. I think ASCP really unparalleled in this industry, with the depth and breadth of what they offer, but then I think estheticians can check in with their vendors, their skin care reps. They should look for credible sources of information, 'cause not everything on Facebook is credible. But particularly with COVID-19 restrictions, a lot of companies have pivoted their educational platforms, what would have been in-person seminars. Now they have the online certifications, and that's opened up a lot of doors.
0:05:51.3 MN: I think checking in with Skin inc, DermaScope, those kinds of resources will offer free education. And then searching out podcasts, I think, are other ways to get involved. But if they're gonna spend money on a certification, I think they really need to research is this something that's going to be valuable? Are they gonna get a return on investment? Is it worth the money if they do decide to do something that's going to cost them, will it be worth it? 'Cause I got two great examples, lash extensions, and you see like, "Oh my gosh, lash extensions. Everybody's making money with lash extensions. I think I wanna get lash-certified." Lash extension certification is not inexpensive. And then you find out, I hate lashes. I don't have the patience for it. I don't have the skillset that's gonna let me become good at it, and so you've spent a bunch of money and not gonna be valuable.
0:06:48.0 MN: Another example that I just heard from someone was spray-tanning. She thought, oh, I'm gonna jump on this spray-tan thing. I'm gonna spend... And spent thousands on getting the spray-tan system and getting certified. And it's been like three years and it's still in the box.
0:07:06.0 MS: Yeah, do your research.
0:07:06.8 MN: Yeah, and so I just think doing that little bit of research. Also, how many competitors do you have? If you're gonna do lash extensions, but then you find out that like, oh, there's 42 other lash extension artists within a three-mile radius of where I am, are you gonna get the clients that are going to make it pay off for you?
0:07:27.3 MS: Yeah, if you're setting up shop, doesn't mean clients are gonna show up. Now, I do have a question about getting certificates versus being quote unquote 'certified', and that is a question that I've had here at ASCP, and even when I was an esthetics instructor. And I know, from state to state, laws vary, and that term, I feel, is thrown around loosely. In Colorado, for instance, courses like permanent makeup, for instance, or chemical peels, that's something that the state does oversee, and you are certified by the state. You go to training, send in your information, you're credentialed and certified. But let's say you go to a manufacturer or Joe on the corner is offering a course, or you happen to just download a certificate, that's maybe not quite the same as being certified, right? What would you say to somebody who is looking at courses or they watched a webinar, they have a certificate? What's the difference?
0:08:33.7 MN: Well, I think is it a certificate of attendance, that you attended this training, because I understand Colorado work in the same way. And I can give, for example, the school has a license, licensed as a school, if we are going to offer a workshop or some type of continuing education, I actually have to submit the curriculum, submit paperwork to the state that they then certify that it's... I'm able to offer the certification in this. If I opt not to submit the paperwork to the state, then they get a certificate of attendance, and I think there is a difference, and you're right, I think, in the industry, it's kind of thrown around loosely. It would be lovely if there was some type of national recognition of what a certification means, but I don't know, state-wise, if that would ever happen, 'cause, God, we can't even get states to agree on containing education.
0:09:36.5 MS: Yeah. Yeah, exactly. And that is the challenge. Every state is so different, across the board, but I think at least being able to educate estheticians just watching a video, or even YouTube, or receiving a certificate of attendance doesn't quite equate to being certified, and then being able to go out and perform that procedure necessarily.
0:10:02.2 MN: Hey, guys, stop. Let's take a quick break.
0:10:05.8 S1: With a 90% success rate, Face Reality Skincare has created a clear skin system that will have your client's acne under control in about three to four months. At Face Reality, we combine the power of clinical-grade products that are customized for your clients type of acne with a series of bimonthly treatments. Become a Face Reality-trained acne expert and receive valuable information on how to effectively grow your business while also giving your clients clear results. Learn more at facerealityskincare.com.
0:10:35.8 MN: Let's get back to the conversation.
0:10:39.4 MS: What's your opinion in reaching out to a manufacturer and obtaining training, versus going to an actual training facility to get education?
0:10:51.2 MN: You're asking me the hard questions. Well, I was gonna say one more thing on certification is the State requires us to... If it's a certification, you have to have an assessment. There has to be at the conclusion of. It can't just be that you attend this training and then you go home and get your certificate. You attend this training and you have to pass an assessment that shows that you understand this... You've gained knowledge and have gained skills in that.
0:11:19.8 MS: So that's probably the big differentiator there then, taking a test versus just sitting in on a class.
0:11:27.0 MN: Yes. And so, manufacture... Equipment vendors, we could go down that, could be a rabbit hole. As I have provided... At one point in my career, I was a trainer for companies, and I saw, over the course of probably five or six years that I was doing it, the company, what would have been, I would get three days to train these people in something. By the time I left them, it was like, "Well, we're gonna give you one day." And before, I'm gonna give you example of somebody bought a laser, and the laser was going to do hair removal and vascular and pigmentation. So I would have a day to train them on each of those things. By the time I left them, I had one day to teach them all three things, and it just became, for me, an ethical... I can't teach and sign off and verify that I think you've learned this skill when I might have four, five, six people all wanting to learn three modalities in an eight-hour day, just harsh. That's why I think this advanced training, things like Rocky Mountain Laser College, other advanced... Our school, the other advanced institutions, you gotta have that to be able to have a solid foundation, 'cause the devices we're using are harmful, they have the power to do some damage to people.
0:13:00.3 MS: Right. Right. And not to mention, you're also getting the theory on the skin, its effects on the skin, not just learning the device itself, right?
0:13:11.1 MN: How to push the buttons. This is what you do and you try... This is so easy. This is so easy, you just turn it on and you push the button.
0:13:18.2 MS: Many schools and classes, they're moving to an online platform. What kind of impact does this have on a professional looking for advanced training? And how are these students able to get hands-on training and experience?
0:13:30.5 MN: Million-dollar question. Because, ideally, if I could just take my magic wand, I would be like, ooh, I would love to revamp the entire esthetics education industry system so that there would be more diverse learning opportunities. You could get the theory online, but then maybe you could go to an apprenticeship, or you could have an internship somewhere, and you wouldn't necessarily have to travel to the school that's giving you the theory, but you could have your apprenticeship or internship more locally. That's ideally, if I could wave my magic wand, schools or states, hopefully, especially with this pandemic continuing, would kind of shift to some... We have... In Oregon, you can have a hybrid program, so our students get their theory through an online portal we have. And it's got videos and learning slides, and all kinds of stuff. It depends on how robust do you wanna make it. But then they still have to come in to our facility and do their hands-on training, where they get supervised by a licensed instructor. And so the online thing is more... Gives more flexibility for the online portal, 'cause they don't have to be here from 9:00 in the morning.
0:14:51.4 MN: They could decide to work during the day and then login at night, but the hands-on portion, you have to really then make a commitment that you're gonna get this expertise, and you're going to, I think, make sure it really involves people's personal commitment, that they're going to... Before they start to get out and do this on the public, and start charging for it, that they have a solid foundation for what they're doing.
0:15:18.7 MS: And it kind of puts more responsibility in the hands of the student to be practicing on their mannequin or their family at home, or whatever, I would anticipate.
0:15:29.5 MN: Well, and that was... It worked for our basic esthetic students, right? They could work on their family member at home to do facial things. We actually... We got them tripods, they could put their cell phone on and then they could take a video of themselves performing the service, and some of them did it in time lapse, and then they would send it to the instructor who would then slow down the time lapse and watch the video and give them feedback. It was just a tremendous amount of work, but we couldn't send them a laser home, and so that just delayed all of that kind of education.
0:16:03.9 MS: Yeah, and so when we're talking more about advanced classes and advanced training beyond the basics, let's say someone is wanting to learn lashes or permanent makeup, or maybe they're just taking a chemical peel class, going online kind of hinders that, I would imagine. You mentioned an apprenticeship option, which seems like it would be a really great solution to that. They take the theory online and then go into a salon or a spa, or even a doctor's office to get that hands-on experience. But if that's not an option, do you think this online learning is gonna prevent estheticians from advancing in the field, or do you think that they'll still be able to get the training, but maybe are not going to be as proficient?
0:16:56.9 MN: Yeah, I think it's gonna mean that they'll have some foundational knowledge, but they're not gonna have that connection between what their hands are doing and what their head is doing until they can get in there, get that hands-on experience, and it might mean... I think it's gonna set us back a bit, but I think it's gonna mean that employers are gonna have to be more understanding, that getting somebody up to speed is going to take longer, their orientation is going to take longer, and it's gonna mean more commitment on the practitioner to really invest in, I wanna get good at this.
0:17:35.3 MS: I think already, and for years, there's been a disconnect between what the employer expects or what the State understands and what estheticians know and do and learn in school. Do you think there's now going to be even a further separation or divide there?
0:17:55.6 MN: Honestly, yes. And so it's gonna require really innovative education, educators to think out of the box thinking of how can we best provide the education so that, when they graduate, they're more solid, really dedicated. I know, for instructors, it has taken a lot of time for them to manage some of the online things that students are doing and be able to give them the same feedback that they would, as if they were right there in the classroom watching them.
0:18:28.0 MS: So, in recent years, we've seen the esthetic industry, it's moved towards advanced esthetics, we've seen medical esthetics, I think now we're seeing a shift towards clean beauty. Where do you see the future of the industry headed?
0:18:42.4 MN: Well, of course, 'cause I really started in medical esthetics, and then I do think medical esthetics, more results-driven, there's more non-invasive treatment options happening, more aggressive than just like a spa facial. I think that's gonna continue to trend 'cause there's all these social media influencers out there that are posting things, celebrities endorsing these kinds of things. I think we have a youth mentality culture, and so people are gonna gravitate towards the things that are gonna make them look younger. But I also think there's gonna be a blend with clean beauty, because people... Life is... When you are in a quarantine or socially... More socially-isolated, life pairs down, it becomes simpler. I think there's a bigger focus on nutrition now and how what we eat affects our skin, what we put in our body, as well as what we put on our body. We just have become more knowledgeable about that. And so I think there's more of a holistic approach with pairing skin care with nutrition or hormone health, 'cause we're... Sciences, we're just learning more and more about how our skin is so intricately involved with the rest of our body system.
0:20:05.3 MS: Do you think that any particular trend is gonna rise above the rest? I feel like I'm hearing a lot of talk about, well, we're wearing masks all the time, so there's gonna be an emphasis on the eyes and less facials, or we're gonna shy away from invasive facial treatments, focus more on body treatments.
0:20:26.9 MN: Well, I think because there's been such advancements and body treatments and body contouring options, there's always gonna... We're gonna see body treatments gain in popularity, I think that's obviously gonna happen. I don't know, though, people are very much into their yoga pants and sweatshirts.
0:20:46.0 MS: Yeah.
0:20:46.1 MN: So there is that focus kind of away, but I think, as people, we need to see faces. We need to make that human connection, so I think that we'll be focused on helping people with their mask ____. We're gonna... Also, we wanna focus on the eyes 'cause that's how we're making that connection, so I think it's gonna be lashes and brows, brow-tans, brow lamination is huge, microblading, all of that. I think eyes are gonna be a big focus.
0:21:18.4 MS: Yeah, definitely, I can see that. So, because of the growing popularity of procedures like IPL, body contouring, etcetera, Oregon has introduced new legislation, addressing rules and regulations regarding the use of non-ablative esthetics. They have also created The Board of Certified Advanced Estheticians to oversee the safe practice of advanced non-ablative esthetics. Why is this so significant for estheticians who have advanced their training?
0:21:47.7 MN: I think it's because it gives the consumer confidence that the technician that's treating me has met the state standards for education. This person isn't just a push the button mentality. They really understand the theory. Like we talked about before, their understanding of theory of what they're doing, they can explain it, but I also think it just elevates their whole industry and it brings us to a higher level of career professionalism, and respect in the industry, that we have taken the steps to have this extra education.
0:22:21.7 MS: And I think this is such a huge step for Oregon, like you said, for the industry, and I'm hoping, and I'm curious, and you tell me what you think if other states are going to follow Oregon's lead in doing something like this?
0:22:36.5 MN: I think so. I heard that Minnesota just created an advanced esthetician tier in their esthetics licensure, so I think it'll be slow, 'cause I think there's a push between what's medical and what's esthetics, but I think that it will eventually start to shift.
0:22:56.6 MS: Definitely, I agree with you, and I think you see a lot of states starting to develop the master esthetician, but hopefully seeing more boards develop and legislation develop that supports that, I think would be amazing for our industry. So, it's exciting to see that.
0:23:16.7 MN: Yeah. Well, it's the youth culture, people want to look younger, and they don't want surgery anymore, and so going to your skin care specialist, that's where it's at.
0:23:29.7 MS: Yeah. Yeah, exactly. Do you have any other advice for esthetic students and those already licensed that are looking to advance their career in training?
0:23:40.2 MN: Yes. Of course, I do. I love this industry. I have such a passion for it. I, every day, wake up, excited for what I'm able to do, for the career I've had. I think that there's so many avenues to move into. I think that's special. It's a special thing. And so it's a gift, you know, that they were blessed with this gift, 'cause not everyone has it. And they need to build on it, they need to use it, use it for good, but develop the talents they have. They can impact their world, make their part of the world a better place.
0:24:19.3 MS: I love hearing that, and it's so so true. Mary, it has been a pleasure chatting with you today. Thank you for sharing your expertise with all of us. Can you share where we can find you and learn more about everything you're doing?
0:24:31.3 MN: I am @your.esty.godmother with Instagram, Facebook and a website, and then also you can email me at mary@spectrumlasertraining.com.
0:24:41.4 MS: And we will share that as well. We'll post that information for anyone who's interested. Thank you so much for joining me, Mary, and thank you to everyone listening in. Have a great day, and talk to you next time.
[music]
0:24:54.0 S1: Thanks for joining us today. If you like what you hear and you want more, subscribe. If you wanna belong to the only all-inclusive association for estheticians, that includes professional liability insurance, education, industry insights, and an opportunity to spotlight your sick skills, join at ascpskincare.com. Only $259 per year for all this goodness. ASCP knows it's all about you.