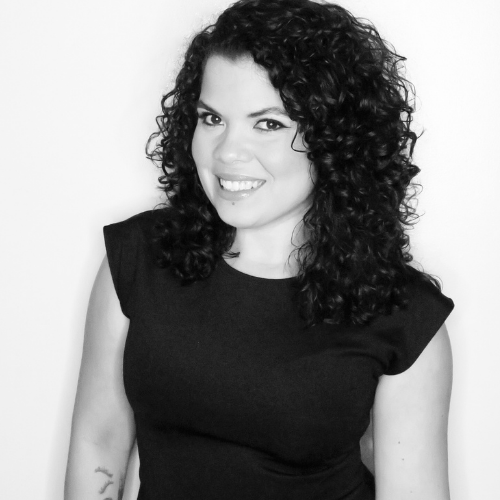 Makeup artistry is more than just making pretty. There are many considerations, from event type and location to print versus film, lighting, wearability, and intention . . . As a professional, some of these things you learn the hard way, but none are as important as skin health!
In this episode, we discuss one makeup pro's journey from behind the makeup counter, through a successful makeup artistry career, and on to becoming a licensed esthetician (and now teacher). Find out what Kat DeJesus has learned along the way as she shares her story, as well as some advice for those just starting out, or those who have been in the game for a while.
About Kat DeJesus:
With over 20 years as a professional makeup artist, Kat DeJesus's experience taught her that within the art of professionally applied makeup there also lies a science. Understanding the geometry of a face, the arch of a brow, the texture of the skin, and the colors that highlight a person's natural features are the specific skills she brings to each set and occasion. Born in Colorado and raised in Chicago, DeJesus has a unique approach to style and makeup that is enriched by her diverse experience and the cultural references she encounters every day. This appreciation for diversity and zest for knowledge keeps her on the forefront of beauty trends and highly sought after for creative partnerships. DeJesus is highly acclaimed for her professionalism and skill on high-fashion photo shoots, music videos, store ads, commercials, and television shows, but it's her genuine ability to connect with people that leaves a lasting impression. She brings her knowledge into the educational side of things by sharing her experience as an esthetics educator at the School of Botanical and Medical Aesthetics in downtown Denver.
Connect with Kat DeJesus:
Website: www.KatDMakeup.com
Email: info@katdmakeup.com
Facebook: www.facebook.com/KatDMakeup
Instagram: @KatDMakeup
LinkedIn: www.linkedin.com/in/katiria-dejesus-ba156615b
About Ella Cressman:
Ella Cressman is a licensed esthetician, certified organic formulator, business owner, and absolute ingredient junkie! As an educator, she enjoys empowering other estheticians and industry professionals to understand skin care from an ingredient standpoint rather than a product-specific view.
She has spent many hours researching ingredients, understanding how and where they are sourced, as well as phytochemistry, histological access, and complementary compounds for intentional skin benefits. In addition to running a skin care practice, Cressman founded a comprehensive consulting group, the HHP Collective, and has consulted for several skin care lines, including several successful CBD brands.
Connect with Ella Cressman:
Website: www.ellacress.com
Website: www.hhpcollective.com
Facebook: www.facebook.com/HHP-Collective-105204177682777/
Instagram: www.instagram.com/hhpcollective
LinkedIn: www.linkedin.com/in/ella-cressman-62aa46a
About our Sponsor: Antedotum
Antedotum founder Karina Perez Marconi was raised on the island of Puerto Rico (born to a Cuban dad and Puerto Rican mom), which meant consistent sun exposure from an early age—and cumulative sun damage for the Latina's olive skin. For decades, Marconi was plagued by dark spots, which were compounded by lingering, postpartum melasma after the birth of her daughter, Havana. Working for many years in beauty at Chanel's New York headquarters deepened Marconi's understanding of premium skin care. But finding an antidote to her skin aliments remained elusive. When the family relocated to Aspen, Colorado, the unforgiving mountain climate of dry air, high altitude, wind, sun, and cold only intensified her skin conditions. 

Colorado is where Marconi took her curiosity of CBD and its purported curative abilities and started to sample an assortment of oils and balms. None of them smelled or looked great, but to her surprise, her skin started to transform. This unexpected discovery evolved into Antedotum.
Visit: antedotum.com
As seen on The Today Show: youtu.be/xNcCuQE1Qjc
IG: instagram.com/ANTEDOTUM
LinkedIn: linkedin.com/company/antedotum
About our Sponsor: LAMPROBE
The popular and revolutionary LAMPROBE utilizes radio and high-frequency technology to treat a wide variety of Minor Skin Irregularities™ (MSI)—non-invasively—with instantaneous results. Common conditions treated by the LAMPROBE include: vascular MSI, such as cherry angiomas; dilated capillaries; sebaceous MSI, including cholesterol deposits and milia; and hyperkerantinized MSI, such as keratoses and skin tags.
The LAMPROBE uniquely assists modern, capable, and skilled skin care practitioners to do their work more effectively and with greater client and professional satisfaction. Setting standards in quality, education, and training, the LAMPROBE has become an essential tool enabling skin care practitioners around the world to offer new revenue-enhancing and highly in-demand services.
Website: www.lamprobe.com
Email: info@lamskin.com
Phone: 877-760-2722
Instagram: www.instagram.com/lamprobe
Facebook: www.facebook.com/theLAMPROBE
About our Sponsor: Purafil
Purafil, established in 1969, is proud to protect people, processes, and environments worldwide. We manufacture revolutionary products that set the standards in our industry. Our focus is to create the world's best air purification products to make your life and business better. We are dedicated to making the world safer, healthier, and more productive.
Web: www.purafil.com  
Facebook: www.facebook.com/purafil.inc  
Instagram: www.instagram.com/purafil_inc  
YouTube: www.youtube.com/channel/UC9JUjV7fgdjr1GTf-3jbahQ  
LinkedIn: www.linkedin.com/company/purafil-inc./mycompany 
Email: Seth.wyatt@filtrationgroup.com
Phone: 330-328-8431
About our Sponsor: Sorella Apothecary
Sorella Apothecary is a professional skin care line that combines the best of modern-day science with natural, old world philosophies. The line is created for the esthetician by the esthetician. Botanically based, the results-driven product line is made for multiple skin types. Every ingredient is hand-picked with a less-is-more approach to deliver the best, most effective results. Sorella Apothecary believes in real results and achieving those results without compromising the skin's integrity. Sorella translates to "sister" in Italian and the brand gets its name from its co-founders, Danielle and Emily, who are sisters by marriage.
Visit www.sorellaapothecary.com for more information and follow us on:
Facebook
Instagram
TikTok
Twitter
About Associated Skin Care Professionals (ASCP):
Associated Skin Care Professionals (ASCP) is the nation's largest association for skin care professionals and your ONLY all-inclusive source for professional liability insurance, education, community, and career support. For estheticians at every stage of the journey, ASCP is your essential partner. Get in touch with us today if you have any questions or would like to join and become an ASCP member.
Connect with ASCP:
Website: www.ascpskincare.com
Email: getconnected@ascpskincare.com
Phone: 800-789-0411
Facebook: www.facebook.com/ASCPskincare
Instagram: www.instagram.com/ascpskincare
0:00:00.0 Speaker 1: Antedotum is a dermatologist and esthetician-approved CBD skincare brand that is featured in some of the countries most prestigious day spas and integrated by estheticians into their services, creating a must-have for their clients daily skin regimen. The company's proprietary formulas are 100% clean, plant-based, responsibly sourced in the USA, never animal tested, and features its own potent 500-milligram full spectrum CBD complex. As the only CBD skincare brand with a medical advisory board comprised of dermatologists, researchers, Antedotum is undertaking the ground-breaking efficacy of the Antedotum CBD Complex as a skincare ingredient. Antedotum products are multi-functional and multi-correctional made for all skin types and sensitive skin. Use them alone or combine them into your routine.
0:00:48.2 Ella Cressman: This podcast is sponsored by LAMPROBE. LAMPROBE is a popular esthetic tool that enables skincare practitioners to rapidly treat a wide variety of common minor skin irregularities, or MSI. Red MSI treated by LAMPROBE include dilated capillaries and cherry angiomas. Yellow MSI, cholesterol deposits, and sebaceous hyperplasia. And brown MSI treated includes skin tags, and more. LAMPROBE MSI treatments are non-invasive and deliver immediate results. LAMPROBE can empower your skin practice with these new and highly in-demand services. For more information, visit lamprobe.com. That's L-A-M-P-R-O-B-E dot com. And follow LAMPROBE on social media @lamprobe.
0:01:40.3 S1: You've trained your staff, set up hand-sanitizing stations, and provided surface wipes. Now it's time to complete your infection prevention protocol today by effectively cleaning the air and providing peace of mind to your clients. Purafil technology removes harmful airborne contaminants and odors from sensitive environments around the world. They are trusted to protect IVF clinics, hospitals, salons, and even the priceless art in the Sistine Chapel. The PuraShield 500 is engineered with a multi-stage filtration system that removes 99.999% of aerosols carrying viruses and can clean the air every 10 minutes in an average-sized esthetician's environment, patented by Purafil, a market leader in air filtration for over 50 years. Visit purafil.com and check out their indoor air quality equipment to learn more, and log on to ascpskincare.com to view your exclusive membership discounts.
[music]
0:02:36.7 EC: You are listening to ASCP Esty Talk, where we share insider tips, industry resources, and education for estheticians at every stage of the journey. Let's talk 'cause ASCP knows, it's all about you. Hello, and welcome to ASCP Esty Talk, the ingredient decked-out series. Here we explore the fascinating world of ingredients and how they work within the skin. I'm Ella Cressman, licensed esthetician, and owner of the HHP Collective. I am also a certified organic skincare formulator and total and complete ingredient junky. Now, I'm very excited about today's episode because we are going to explore the blending of makeup artistry and the skill sets gained from being a licensed esthetician with one of my industry crushes, Kat DeJesus. Hi, Kat.
0:03:29.0 Kat DeJesus: Hello. How are you?
0:03:31.0 EC: I'm well. I'm very excited to have you on. I'm gonna brag about you for a little bit. So you have over 20 years of experience as a professional makeup artist, and that has taught you that within this art lies the science of professionally applied makeup. Understanding the geometry of a face, the arch of a brow, the texture of skin, and the colors that highlight a person's natural features are the specific skills that you bring to each set and occasion. That's the exciting part. Now, you were born in Colorado, but raised in Chicago, and that has lent to your unique approach to style and makeup that is enriched by your diverse experience and the cultural references you encounter every day as well as being a licensed esthetician. This appreciation for diversity and zest for knowledge keeps you on the forefront of beauty trends and highly sought after for creative partnerships. You are highly acclaimed for your professionalism and skills on high-fashion photo shoots, music videos, store ads, commercials, and television shows, but it's your ability to connect with people that leaves a lasting impression. On top of all that, as if that wasn't enough, you're also bringing all that knowledge into the educational side of things and sharing your experience as an esthetic educator at a local Denver area school.
0:04:55.7 EC: When we were first... Okay, so many of you know that I've also, as a product rep, been in a lot of schools, and one of my favorite questions to ask students, prospective students, or young students, especially in the first part of school, is what brought you into this career? And there usually were about three solid answers. One of them was, "I wanted to get back in the workforce. I thought this was something that would help me relax." The second most popular one was, "I wanna be in medical esthetics." And as of the last, I say, 10 years, another really popular answer was, "I wanna be a makeup artist." And I know that laws all over the country are different, and in Colorado, in order to be a makeup artist, you also have to be a licensed esthetician. With that, that's what we're gonna kinda get into. [chuckle] When young girls or young boys for that matter, start wearing and exploring with makeup, like in middle school and high school, that is one set of makeup skills that I think I had for a long time. [chuckle] That was that very definitive line of foundation around the perimeter of their face, their eyeliner is way too heavy and their eye shadow, they're just trying to figure it out, but ____ a few years, they've honed their skills.
0:06:21.3 EC: I find that something young makeup artists also kind of do, they have that very primal or that very primary school approach when... Now, I used to be a makeup artist a lot for a long time even before I was a licensed esthetician, but when I think about my portfolio and I've done some really cool things, I've been able to do some video commercials, and I've been able to do a lot of print stuff and some really fabulous weddings and some really horrible weddings as well, but when I think about my portfolio next to yours, I feel like I look like that middle school girl or boy that's just experimenting with makeup because yours is just so much more sophisticated.
0:07:05.9 KD: Gosh, thank you.
0:07:06.7 EC: But tell us the story, how did you get into professional makeup?
0:07:11.1 KD: By accident. I think we all... Either you're that person that knows exactly what you wanna do, right? And you're like, "I'm gonna do this and this is all I wanna do," or, "Okay, I'm gonna do this," and then something happens and your life slips 180 and you go entirely in the opposite direction.
0:07:29.8 EC: Yes, I do.
0:07:30.7 KD: That's what happened. So, I don't know, I thought I was gonna be a professional singer. I thought I was gonna be a pop star, I thought I was gonna be... I went for vocal performance through high school, college, but then I ended up at ULTA 'cause I found out really quick that I hated clothing retail, and I was like, "Well, working at a makeup store, this sounds cool." And I did that, and kind of just by accident kept falling into situations where they're like, "Hey, you should work here; and hey, you should work here," and found out that I had a really big passion for it. And I think a lot of us, especially anybody who's in the art industry to begin with, when you work in one medium, it's really easy to kind of transfer to another, and I used to be that person who was always drawing in high school, in college too, but just like a hobbyist. And I found out, I was like, "Oh, you can work in a different medium" and, "Oh, I'm playing with more textures and playing with my hands." And yeah, I ended up falling into it, found out that it was another big passion of mine and I've been passionate. And, yeah.
0:08:42.6 EC: I think that's a key. I think you hit on the key there, that this is an art and makeup artistry, and with art and despite the medium, there's a lot of considerations that go into it. It's not just the aesthetic of things but it's the challenge of the medium. If you're a painter, it's what kind of paint are you using and then on what kind of surface? If you're a potter, it's what kind of clay are you using and what are you trying to create? Or sculpture and anything like that, what are you using and on what kind of surface you're putting? So I think for me especially you hit that on the head, this artistry part of it. But also the other side of that is the science, and I think specifically in makeup artistry, the science portion of that is another consideration, I think the gaining of popularity to become a makeup artist had a lot to do with social media, and this pretty... But there's this other side of it, and I think as far as regulatory agencies are concerned, they wanna protect the public, which is why they're most concerned about sanitation practices. But there is an added benefit and you're one that can expertly, I'm sure, speak to the added benefit of this additional training 'cause you've done a lot of training before you were a licensed esthetician, you did training on a lot of things, like lines and... I don't wanna discount the fact that when we look at education, where you are set.
[chuckle]
0:10:09.3 KD: Gosh, so much, there's so much out there. And I think a lot of people started the way I did, either they especially now, hands-on self-taught, right? I consider myself self-taught but from another era, like pre-Instagram, where I worked at a counter and then I practiced on myself, and then I practiced on my friends, self-taught, not, "Hey, let me watch a tutorial and copy exactly what they do," self-taught. It was a different time back then. There was a lot more mistakes, [laughter] now that's why... Thinking back to the middle school girl of having a very set eye liner, lip liner that I look back on, I'm like, "This is terrible," and now I see like my niece is 13 and she's like glam and I'm like, "You skipped the awkward phase and it's not fair because you have something to cheat with."
0:11:04.1 EC: That is so true, I didn't even think about it 'cause mine, I mean mine was in the days of dark liner, light lip gloss and frosty eye shadow and thin eyebrows.
[laughter]
0:11:15.3 KD: So thin. I'm so grateful that they grew back in.
0:11:18.8 EC: Let's put a pause on those comma brows.
0:11:20.7 KD: Yeah.
0:11:21.5 EC: Hey guys stop! Let's take a quick break.
[music]
0:11:25.6 S1: Sorella Apothecary is a botanically-based, professional skincare line that is the perfect balance of science and nature. Created for the Esthetician by the Esthetician, Sorella supports their partners by offering monthly educational webinars, in-depth product knowledge sessions, seasonal protocols and unique training on new products. Professional partners also have full access to marketing materials and customer service support to help build and evolve their business. Feed your skin, treat your soul. If you're interested in learning more about partnering with Sorella, email, hello@SorellaApothecary.com.
0:12:08.0 EC: Let's get back to the conversation. So how did you become an Esthetician then? What was the jump off for that?
0:12:16.0 KD: So my story is backwards, like a lot of times people jump in the industry and immediately get their licensure and then expand from there. I was in Chicago rocking and rolling with makeup, there's an exclusion over there that if you worked either on set or commercial work, TV, film, media, you didn't have to be licensed. Now, I was still trained, I still absolutely sought out the education and sanitation, and I worked for a ton of makeup lines that were very on top of that and I learned the color theory, and I learned the symmetry and all that fun stuff when it came to placement and working light, dark, contour, highlight, blah, blah, blah, blah, theatrical makeup, you name the classes, I've taken them. But, about four years ago, me and my hubby decided to move to Colorado after having a kid and we were like, "Okay. My family is out there. Let's do it." And even before I moved, all my friends that were out there in the industry were like, "You're going back to school?"
0:13:17.7 KD: And I was like, "No, not, nah." They're like, "No, Colorado doesn't play. You get your SC license, they are very strict in terms of having your licensure." I'm like, alright, and boom, 35-years-old, going back to school. [laughter] And it was really funny because everyone's like, "Don't tell people you do makeup," and I'm just expecting this whole SC Cosmo cattiness, and yeah, it wasn't like that at all. I had the most amazing experience and I'm so grateful. I wish I would have went to school a lot earlier, because there's just so much more that you can add, and I think every makeup artists should go to aesthetic school for sure, just to have that working knowledge of skin and how things play. That now I find myself, even with other artists who are tenured that have been the industry for such a long time, they're coming to me and asking me a skin care advice because the makeup products that they wanna manipulate aren't working the way they want them to, and understanding the science of the skin too is making that much of a difference, and I see a huge kind of resurgent of people in the industry, tenured artists, 10, 15, 20 years, going back to school for that education because they realize that they need more.
0:14:37.0 EC: That science part.
0:14:38.3 KD: Absolutely.
0:14:39.1 EC: Because that's about prepping your canvas, and I know that's important to you.
0:14:43.6 KD: Oh, huge. Skin is everything. Skin is everything.
0:14:47.7 EC: What was one of the most surprising things you learned in aesthetic school, having had all this experience previous?
0:14:56.2 KD: I'm gonna definitely say, I think over-compensating with makeup products, when I can do a lot less work if I use the right skin care products, and that makes a biggest difference. Oh God, a biggest difference, yeah.
0:15:13.6 EC: What's one of your favorite ingredients for skin care and prepping for, let's say... And there's a difference, there's a healthy, beautiful, vibrant skin, but there is a difference between prepping for a photo shoot and prepping for a bridal application, let's say.
0:15:31.6 KD: Oh gosh. Two things for sure, regardless, especially here, hyaluronic acid, which I know everyone's like, "Oh yeah, okay, blah, blah, blah, blah." No, it's key. I have to plump the skin and I have to try to plump the skin immediately, so I am literally putting hyaluronic acid, sheet mask, hydration, water-based moisturizer, and you can see people's skin instantly just get this freshness and radiance that they were lacking beforehand, especially if you're working A, on a model that has been in a plane for 12 hours and they've been traveling everywhere and they haven't gotten enough sleep, or I'm working on the mother or the bride who has never taken care of her skin. I always use caffeine under the eye for sure, eye creams. You gotta be careful with texture, and that's what I see too with artists not understanding skin care versus makeup products, using products that are instantly counter-intuitive. Caffeine is amazing, use correctly with the right products. But then you get that eye cream that is a tightener, and then you grab something that's silicone-based and then it starts killing off your clients' skin up into the protectors of the base too. That's always fun.
0:16:58.1 EC: What's one of your least favorite ingredients for a makeup application?
0:17:05.5 KD: Not least favorite, but can I just say cheap makeup? [chuckle]
0:17:09.0 EC: Yes, say cheap makeup and then define cheap makeup.
0:17:12.8 KD: Alright. 'Cause this is gonna be a conversation for another day, I already know this is gonna lead to something, but...
0:17:20.2 EC: Oh, we'll have you back on for cheap makeup with Kat. [chuckle]
0:17:22.5 KD: Cheap makeup with Kat, right? With so many brands out there, and you know how it is with skin care now too, right? Everyone in the moment has a skin care line, people are describing things and slapping a label on it. So you're getting a lot of products out there that may have lead traces, because it was shipped from China and people are slapping their labels on it and just kind of using it on people or... Oh my gosh, if I had a list in front of me, I could tell you all the dyes that I think should never be in makeup products whatsoever, just because they're not eye safe, and all these people are using them on their eyes, on their lips, on their cheeks, you gotta be kind of careful. I don't care what the teeny buffer is doing at home and putting on their face, but when you're working with clients, there's absolutely some things that you have to keep an eye out, and if it's not meant for that area and causes an allergic reaction, then my license is on the line, and I don't think they're aware of that.
0:18:21.0 EC: No, this is danger, danger. I've talked about this documentary, I think it's called Broken, this documentary on Netflix, and one of the episode, I think is four or six, whatever it is, but check it out, was on makeup and counterfeit makeup at that, and you have to be careful from DHgates, buying makeup from DHgate or Amazon, even, 'cause you're just not sure where that's coming from, and that goes, like you said, for eye, especially eye shadows, eye makeup and lip, those two areas.
0:18:55.6 KD: These crazy dyes that people put in and they wonder why they're getting stained and why they're having crazy eye reactions, and I know like which dot com is the terrible thing that everyone buys from nowadays too. I try to stay with my... I like my luxury brands, I'm ____ 'cause I like that the... Well, also a lot of foundations now do have more skin care ingredients in it, and they're all about the hydration and the glow and the luminosity and the trend that I'm so glad is back instead of that kinky makeup. But there's a lot of products out there too, that... Oh, fragrance! Can we just all like heavy fragrance. There's one foundation in particular from a very popular line that I hate and my students know, and I'm not gonna name names, but it smells like old church lady, I don't...
0:19:47.3 EC: You can say it.
0:19:49.6 KD: Yeah, can I please guys, please...
0:19:50.1 EC: Say it.
0:19:50.9 KD: Do not buy that Huda Beauty foundation that's like spackle and smells like, old lady, church lady, please don't do it.
0:19:56.4 EC: Huda, who the heck is gonna buy that?
0:20:00.8 KD: No one needs that much perfume in their makeup. It is so, like slaps you in the face, I don't understand, but alas, I can only change the world one person at a time, right?
[chuckle]
0:20:15.8 EC: That's funny. I'm thinking of this other company, and I could say it to you. I ain't scared. It was a lip product, this craze network marketing, lip product, it was LipSense. And someone was like, oh you gotta try it, it last all day and I'm like, "It does?" Because before masks, that was... I love my lips, I wanna accentuate them, but I'm talking all day, grabbing drinks of water in between clients, but last thing I want to worry about is looking like hatchet face from Cry Baby, and so I get this and it's three for $150, whatever it was, but you have to get this gloss, and I'm like, okay. So I finally got them in, they came in and I want to try it on, and I'm not one to listen to the full or read the full instructions, I'm like step by step, as I go she's... I go sweet, you just put on just to ____ and here's this kind of matte gloss and this kind of shiny gloss. So I put this stuff on and I immediately do what I normally do with all lipstick and go push my lips together, and I couldn't 'mwa' I had 'mmm'. My lips got stuck together, first of all, it's not like paint lacquer, and then from the other side of the room, she's like, "No." Because she saw what I was doing.
0:21:26.2 EC: But it was like ____. And I'm looking at her cockeyed to the side as I'm pushing my lips together, I was like, Oh my goodness, it got stuck together, I'd like pull them apart, rip my lip skin off, so I learned then, but then giving it a second try, like five or six days later, once my lips healed, that wore like crap. It showed all the little baby lines, like my kissi, kissi lines, and this is horrible. [chuckle] So there...
0:21:51.2 KD: The alcohol in it, it dries down to a paint, it is a lacquer, which is why we only have one remover to take it off, only glycerine broke it down or something like that, beside their remover?
0:22:02.6 EC: Yeah! You needed that remover.
0:22:04.7 KD: I tried it and then my lips... I burned that crap out of my lips. [chuckle]
0:22:09.4 EC: I was so mad for $150 for two days two applications, horrible.
0:22:15.3 KD: I've been there. It's just scary out there, there's always some weird trend, and I know people are always looking for long wear this and long wear that. I'm like, well, as much as I hate the term skin has to breathe, but does, we need to make sure your skin can produce its oil and can do the excretion process that it's meant to do, so using stuff like that just drives me crazy.
0:22:40.2 EC: That's how I feel about beeswax-based or exclusive-based lip balms, it sounds like a good idea, but it's actually interrupting with the natural function of the lip.
0:22:51.8 KD: Yeah, and then, chapped lips all day, every day.
0:22:53.9 EC: So you need to buy more. [chuckle] Well, that's a really smart marketing, but when you're looking at skin health, not so much.
0:23:00.4 KD: Oh, not at all.
0:23:01.6 EC: What advice do you have for either a novice like brand new baby makeup artist or a license aestheticians who wants to get into this different level of makeup artistry where we're talking about, film print makeup, high-end weddings, not just local group wedding, so what piece of advice or pieces of advice would you give? Woo. She's wringing her hand, she's locked and loaded, and by the way, as a sidebar, you guys can't see this, but I can see her makeup, and when you talk about this dewy fresh skin. Kat has nailed it. But anyway, so tell me about this advice?
0:23:42.1 KD: Two things. Okay? Well, three things, the first one is kind of tied into the first, so first and foremost, learn how to work on every background and ethnicity, like if you know how to do your makeup and you wanna get in to do makeup professionally, skip the 50 eye shadows, skip the cut crease and this and dramatic blah, blah, blah. You can learn that from YouTube. Learn how to do a good basic complexion and match every undertone possible, if you can't match every single from the fairest to the deepest complexion in skin tone out there and service your client, this is not the industry for you, 'cause I hear that excuse, "Oh, my clients aren't this... " I was like, no, no, no, no, no. Okay, that world is passed. As a makeup artist, you better know your color theory, you better be able to understand if someone's of cool undertone, a warm undertone, neutral, how to get the shades you have to that complexion if you don't have it.
0:24:43.2 EC: Good point.
0:24:44.7 KD: For sure. Second thing, know the right, know your symmetry in terms of, if someone has a certain eye shape or face shape and stop doing that cookie cutter contouring, that doesn't work on everybody. You have to individualized it. It's about the individual not doing makeup that looks like everybody else. And my last thing, and this goes for everybody, 'cause I think in every industry, we get to a point where we know everything, you never know everything. Stay humble.
0:25:18.4 EC: Say it again for the people in the back.
0:25:20.5 KD: Please, stay humble. [chuckle] Please stay humble, we get to a point we're like, I can do this fierce cut crease in my liner and whatever else. You're gonna get that client that is gonna drag you back down to the ground and make you question everything you learned, or you might end up meeting somebody who is so much further along in the industry that you wanna learn from, but because you think you know it all, they're not gonna give you the time of day.
0:25:47.5 EC: So for young aestheticians or seasoned aestheticians hear this, hear this, that there is always something else to learn, and I think in our industry specifically, more than others, because there's a new ingredient that comes out, there's a new study published that we thought this was good, but maybe we need to change our perspective, you know if we didn't roll with it, which is what we do, and there's so many amazing innovative people in our industry coming out with new ways to do things.
0:26:17.0 KD: It's just so interesting. And then I have my students and I'm like, "We're gonna learn the history of makeup." And they're like, "What? We're not learning." I'm like, "No, we're going back." And I take them back all the way from great Egyptian times to the '40s and '50s and '60s, and I was like, "Does this eyeshadow look familiar? 'Cause you're doing it today"
0:26:34.9 EC: Nice. [chuckle]
0:26:36.3 KD: When so nothing's new. It's just evolved. And they're like, Oh! Okay. I'm like, yeah, put things in perspective guys, it's all been done.
0:26:45.4 EC: Well, Kat, you're absolutely delightful and inspirational, and I have learned from you. And I can't wait to learn more. We really appreciate having you on.
0:26:55.2 KD: Thank you, and I can't wait to get your face in my hands one of these days.
0:26:58.6 EC: Oh! I know, I'm getting married, and so I guess here's my makeup ____. [chuckle] Well, thank you so much everyone for tuning into ASCP Esty Talk, the ingredient decked out series, this was pretty smart. And for more information on this episode, or ways to connect with Kat, myself, or to learn more about ASCP, check out the show notes. Thank you.
0:27:25.8 KD: Thanks. Bye guys.
[music]
0:27:28.1 S1: Thanks for joining us today, if you like what you hear and you want more, subscribe, if you wanna belong to the only all inclusive Association for aestheticians that includes professional liability insurance, education, industry insights, and an opportunity to spotlight your sick skills. Join at ascpskincare.com, only $259 per year for all this goodness, ASCP knows, it's all about you.