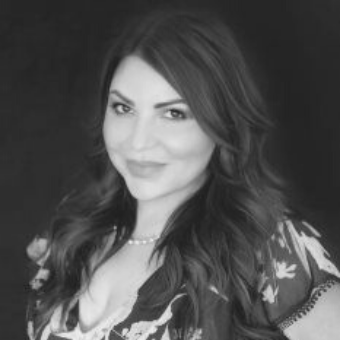 2020 began with an intention of bringing clear vision. Many innocently started January 1, 2020, with a play on words (or numbers): "This is my year! Bring on the 2020 vision!" Who would have guessed what would unfold a few months later would knock us off our comfortable, familiar axis? Perhaps the clarity we thought we were going to receive is not lost, but was instead redefined as another familiar word: wellness. August is National Wellness Month, and who better to discuss wellness than the 2020 ASCP Esty of the Year, Jessica Brock. In this episode we discuss wellness—not just in fancy spa-esque weekend getaway terms, but how wellness can be defined in professional and personal ways, and how the harmony of the two is vital.
About Jessica Brock:
Jessica Brock, owner of J Marie Skin Studio, started her career in the medical field. She is a certified nursing assistant, licensed medical assistant, licensed phlebotomist, EMT, IV therapist, and licensed esthetician with over 17 years of experience in medical aesthetics. She is well known in the industry for combining natural and botanical skin care with advanced medical esthetic treatments. She has built a 7-figure esthetic practice, has formulated her own medical grade skin care line, and plans to open an advanced esthetic training center in 2022. She is the proud recipient of ASCP's 2020 Esty of the Year award. She has an extraordinary passion for being a champion for women in business, and continues to mentor, teach, train, and develop many in our industry.
Connect with Jessica Brock:
Website: jmarieskinstudio.com
Email: jessica@jmarieskinstudio.info
Phone: 303-641-8670
Facebook: facebook.com/jmarieskinstudio
Instagram: instagram.com/jmarieskinstudio
About Ella Cressman:
Ella Cressman is a licensed esthetician, certified organic formulator, business owner, and absolute ingredient junkie! As an educator, she enjoys empowering other estheticians and industry professionals to understand skin care from an ingredient standpoint rather than a product-specific view.
She has spent many hours researching ingredients, understanding how and where they are sourced, as well as phytochemistry, histological access, and complementary compounds for intentional skin benefits. In addition to running a skin care practice, Cressman founded a comprehensive consulting group, the HHP Collective, and has consulted for several skin care lines, including several successful CBD brands.
Connect with Ella Cressman:
Website: www.ellacress.com
Website: www.hhpcollective.com
Facebook: www.facebook.com/HHP-Collective-105204177682777/
Instagram: www.instagram.com/hhpcollective
LinkedIn: www.linkedin.com/in/ella-cressman-62aa46a
About NMSWP
Meet Toshiana Baker, the founder of NMSWP.
Toshiana is a licensed esthetician who grew into an international educator, traveling globally to facilitate spa and beauty-related programs she created. At one time, she led a team of 250+ estheticians nationally as the director of esthetics for an iconic luxury spa chain with over 30 locations. She was also the regional operations director of four full-service spa/salons, including two inside Saks Fifth Avenue, and the education executive for the iconic brow artistry brand Anastasia Beverly Hills. Toshiana also held positions of leadership at other luxury influencer brands in spa, cosmetics, and retail. In 2016, she left the corporate space to become a full-time entrepreneur who parlays her wealth of experience to help small business owners, solo practitioners, and independent brands grow and scale.

Seeing a gap in the spa and wellness space for support, professional development, resources, and education for those of diverse backgrounds, Toshiana founded the Network of Multicultural Spa and Wellness Professionals (NMSWP) to be the gap filler. More than that, she wanted to create a community that feels like a "tribe to thrive" and to be a beacon of light and excellence for the spa and wellness industry.
Online: www.nmswp.com
Email: hello@nmswp.com
Instagram: @WeAreNMSWP
Facebook: https://www.facebook.com/WeAreNMSWP
About NeoGenesis
Introducing the next generation of stem cell science for skin and hair care: NeoGenesis patented S²RM® technology. This exclusive technology harnesses the power of adult stem cell-released molecules to awaken your body's natural regenerative power. This natural approach to healing simply returns to the damaged tissue the molecules that were present when the skin was young and healthy. Because of what we are able to do with traumatic wound care—from accidents, burns, chemo, radiation, and more—we knew this science could also serve aging concerns and chronic issues. We also enhance the result of all treatment-room modalities, reduce downtime, and aid in resolving issues resulting from treatment modalities that did not go exactly as planned. There are no contraindications, and we offer a full money-back guarantee on our skin care products.
YOUTUBE
INSTAGRAM
FACEBOOK
About Associated Skin Care Professionals (ASCP):
Associated Skin Care Professionals (ASCP) is the nation's largest association for skin care professionals and your ONLY all-inclusive source for professional liability insurance, education, community, and career support. For estheticians at every stage of the journey, ASCP is your essential partner. Get in touch with us today if you have any questions or would like to join and become an ASCP member.
Connect with ASCP:
Website: www.ascpskincare.com
Email: getconnected@ascpskincare.com
Phone: 800-789-0411
Facebook: www.facebook.com/ASCPskincare
Instagram: www.instagram.com/ascpskincare
0:00:00.0 Ella Cressman: Are you an esthetician that has felt unsupported or underrepresented in the industry? Have you felt isolated once you left school and have seen others making strides, but are unsure how to make this happen for yourself? Do you feel that if you had education, resources and access provided to others, that you could kill the game? We are exactly what your career has been missing. Join the Network of Multicultural Spa and Wellness Professionals, a community to help you go from simply surviving to thriving. Visit www.nmswp.com to explore our membership options for individual professionals, students, schools, and corporations or groups. You are listening to ASCP Esty Talk, where we share insider tips, industry resources and education for estheticians at every stage of the journey. Let's talk 'cause ASCP knows it's all about you. Hello and welcome to ASCP Esty Talk. I'm your host, Ella Cressman, licensed esthetician and owner of the HHP Collective. Today, I am joined by someone that needs no introduction, the 2020 Esty of the Year, Jessica Brock. Welcome, Jessica.
0:01:20.6 Jessica Brock: Thank you so much for having me.
0:01:23.1 EC: Of all of the years to be Esty of the Year, the most epic year of my lifetime, 2020, are you serious?
0:01:35.2 JB: I know. I still feel like I need to pinch myself and go, "Was that really in my life? Did I really just go through that and come out on the other side thriving and winning and doing all of the things that was kind of a surreal moment?" So I'm especially proud of that award and winning in that year and that time.
0:01:58.5 EC: I know. I think you will not be forgotten for a long time, and you do so much still. You took it very seriously, and you do so much for the industry, but how did you get started in esthetics?
0:02:10.5 JB: Well, I actually started my career in esthetics as an injector. I was working for a busy medical practice, working in urological oncology, she also had a holistic day spa. I was the phlebotomist and doing IVs in the day spa. But it wasn't your typical, it was more of a wellness setting, so doing a lot of IV nutrition therapy, working with acupuncturists, chiropractors, that sort of thing. And then we needed to look for avenues to bring in cash, so we decided to open up a medical spa. So that's where I got introduced to Botox, fillers, platelet-rich plasma. And I loved it, and I loved the energy behind making someone feel beautiful and confident. It was certainly a lot different than holding someone pinned in urological oncology where they might be passing or transitioning. After doing that for a long time, you just start to feel like you're dying alongside of folks, so getting into the medical esthetic world was really nice because I could still do those medical components like sticking needles in people [chuckle] and not have that other energy behind it, it was a different energy, something that just lit my fire and I was excited. And it is just a different energy when you're going to a medical practice to receive beauty treatments versus chemo treatments.
0:03:41.8 EC: Totally.
0:03:41.9 JB: Yeah, so I started in medical esthetics initially, and it wasn't until 2016 that I decided to take the jump and go to esthetician school. One of the biggest challenges that I had in my day-to-day job was that I hired estheticians, but some of them just didn't have the medical knowledge to go, "Hey, if you're doing PRP, that's inflammatory, maybe we should not do these anti-inflammatory skin treatments." So I really wanted to have more of a boutique practice where I can see a client all the way from skin care to injectables and laser. So then I decided to go to esthetician school, and after that, I just fell in love with ingredients in skin care.
0:04:27.8 EC: So when did you start your practice, JMarie Skin Studio?
0:04:31.8 JB: I opened up my practice in February, it'll be five years. So yeah, I've just been in business for five years.
0:04:39.9 EC: Just? Oh, come on. That is not just, that is the deal.
0:04:41.1 JB: I know, I know it. Well, I still feel like a baby in terms of owning a business and entrepreneurship. I still feel very much like a baby.
0:04:52.4 EC: Well, that's interesting because I feel like everyone feels like that. I'm nearly 15 years in, same thing on one side, on the other side, I'm like, "Oh my gosh, this has been forever but so much to learn," and I think that that's part of our industry. But five years is a big deal, not just five years. Four years is a big deal. The first three years are the hardest, and you, what you have done in the first three years is remarkable. So we're gonna pause and we're gonna...
[applause]
0:05:20.5 JB: Thank you, thank you, girl.
0:05:20.6 EC: Because what you've been, like, it's a hustle, it's a constant hustle. I see you working, I see you multiple locations, and not just that, not just having a practice, but also being a mentor, you don't stop at that, you just... It's going, going, going, and also I feel like five years but how many years of study beforehand, running practices and other things like that, so kudos with what you got going on, what you got coming up and all those things.
0:05:52.3 JB: Thank you. Thank you.
0:05:52.4 EC: Absolutely. Yeah, you're very admirable and somebody that a lot of people look up to and know, and so that's why Esty of the Year is very appropriate.
0:06:01.3 JB: Well, thank you, and I receive it, I receive all of it. I've been in the industry for 17 years doing injectables and things, I have only been running my practice for five years, and I feel like I'm still...
0:06:11.4 EC: Girl, stop with that only.
0:06:12.8 JB: There's so much... I know. I still feel like there's just so much to learn. I still feel like a baby business owner. Most people don't even start to profit until after the third year in business, I have never went in the red, I've done nothing but been in the black, so I just feel like okay. We've gained some really good momentum, really quickly, and I'm extremely grateful for that.
0:06:37.6 EC: What does wellness mean to you now in 2021?
0:06:43.7 JB: Wellness to me... You're right, it's not just about spa days and manicure and things like that, it's really about just allowing yourself to not always be on. To cut yourself some slack. And if you mess up, it's okay. Get back on the saddle and try again. I feel that we kind of have with social media and things, we have this idea of everything has to be perfect, we see everything glamorized online of, we're only putting our best stuff out there, we're only putting our best self out there, and I think it's a really unrealistic expectation of many, especially people who are trying to start a business and trying to thrive in their day-to-day life and trying to be a good mom on top of that, and a good wife and a great support system for their friends. I think it's a very unrealistic depiction of what wellness should be like.
0:07:52.8 JB: So I think it's okay to not have everything all figured out, it's okay to fail. And I found that in those times and in those moments, even if I'm not checking that box, I'm learning something. There is something to learn from those failures, from not always being on, whether if you learn something about how to do things better in your business or in your day-to day, or you learn something about yourself. I'll say that I have a very different idea of that work-life balance. To me, I think it's garbage. I don't think there's such a thing as work-life balance. And I explain it to people this way, so let's say you get a new job or you relocate with your company, or you maybe get a raise, does that affect your home life?
0:08:48.6 EC: Yes.
0:08:49.6 JB: Right, absolutely, it does. So finding that balance to me, it's really unrealistic and especially try telling a new business owner to disconnect from their business. They're excited about it, they're motivated, they have these exciting ideas. If I'm on and I'm on a roll, the last thing I wanna do is disconnect from that. So I think harmony is a better word, and it's a really good framework that doesn't imply a strict trade-off in my home or in my work life.
0:09:26.1 EC: Hey, guys, stop. Let's take a quick break. Introducing the next generation of stem cell science for skin and hair care, NeoGenesis patented S²RM technology. By harnessing the power of adult stem cell released molecules, these products awaken your body's natural regenerative power and simply returns to the damaged tissue what was there when it was young and healthy. This enhances the result of all treatment re-modalities, reduces downtime, and speeds up the healing process naturally. There are no contraindications. And NeoGenesis will offer a full money-back guarantee on all NeoGenesis skin care products. Let's get back to the conversation. Boundaries, I know that's something we talked about. We had another podcast with Sherrie Tennessee talking about wellness, and then a separate one, a round table with some of the other hosts of ASCP Esty Talk talking about burnout. And in that wellness conversation, we were talking about self-love and also self-care, and then in burnout we were talking about boundaries and how important those are. What are your thoughts on that?
0:10:39.2 JB: I agree that setting boundaries are important, and that's something that I wrote down on the top of my list here as I was taking notes for this, setting boundaries to prevent burnout. And I think that we need to learn to cut out all of the unnecessary stuff at least until we reach our goal, and that'll kind of help keep you from burning out and from getting overwhelmed. And when you set that boundary, it doesn't mean that you can't come back to it. You just come back to it at a time when you can really be fully committed to doing a good job, to giving 100% of your energy to whatever it is. I have a ton of interns that come in and they wanna come shadow and they wanna come work. Well, that takes a lot of energy, especially on top of a full schedule, and as I really love giving back to those girls, I think that if I can teach them and help train them along the way, and we're all doing good work, it speaks volumes for us as an industry. It also takes a lot of energy and effort, so sometimes I just go, "Hey, you know what, now is not a great time, but let's reconnect in six months, and let's leave it at that."
0:11:57.6 JB: So setting a boundary doesn't necessarily mean that you're giving up on an opportunity. So if I'm working and I'm on a roll and I'm onto some great ideas and I find myself on the computer until 3:00 in the morning or whatever the case may be because I'm excited about launching a new service or a new program or whatever it is, my family just understands that I'm excited about that and that's what's gonna go down. But then I have to also allow myself to, when I come home, and if I still like just disconnecting and maybe just gardening all day, or we play board games all day with the family, whatever the heck it is that I choose to do on my time at home, then I feel like I can be fully committed and therefore, I'm not feeling guilty about taking that time away from my work because I know that I put in the effort on the frontend.
0:12:51.9 EC: Yeah, I do know. In fact, I had someone who was doing my social media, he was doing such a fabulous job, he's another esthetician, and he got it and he... But he had something else come up and he stopped, and I had to give myself permission to not post because honestly, I don't... I decided that I'm only doing referral-based clients.
0:13:11.3 JB: Right.
0:13:11.7 EC: It's almost like I'm toying with this idea of Speakeasy Skin Care, where they have to have a password to get in if they're a new client because someone else has to vouch for them, 'cause I was at a point where I was like, "I'm done with the crazies, I'm done with the no shows."
0:13:26.7 JB: Yeah, exactly.
0:13:28.8 EC: But setting that like... It's okay that there's... And this is something else I struggle with too. It's okay that there's dishes in the sink and I'm going to bed, 'cause sometimes I would like, "My house isn't perfect, my car is not perfect." This pursuit of perfection. So what you said right there is cutting out the unnecessary and all I could think of was not... 'Cause I'm getting ready to go on a big trip, so not worrying about all the stuff that I should do before I go. [chuckle]
0:13:58.7 JB: Oh, yeah, I'm definitely one who's like, I gotta be OCD compliant. So I feel like, "Okay, I can sit down and do some work once the dishes are done, once the laundry's done, the house is clean and I'm gonna light some sage, I'm gonna light some incense. I'm gonna pour myself a cocktail." And then that's the perfect time for me to go ahead and get work done, and by the time I've done all of that, it's like 10 or 11 o'clock at night. And now I'm trying to get to this work that must be done because people have to get paid, and then I find myself exhausting myself. So it is really just letting go of those things and going, it's okay to not be perfect, it's okay to not have checked all those boxes. Do the things that are really important in this moment, and then that relieves a lot of the pressure that comes along from being on the strict and tight deadline, you know?
0:14:53.9 EC: Oh yes, I do, I do. So these are things you've learned, or these are things that you went in with?
0:15:03.1 JB: These are things that I have learned, these are things that I continue to struggle with sometimes. Again, like I said, we're all human, we all sometimes get compulsive about one thing or another, especially with the need for my business, sometimes my man will come and when it's like 3 o'clock in the morning, he'll just come and grab my computer and shut it down at that point, and I know that I've probably exceeded the limit there. [laughter] So sometimes I have to be... You have to peel me off the ceiling, but it's okay. Having people in your life that check you, that's also, I think, part of wellness. And having those friends and those people support system in their life that go, "Hey!" I had a girlfriend that says, "I miss you, I'd love to see you more often. I know you're busy, I support that, but I'd just love to have dinner with you. When can we do that because I miss you?" People like that that hold you accountable for your actions and your time, and to me, it's the ones that always... If they're working that hard to stay a part of your life, then you gotta give that back too.
0:16:17.5 EC: Yeah, because as these busy professionals, it's so easy to consume with work, not having that harmony that you're speaking of, but to consume with work to the point of exhaustion to work. I know what you're talking about 'cause I'm like I'm too busy to go, I'm too tired to go. In a couple of years ago, it's like I can't because I'm gonna be 55 with no friends and a thriving business. [laughter]
0:16:40.6 JB: Right, and I would feel guilty. I would feel guilty. I would feel like, "What am I doing this for?" So I have to make time for the people that are important. But again, if I'm going back to cutting out the unnecessary, so I don't do a networking. I used to take every coffee call, I used to take every lunch call, I used to take every dinner call. And because I thought that's what I gotta do. This is how we network. Well, now I go, "I don't really know you that much, I don't really care to get to know you that much. [laughter] I wish you well, and I'm happy to help you. If you have a question, let's do it. But I'm not gonna take two hours of my time to go sit and have coffee with you." And it does kind of... I don't know, it's just a really great position to be in now. Certainly when I started my business, I took everything, I took every call, I took every... I did every service, and I tried to do this with my staff. And just today we had a big staff meeting and I'm telling them, "Okay, who here is doing anything that they do not love to do?" And I had one gal saying, "Well, I don't do Brazilians anymore, you took them off of my schedule 'cause you don't love to do them."
0:17:54.8 JB: I don't feel that we should do that unnecessary stuff in our day-to-day job either, because if every time that gal sees a Brazilian on our schedule, she gets anxious, she stresses out, she starts sweating. Is that really helping anybody? Her client's not gonna feel comfortable, she may not get a great service, she may not come back. So just doing all the things that I love to do, doing all the things that make my heart sing. To me, that's how I create wellness and a more fulfilled work-life situation.
0:18:31.8 EC: Well, you brought up a great point, which is gonna have to be another podcast, and that is something like, okay, maybe you agree or disagree, but have you noticed... And I'm guilty of this myself early on, that we as estheticians are like, look, you'd see that shirt that says, "I'd wax that." Right. But then also I'd peel that, I'd scrape that, I'd dermaplane that, I'd tint those, I'd laminate that. There are so many, I'd PRP that, I'd CIT that, I'd do all these things we think. I'd spray tan that. There's this need to know every new thing and to do this and to do that, and you said that and it reminded me that I don't wax anymore. I wax the eyebrow 'cause I like it, I'm good at it.
0:19:20.5 JB: Heck no, girl, heck no. I do not give or receive Brazilians anymore. I have graduated from that. I feel like if we are all doing the things that we love, then we're going to do a really good job. When we do that stuff that doesn't make our heart sing, it really sets us and our clients up for disaster.
0:19:40.5 EC: It's dilution of the talent.
0:19:42.7 JB: Absolutely, and then I feel exhausted. I feel anxious about going to work when I see four Brazilians on my schedule when it's my least favorite thing. If I see a permanent makeup procedure on my schedule, I promise you I'm poking my eyes out with a pen. But if I see 30 injection clients, people go, "Well, how can you see that many clients a day?" Because I'm not really working, because I am doing exactly what I love, I'm doing the thing that I'm passionate about, I'm doing the thing that I care about the most. Now, in my practice, I only do injection because I love poking people on their faces. But ultimately, whether we are waxing or shading or lasering or lashing or whatever it is that we're doing, we are certainly not saving the world one extraction at a time. It's okay to just back off of those things and surround yourself with the people that really enjoy doing those things, bring those people into your practice, bring those people into your circle, and that goes also with running a business. I don't need to know all of the laws, but I do need to know someone who knows all of the laws, I need to surround myself with lawyers who can help me when I need to understand some of the laws. I don't need to know how to be a superstar accountant or how to do my own taxes, but I better have a darn good accountant on my team who knows those things.
0:21:11.3 JB: So I feel like sometimes as estheticians, I see so many of us trying to do it all, like you said, and they become a Jane of all trades and a master at none. So find your niche and do that and do it really damn good, so that way people will come from all over the state to see you for that because you are the who's who in that area, with the Brazilians, with the facials, whatever it may be, you know?
0:21:37.0 EC: And then delegate the rest.
0:21:38.6 JB: Absolutely.
0:21:40.2 EC: I wish I could find the study, it was the study that said, some kind of psychological study that said people who hire out services like lawn service and cleaning service, like home cleaning service are happier than people who don't, and so in our profession...
0:21:53.6 JB: Honey, honey, honey. [chuckle]
0:21:55.8 EC: So I was saying like, I also have a cleaning person for my business, and an accountant, and a lawyer, and a bookkeeper, 'cause you delegate out and you're like, "Oh, man, that's cutting out the unnecessary," like you're talking about. Then you're able to inject, or for me, corrective skin care all day. Or, I love extraction, so I would save the world with it.
0:22:19.1 JB: I do, I do. I love extractions too. I love... I'm not even gonna lie to you. Anything where I can put a needle in someone's face. I'm a big lanceter, I love lancets because I can use the needle. If I had to do extractions without a lancet, I don't necessarily know that I would love it all that much. [laughter] So, I'll poke anything that will not poke me first.
0:22:39.3 EC: We're gonna change your name to the hokey-pokey.
0:22:39.6 JB: And that's right. But you know what? That's the other thing too. Sometimes we go, "Okay, well, I'm gonna do the... " We start getting like penny wise and pound foolish because starting a new business, you're counting every single penny, you are doing all of those things and, "I can clean myself, why would I pay someone a couple hundred bucks to do it?" But it wasn't until I started going, "Okay, well, it takes me five hours to clean my whole house once a week when I can pay someone $100, and I can take those five hours and I can see three or four more clients and make an extra $4,000." So, don't get in the rut of counting every penny that you're missing out on the dollars, and outsourcing is the only way that I can keep my sanity and then I can run a practice with 10 employees and multiple locations and launch a school and things like that. It's a team effort, it's a collaborative effort for sure.
0:23:44.4 EC: Amen. Amen. Thank you, Jessica, for being a guest. What an inspiration. Again, Jessica Brock, ASCP 2020 Esty of the Year. We'd love to have you back on another episode.
0:23:58.2 JB: Thank you, thank you.
0:24:00.1 EC: And thank you for listening. For more information on this episode, or for ways to connect with Jessica, myself, or to learn more about ASCP, check out the show notes. And stay tuned for the next episode of ASCP Esty Talk. Thanks for joining us today. If you like what you hear and you want more, subscribe. If you wanna belong to the only all-inclusive Association for Estheticians that includes professional liability insurance, education, industry insights and an opportunity to spot like your six skills, join at ascpskincare.com. Only $259 per year for all this goodness. ASCP knows it's all about you.