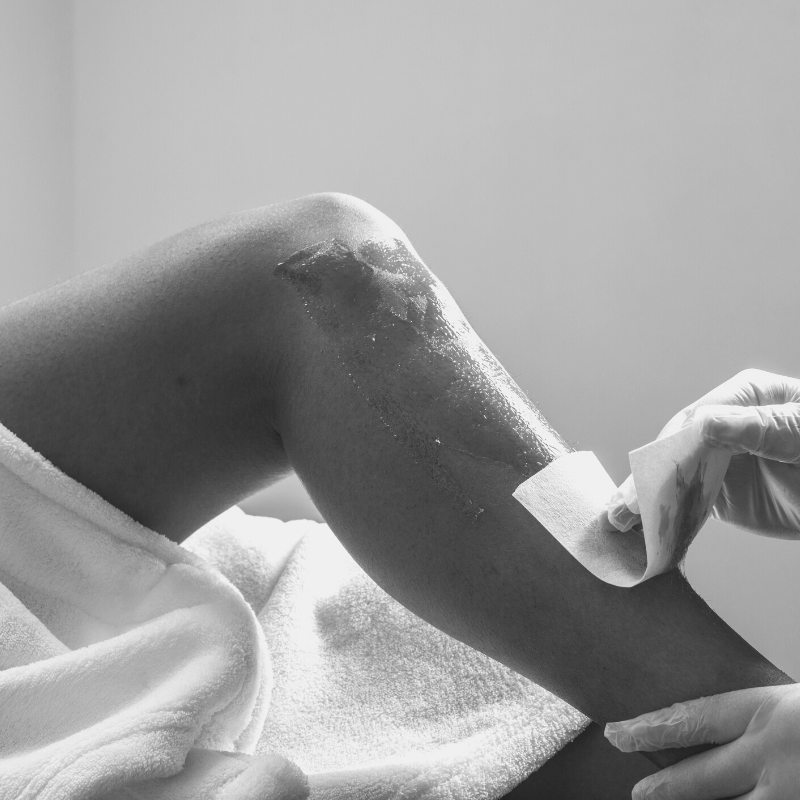 We've all been all been there: client on the table, wax warming nearby, your applicator full of product, and then . . . whoopsie doozie, a waxident! Join Maggie and Ella as they chat with waxing pro Belinda Swanson to reminisce about a few waxidents they've experienced and how they remedied the situations.
Produced by Associated Skin Care Professionals (ASCP) for licensed estheticians, ASCP Esty Talk is a weekly podcast hosted by ASCP Skin Deep magazine contributor Ella Cressman and ASCP Education Specialist Maggie Staszcuk, both licensed estheticians. We see your passion, innovation, and hard work and are here to support you by providing a platform for networking, advocacy, camaraderie, and education. We aim to inspire you to ask the right questions, find your motivation, and give you the courage to have the professional skin care career you desire.
About Belinda Swanson:
Belinda Swanson is licensed esthetician and owner of Queen B Esthetics located in Littleton, Colorado.
In her nearly 15-year career, Belinda has held many roles, including trainer, sales representative, and educator for skin care lines; school educator; and business owner. Skin health is Belinda's passion, and because she believes everyone deserves to feel beautiful in their skin, she provides both education and skin treatments to every client.
Connect with Belinda Swanson:
Website: https://queenbesthetics.glossgenius.com/
Email: Queenb.esthetics13@gmail.com
Phone: 720.791.9525
Facebook: @QueenB.Esthetics
Instagram: @QueenB.Esthetics
About Maggie Staszcuk:
Maggie has been a licensed esthetician since 2006 and holds a bachelor's degree in business administration from Stephens College. She has worked in the spa and med-spa industry, and served as an esthetics instructor and a director of education for one of the largest schools in Colorado before coming to ASCP as the Advanced Modality Specialist.
Connect with Maggie:
P 800.789.0411 EXT 1636
E MStaszcuk@ascpskincare.com or AMI@ascpskincare.com
About Ella Cressman:
Ella Cressman is a licensed esthetician, certified organic formulator, business owner, and absolute ingredient junkie! As an educator, she enjoys empowering other estheticians and industry professionals to understand skin care from an ingredient standpoint rather than a product-specific view.
She has spent many hours researching ingredients, understanding how and where they are sourced, as well as phytochemistry, histological access, and complementary compounds for intentional skin benefits. In addition to running a skin care practice, Cressman founded a comprehensive consulting group, the HHP Collective, and has consulted for several skin care lines, including several successful CBD brands.
Connect with Ella Cressman:
Website: www.ellacress.com
Website: www.hhpcollective.com
Facebook: www.facebook.com/HHP-Collective-105204177682777/
Instagram: www.instagram.com/hhpcollective
LinkedIn: www.linkedin.com/in/ella-cressman-62aa46a
About our Sponsor: LAMPROBE
The popular and revolutionary LAMPROBE utilizes radio and high-frequency technology to treat a wide variety of Minor Skin Irregularities™ (MSI)—non-invasively—with instantaneous results. Common conditions treated by the LAMPROBE include: vascular MSI, such as cherry angiomas; dilated capillaries; sebaceous MSI, including cholesterol deposits and milia; and hyperkerantinized MSI, such as keratoses and skin tags.
The LAMPROBE uniquely assists modern, capable, and skilled skin care practitioners to do their work more effectively and with greater client and professional satisfaction. Setting standards in quality, education, and training, the LAMPROBE has become an essential tool enabling skin care practitioners around the world to offer new revenue-enhancing and highly in-demand services.
Connect with LAMPROBE:
Website: www.lamprobe.com
Email: info@lamskin.com
Phone: 877-760-2722
Instagram: www.instagram.com/lamprobe
Facebook: www.facebook.com/theLAMPROBE
About our Sponsor: NeoGenesis
Introducing the next generation of stem cell science for skin and hair care: NeoGenesis patented S²RM® technology. This exclusive technology harnesses the power of adult stem cell-released molecules to awaken your body's natural regenerative power. This natural approach to healing simply returns to the damaged tissue the molecules that were present when the skin was young and healthy. Because of what we are able to do with traumatic wound care—from accidents, burns, chemo, radiation, and more—we knew this science could also serve aging concerns and chronic issues. We also enhance the result of all treatment-room modalities, reduce downtime, and aid in resolving issues resulting from treatment modalities that did not go exactly as planned. There are no contraindications, and we offer a full money-back guarantee on our skin care products.
Connect with NeoGenesis:
YouTube: www.youtube.com/c/NeoGenesisInc/playlists
Instagram: www.instagram.com/neogenesisinc/
Facebook: www.facebook.com/neogenesisinc/
About our Sponsor: NMSWP
Meet Toshiana Baker, the founder of NMSWP.
Toshiana is a licensed esthetician who grew into an international educator, traveling globally to facilitate spa and beauty-related programs that she created. At one time, she led a team of 250+ estheticians nationally as the director of esthetics for an iconic luxury spa chain with over 30 locations. She was also the regional operations director of four full-service spa/salons, including two inside Saks Fifth Avenue, and the education executive for the iconic brow artistry brand Anastasia Beverly Hills. Toshiana also held positions of leadership at other luxury influencer brands in spa, cosmetics, and retail. In 2016, she left the corporate space to become a full-time entrepreneur who parlays her wealth of experience to help small business owners, solo practitioners, and independent brands grow and scale.

Seeing a gap in the spa and wellness space for support, professional development, resources, and education for those of diverse backgrounds, Toshiana founded the Network of Multicultural Spa and Wellness Professionals (NMSWP) to be the gap filler. More than that, she wanted to create a community that feels like a "tribe to thrive" and to be a beacon of light and excellence for the spa and wellness industry.
Connect with NMSWP:
Online: www.nmswp.com
Email: hello@nmswp.com
Instagram: @WeAreNMSWP
Facebook: https://www.facebook.com/WeAreNMSWP
About Associated Skin Care Professionals (ASCP):
Associated Skin Care Professionals (ASCP) is the nation's largest association for skin care professionals and your ONLY all-inclusive source for professional liability insurance, education, community, and career support. For estheticians at every stage of the journey, ASCP is your essential partner. Get in touch with us today if you have any questions or would like to join and become an ASCP member.
Connect with ASCP:
Website: www.ascpskincare.com
Email: getconnected@ascpskincare.com
Phone: 800-789-0411
Facebook: www.facebook.com/ASCPskincare
Instagram: www.instagram.com/ascpskincare
0:00:00.0 Speaker 1: This podcast is sponsored by Lamprobe. Lamprobe is a popular aesthetic tool that enables skin care practitioners to rapidly treat a wide variety of common minor skin irregularities or MSI. Red MSI treated by Lamprobe include dilated capillaries, and cherry angiomas, yellow MSI, cholesterol deposits, and sebaceous hyperplasia, and brown MSI treated includes skin tags, and more. Lamprobe MSI treatments are non-evasive and deliver immediate results. Lamprobe can empower your skin practice with these new and highly in-demand services. For more information, visit lamprobe.com, that's L-A-M-P-R-O-B-E dot com, and follow Lamprobe on social media @lamprobe.
0:00:51.8 Speaker 2: Are you an aesthetician that has felt unsupported or under-represented in the industry? Have you felt isolated once you left school and have seen others making strides, but are unsure how to make this happen for yourself? Do you feel that if you had education, resources, and access provided to others, that you could kill the game? We are exactly what your career has been missing, join the network of multicultural spa and wellness professionals. A community to help you go from simply surviving to thriving. Visit www.nmswp.com to explore our membership options for individual professionals, students, schools, and corporations or groups.
0:01:39.3 Speaker 3: You are listening to ASCP Esty Talk, where we share insider tips, industry resources, and education for aestheticians at every stage of the journey. Let's talk, 'cause ASCP knows it's all about you.
0:01:54.7 Ella Cressman: Hello and welcome to ASCP Esty Talk. I am your co-host Ella Cressman, I'm a licensed Aesthetician, Certified Organic Formulator, ingredient junkie, and Content Contributor for Associated Skin Care Professionals. I am joined by my co-host, Maggie Staszcuk, licensed Aesthetician, ASCP's advanced modality and education specialist, and an all-around bad-ass Aesthetician. Hey Maggie.
0:02:17.5 Maggie Staszcuk: Hi Ella.
0:02:18.5 EC: Often we talk about ingredients, formulations, products, devices, and even give business ideas. But one thing we don't really talk about enough are those whoopsie-doosey-moments that are so unique to practitioners in our field, right?
0:02:34.1 MS: Right.
0:02:34.8 EC: I know you have stories to share, and so does our guest. Today we are joined by Belinda Swanson. Welcome, Belinda.
0:02:42.0 Belinda Swanson: Thanks for having me.
0:02:43.1 EC: Yay. Now, Ms. B, Queen B, has played many roles in the aesthetic world from a Spa Director, Educator, Brand Ambassador inside and outside Sales, and of course, a business owner. I'm sure, with all that you've been through, and around, and seen that you've seen your share of things, yeah? I know you have stories to tell, right?
0:03:06.5 BS: Well, I was working at a Day Spa and I get a call back, "You have a walk-in Brazilian." Great, get ready, come get the client, bring her back, ask her to undress from the waist down. She just gives me a deer in a headlight look, like "What?". I'm like, "You're here for a Brazilian, right?" She's like "A Brazilian blow out". I'm like, "Oh, oh, we don't do those here, that's the salon downstairs." So make sure you know what service you're getting into.
[laughter]
0:03:39.0 EC: It's good to specify right? [laughter] Different kind of Brazilian.
0:03:40.6 BS: I know.
[laughter]
0:03:42.8 MS: Different hair, different area.
[laughter]
0:03:47.0 EC: Different area.
0:03:48.9 BS: Different hair.
0:03:49.9 MS: Yeah, different hair. Maybe that could be a new trend?
0:03:50.6 EC: I don't know [laughter]
0:03:51.8 EC: The comb over. [laughter] Straightening.
0:03:52.4 BS: Yeah. [laughter]
0:03:56.7 EC: Braids. What about you, Maggie? What have you... I'm sure you have stories too.
0:04:04.5 MS: I have a ton of stories, but waxing off eyebrows is definitely a thing, I think, we've all faced. I did have a client come in once that said she wanted her brows, "As thin as possible". And I complied, so I put that strip on, ripped that sucker off, and the brow was gone. And I didn't handle it well. I looked at her and said, "Wow, that is thin. Do you want me to make the other brow match?" Because I didn't know really what to do. She said, "Let me see the mirror". She looks in the mirror, and she goes, "Oh my God." Gets up off the table, leaves, pays. That was the end of it. I surely thought she was gonna complain, that was the end of my job, but, "Look lady you asked for it."
0:04:47.5 BS: Exactly, that was all her fault, she wanted as thin as possible and she got it.
0:04:51.2 EC: I love that too, sometimes in our whoopsie-daisy-moments, it's like, "You said you wanted this, don't forget." [chuckle] Getting through it. I've had some... My share of whoopsie-daisy-eyebrow-moments. But one happened to be on one of my friends, she was bugging me to do her eyebrows, to do her eyebrows. And we were doing this event at the salon that we worked at at the time, and she's like, "I gotta go see my boyfriend in Iowa tomorrow, I need to get them". I'm like, "Fine." Not into it. I had already worked a full day, and I'd been hanging out, and so I'm like, "Fine, let's just do it real quick."
0:05:25.1 EC: And I didn't follow my gut. I didn't follow my training, and instead I did this. And what happened was hard wax dripped into the front part of her eyebrow, and I didn't know what to do. So I started flicking it off, and as I'm flicking it off, eyebrow hairs are coming out too. So the poor thing has to go see her boyfriend the next day with pretty much mange bald spots in there, I was like, "You know what, I have this fiber... " 'Cause this was back... Remember fiber mascara and fiber brow powder? I'm like, "I have this fiber brow powder, I'm gonna give it to you, 'cause I think you'll like it". And then she's like, "Oh, okay, that sounds good". Still unbeknownst as to what happened, and then I was like, "Okay, I have to show you what happened." She never came back to me. So there's another word to the wise is just don't do it if you're not into it. [chuckle]
0:06:14.7 BS: Yeah, totally. I've been in that position too, where I've dripped the wax. It was all through my client's hair, she didn't, of course, know. And I freaked out, "What do I do?" I didn't wanna tell her that this is a don't follow my lead situation, so I pulled out the scissors and attempted to cut it out of her hair without her knowing, and of course, she hears the.
[vocalization]
0:06:37.0 BS: Of the scissors and whips her head around to try and see what I'm doing. And I was like, "Oh, I'm just cutting some strips for your wax service, look away, look away." And literally, I'm cutting her hair as she's lying there trying to get the wax out. It was a bad situation. Of course, she didn't come back to me. I wouldn't expect her to.
0:06:54.8 EC: Well, you gave her layers, that's a twofer service.
[laughter]
0:06:56.4 MS: Exactly.
0:07:00.2 BS: Exactly. I love the clients that open their eyes, right in the middle of the... You're putting on the soft wax on the eyebrows and they open their eyes. Lashes all up in the wax...
0:07:10.1 MS: Oh yeah.
0:07:10.7 BS: And they have wax on their eyelashes. What do you do then?
0:07:15.5 EC: Whoopsie-doosey.
0:07:17.0 BS: Waxident.
0:07:17.9 EC: That's a waxident.
0:07:20.4 EC: What do you do then?
0:07:22.1 BS: Grab the oil, Vaseline, you gotta work that out and, "Please keep your eyes closed."
0:07:27.9 MS: Yeah, I do... I have that... I have had to give that instruction of, "Look, I want to wax your brows, not your lashes. So keep your eyes closed, okay?" But you have those thinkers, the thinker blinkers.
0:07:38.6 EC: Absolutely.
0:07:39.3 BS: The blinkers...
0:07:39.8 EC: Or the face cringers.
0:07:41.5 MS: Oh yeah, don't do that or you're gonna have a different shape of eyebrow.
0:07:45.8 EC: Yes.
0:07:45.8 MS: If you're helping me... The helpers, the helpers that wanna raise their eyebrow up when you putting it on.
0:07:50.0 EC: Yes.
0:07:50.6 MS: Like, "No, no... " I always tap them on the forehead, "I got this." [laughter]
0:07:55.1 BS: Look away. I say I'm gonna count to three, but I really pull on two.
0:07:58.9 MS: Yeah, "One... I got you." [laughter]
0:08:03.1 EC: That's awesome. What about bikini waxing? Do you have any horror stories there? Whoopsie-doozy-moments?
0:08:10.5 BS: Well, I think that's probably everybody in the industry, really. Of course I have, from tearing skin to bruising but I love the ones that try to do it at home themselves and then they come in with the strips still attached to them. They got one half done, it's a mess. They're bleeding or bruised but they are like, "I can't do the other side. Can you help me?" "No, the strip is still attached."
0:08:37.3 MS: Oh, yes.
0:08:38.0 BS: So don't wax at home.
0:08:39.2 MS: Yes.
0:08:39.5 BS: Leave it to a professional.
0:08:41.1 EC: Or if you're a professional, don't wax at home because I remember [chuckle] It was like probably four or five years ago, in the early days of the aesthetician groups, like help me groups. There was this woman who said... She said, "You guys I... " She wrote it on a post, "You guys I really need the help. I have... I had a half a can of hard wax, a half a can of soft wax, so I combine them both. And I'm trying to get myself a Brazilian, but it's too hard to get a strip on and it's too soft to pull up like with a hard wax fashion. So the poor thing, she's like, "I took a bath, I tried to soften with oils." She was like, "I really need help." She had it on both sides too, so she's walking around, spread eagle typing on Facebook as a last resort for help so just keep that in mind that DIY... Even if you're licensed professional, you can still seek out professional services, can we say.
0:09:36.1 BS: And glue yourself together.
0:09:38.8 EC: Right, that's another one that I had happened to me. I tried to do a full half. It's like real speedy 'cause it's not a comfortable service for a practitioner or for a client. And so I had laid the full right half and the client was one of those extra, you know what I'm talking about? The "Oh, yeah." It's like, "That was the pre-cleanse." [laughter]
0:10:04.1 MS: I haven't even started yet.
0:10:08.6 EC: Yeah, they're like they're in... They work it up so much in their head that it hurts just to put toner on their skin or something, powder. So I'm like, "Okay, she's extra, that's fine." And I said, "I'm okay, I'm gonna put the wax down then put a strip down then I'm gonna pull and I'm gonna keep going, 'cause this is like the least painful way, okay? So I'm gonna start with one and I'm going from the inside of the thigh inward, right?" So I start with one, just like I told you, I was gonna do and she goes "Oh!" And she slams her leg shut, knees together and I'm like, "Oh no!" Because now we have the right side and the left side full of wax, and I'm like, "You think that hurt, honey, when we have to pull this apart, it's not gonna be real nice. So what I'm gonna do is I'm going to burn some sage and we're gonna say an affirmation and then we're gonna start, okay?" So a seven-minute service turned into like an hour and 15 minute, sweat dripping off my brow trying to get this lady... I learned never to lay... On that client, never to lay a whole side, instead just to lay, strip, lay, strip, lay, strip.
0:11:18.3 BS: I've been in that situation. Yeah, definitely where those clients slam their legs shut and it is not pretty. Sticky situation.
0:11:26.2 MS: Literally.
0:11:26.2 EC: That's a waxident. [chuckle]
0:11:27.7 EC: Waxident.
0:11:28.8 EC: Hey guys stop, let's take a quick break.
0:11:33.2 S?: Introducing the next generation of stem cell science for skin and hair care. NeoGenesis patented S-squared RM technology by harnessing the power of adult stem cell released molecules. These products awaken your body's natural regenerative power and simply returns to the damaged tissue, what was there when it was young and healthy. This enhances the result of all treatment re-modalities, reduces downtime and speeds up the healing process naturally. There are no contraindications and NeoGenesis will offer a full money back guarantee on all NeoGenesis skin care products.
0:12:12.6 EC: Let's get back to the conversation.
0:12:15.0 EC: How many of you guys... This is also an intimate area. Another thing that's happened to me twice, two different clients. One client came in all ready for her service and we have contraindications. What are some contraindications? We can't wax over balls, we can't wax over tissue change. When it changes color, it's out of our scope and we can't wax over bruises. So I had this client come in and she was super timid, like super mousy. "Hi, how are you?" "I'm good. How are you?" "Good. I wanna get a bikini wax." "Okay, yeah that's good. Just come on in." So we go in there and I was like, "Okay, I don't know how to say this." In my head this is my conversation, "I don't know how to say this. What am I gonna say?" She had a bruise, a circular bruise on her inside of her thigh that... I watch a lot of crime shows, so I had identified as bite-marks. [laughter] She was like bite-mark bruise. So I had to tell her that we couldn't... "It looks like you have a little bruise, it happens, maybe riding a bike or something... " I'm not gonna tell her I see what's going on here. "So we're gonna have to avoid that area, so we can... We have two options, you wanna come back or you want me to go around it." That was awkward.
0:13:27.1 EC: Speaking of tissue color changes, Maggie I know you have a story from school... Trainer. The trainer.
0:13:33.9 MS: I know I am curious if Belinda had an experience like this, 'cause she's also been an educator.
0:13:39.5 MS: This trainer came into the school, and after this initial training, we said no more because her methods were really abnormal, but she taught that before any waxing, like Brazilian or bikini, you plug everything, all the orifices we'll say with cotton before you wax. So she's demoing on this model and takes a bunch of cotton balls and then proceeds to wax and everyone including myself is watching this in horror, like, Wow, that poor model with cotton balls...
0:14:17.5 EC: Stuffed in her.
0:14:20.4 MS: Up her booty and everywhere in between.
0:14:21.3 BS: Oh my gosh.
0:14:23.0 EC: That was my question when I heard the story was like, what did the model's face look like?
[laughter]
0:14:28.2 EC: Was it a student?
0:14:29.3 MS: Yeah, yeah.
0:14:29.8 EC: Was she like... It's a she, obviously. Was she like wide eyed, surprised?
0:14:36.1 MS: Poor little thing was terrified, and usually students, it's their first time having a Brazilian and we're teaching them, this is how you go about it when you go into the spa setting, this is how you perform a Brazilian. And also we're trying to convince a student that in front of their entire class, they need to bear everything, and they're terrified 'cause everything is about to get ripped out. And so we're saying, thank you, you can do it, and everything's gonna be okay, and then this trainer comes in with a bunch of cotton balls and whoop, yep.
0:15:06.0 MS: No, no, no.
0:15:08.1 BS: I have never heard of that before.
0:15:10.1 EC: So that's not a thing at schools?
0:15:13.0 BS: I hope it's not a thing anywhere.
0:15:14.5 EC: I do too... I was like, I thought that it's out of scope of practice, change of color, not my job.
[laughter]
0:15:24.5 EC: Yeah, yeah.
0:15:25.0 BS: I think with my experience with teaching, I found that students either loved or hated waxing. It was kind of a love-hate relationship and maybe that's still in the industry as well as seasoned aestheticians, I feel like we can pick and choose what we wanna do now which is great, but I do think waxing is a skill. I mean, there's just places just for waxing, which is amazing, it's still quite the high-end experience. And people still need it. But when teaching, of course, Brazilian day nerves are high, everybody is nervous about what's gonna happen, some of them, it's their first time and so we get into groups and always say you're gonna work from the outside in, down to up. Usually the middle is the last, don't start in the middle. Of course, there's that one group, they start right in the middle, right? [laughter] It's a nice blob of hard wax right in the center. This poor woman. One of our senior, mature students, first Brazilian, poor thing. So I had to go in, that's a waxident. We gotta fix the waxident, so you just have to work from the outside in...
0:16:42.3 EC: Awkward.
0:16:42.6 BS: And finally get to the center eventually. And we don't know what happened and we all make mistakes, but I did not learn Brazilians in school. Did you guys?
0:16:55.4 EC: Oh yeah, yeah.
0:16:56.7 MS: Oh no, I watched a half of a bikini wax, I watched a video of a bikini wax.
0:17:03.4 EC: I'm surprised you didn't learn in school 'cause we went to the same school.
0:17:07.6 MS: I went at night. You know who my teacher was?
0:17:11.1 EC: Who?
0:17:12.5 MS: Can we say it?
0:17:13.9 EC: I think so.
0:17:15.4 MS: Nancy Nation.
0:17:16.9 EC: Oh, get out of town.
0:17:18.5 MS: No, and so we had learned that we didn't even learn it until we went to the new building, and so we did mostly legs and arms and brows, barely one left brow. I did a left brow, my whole schooling, a left, the left brow. And we finally got into where we had to have that to test out, and there was one girl who did it, and we witnessed a half of it, and then she was in too much pain.
0:17:49.4 EC: Oh wow. We did a ton of Brazilian when I was in school, and actually it was me and another girl who, we were the only ones that would agree to do Brazilian, so all the clients that came into the clinic, which, mind you, was minimal, would come to me and her and we would tag team. I remember this client would come in consistently on the nose every three weeks, which was pretty often. Anyway, she would come in every three weeks for her Brazilian, and my co-student I remember would always just like slather her with wax and then just rub and rub and rub this strip and I keep thinking quit rubbing her.
[laughter]
0:18:32.9 EC: I was like, get that sucker off, no wonder she's coming every three weeks.
0:18:41.1 MS: Yeah.
[laughter]
0:18:43.2 EC: Oh my gosh.
0:18:44.3 MS: She enjoyed the service.
0:18:45.8 EC: She loved it, yeah.
[laughter]
0:18:47.1 MS: See you Thursday.
0:18:47.7 BS: I don't have any hair but I'm here for my touch-up, right?
0:18:54.2 BS: Touch up.
0:18:57.0 MS: Oh my gosh, I try not to, I put lay it.
[vocalization]
0:19:00.5 MS: That's it.
[overlapping conversation]
0:19:00.6 BS: Yeah, yeah, the faster, the better.
[laughter]
0:19:02.6 MS: Yeah, get in, get out. There's other embarrassing situations like Client positioning for example. I found it because I didn't really learn Brazilian waxing in school, bikini waxing, I found... I had to figure it out on my own later, but one of my favorite positions to put the client in because of the way it pulled the skin top was on all fours or like downward dog, if you will, on... What's the one is it puppy? Puppy pose?
0:19:29.7 EC: Yeah, yep.
0:19:30.3 MS: So I always use yoga pose lingo, 'cause I feel like that somehow makes it feel better.
0:19:34.9 EC: Sound better?
0:19:35.7 MS: Yeah. Okay, we're gonna do Uttanasana, butterfly pose. I don't even know if that's the name of it, but that's what I call it. Okay we're going to do...
0:19:44.1 EC: Eagles, yeah, spread eagle? [laughter]
0:19:47.6 MS: You know? Free root chakra.
[laughter]
0:19:52.7 MS: So I'm fairly new, this lady wants a full on Brazilian, who by the way she would ask me to tweeze. This is before I could say no, this is before I found my voice, my inner lion. So she would... Anyways, so I put it on all fours So I can get the back and part of the front, you know, I thought that was smart. But inevitably, and of course, at that position, that's right at eye level there, my eye level. And so inevitably, I'd put that on and I'd pull so tight and she'd wince and then air would come out, like poof. And I was like freaked out the first time it happened, I was like, "Oh, my gosh." She goes, "Sorry, I had four kids." I'm like, It's okay, but the more I started doing it, I'm like it just happens, that is normal, and I just tell if that happens again... "Oh, everybody does it, well a lot of people".
[laughter]
0:20:41.1 MS: So that is a very uncomfortable thing to do, to get through. [laughter]
0:20:44.9 BS: Yes. Clearly we can wear masks now.
0:20:47.8 EC: Well, that was awesome. Thanks so much, Belinda, for joining us for our Whoopsie-Doozy waxident episode.
0:20:56.5 BS: Thanks for having me.
0:20:57.5 MS: We enjoyed it.
0:21:00.1 MS: Now, listeners, we wanna hear from you, what are some of your Whoopsie-Doozy waxy stories? Let us know on social media is now on Twitter, Instagram, Facebook or by emailing, getconnected@ascpskinCare.com. We wanna know all the details. In the meantime, thank you for listening to ASCP Esty Talk. For more information on this episode, or for ways to connect with Belinda, myself, or to learn more about ASCP. Check out the show notes and stay tuned for the next episode of ASCP Esty Talk.
0:21:30.1 Speaker 2: Thanks for joining us today. If you like what you hear and you want more, subscribe, if you wanna belong to the only all-inclusive Association for aestheticians, that includes professional liability insurance, education, industry insights and an opportunity to spotlight your sick skills. Join at ascpskincare.com, only $259 per year for all this goodness. ASCP knows, it's all about you.