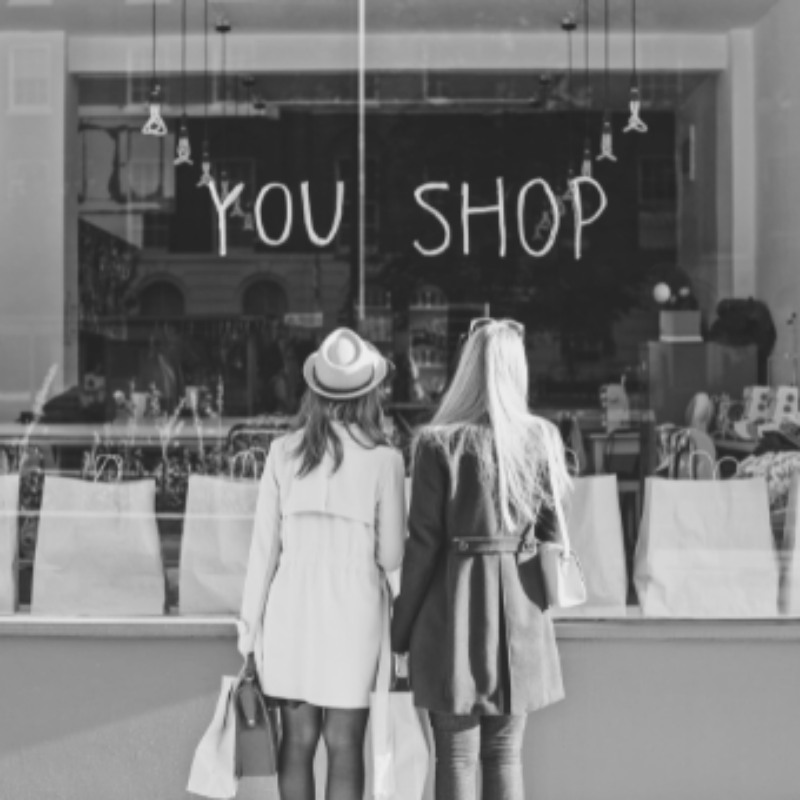 Retail sales are required in the esthetics business, and 80 percent of client results will come from home care alone. We reached out to our listeners to determine how retail sales have evolved over the past few years and learned that the COVID pandemic hasn't slowed you down! In this episode of ASCP Esty Talk, Ella and Maggie discuss retail sales tips, tricks, and techniques you can use.
ASCP Esty Talk with Maggie Staszcuk and Ella Cressman
Produced by Associated Skin Care Professionals (ASCP) for licensed estheticians, ASCP Esty Talk is a weekly podcast hosted by Maggie Staszcuk and Ella Cressman. We see your passion, innovation, and hard work and are here to support you by providing a platform for networking, advocacy, camaraderie, and education. We aim to inspire you to ask the right questions, find your motivation, and give you the courage to have the professional skin care career you desire.
About Ella Cressman:
Ella Cressman is a licensed esthetician, certified organic formulator, business owner, and absolute ingredient junkie! As an educator, she enjoys empowering other estheticians and industry professionals to understand skin care from an ingredient standpoint rather than a product-specific view.
She has spent many hours researching ingredients, understanding how and where they are sourced, as well as phytochemistry, histological access, and complementary compounds for intentional skin benefits. In addition to running a skin care practice, Cressman founded a comprehensive consulting group, the HHP Collective, and has consulted for several skin care lines, including several successful CBD brands.
Connect with Ella Cressman:
Website: www.ellacress.com
Website: www.hhpcollective.com
About Maggie Staszcuk:
Maggie has been a licensed esthetician since 2006 and holds a bachelor's degree in business administration from Stephens College. She has worked in the spa and med-spa industry, and served as an esthetics instructor and a director of education for one of the largest schools in Colorado before coming to ASCP as the Advanced Modality Specialist.
Connect with Maggie:
P 800.789.0411 EXT 1636
E MStaszcuk@ascpskincare.com or AMI@ascpskincare.com
About our Sponsors
About DMK:
Founded by botanical visionary Danné Montague-King, DMK is the World Leader in Paramedical Skin Revision™. Our revolutionary concept of REMOVE. REBUILD. PROTECT. MAINTAIN.® aims to match an individual's biochemistry with the appropriate skin therapy. DMK believes that the origin of most skin conditions is a result of disharmony within the skin. Using the principles of biochemistry, DMK has formulated a range of Enzymatic Treatments and Home Prescriptives that encourage the skin to return to its most balanced and healthy state. For skin care professionals whose business depends on generating long-lasting clinically-proven results, DMK's education-first approach has become essential. Hundreds of salons, spas, and even industry experts have recognized the effectiveness of the DMK concept, witnessed by thousands of people worldwide whose lives have been changed forever.
Connect with DMK:
Instagram: https://www.instagram.com/dmkinternational/
TikTok: https://www.tiktok.com/@dmkinternational
Facebook: https://www.facebook.com/dmkinternational
About Universal Companies:
Universal Companies has everything the skin care professional needs for success. Keeping track of the latest trends and technology in esthetics, we offer products and equipment for the services clients are seeking. The independent practitioner can save on their everyday expenses, as well as enjoy the convenience of shopping across broad categories.
Recognized as the "Favorite Distributor" in the American Spa Professional's Choice Awards for the past 17 years, we see this as a continuous challenge to provide the best products, tools, and education that pros trust the most.
Beyond our extensive selection of spa products, equipment, and tools we have an education and marketing site for our customers to develop their skills and promote their business. The UCo Learning Network offers CEU courses, marketing kits, and business tools.
Connect with Universal Companies:
Website: https://www.universalcompanies.com/
UCo Learning Network: https://my.ucolearning.com/
Universal Companies on Facebook: https://www.facebook.com/universalcompaniesinc
Universal Companies on Instagram: https://www.instagram.com/universalcos/
Universal Companies on Twitter: https://twitter.com/Universalcos
Universal Companies on Pinterest: https://www.pinterest.com/universalcos/_shop/
Universal Companies on LinkedIn: https://www.linkedin.com/company/universal-companies/mycompany/
About Associated Skin Care Professionals (ASCP):
Associated Skin Care Professionals (ASCP) is the nation's largest association for skin care professionals and your ONLY all-inclusive source for professional liability insurance, education, community, and career support. For estheticians at every stage of the journey, ASCP is your essential partner. Get in touch with us today if you have any questions or would like to join and become an ASCP member.
Connect with ASCP:
Website: www.ascpskincare.com
Email: getconnected@ascpskincare.com
Phone: 800-789-0411
Facebook: www.facebook.com/ASCPskincare
Instagram: www.instagram.com/ascpskincare
Ep 97 - ASCP Esty Talk - Retail Sales_FINAL
0:00:00.5 Speaker 1: DMK is the world leader in paramedical skin revision education with certification programs designed to give licensed professionals a thorough understanding of the skin and an in-depth study of the DMK concept of remove, rebuild, protect, maintain. Created by the botanical visionary Danne Montague-King, DMK offers skin revision, training and education for all ages, skin conditions and ethnicities in more than 35 countries, harnessing the body's innate healing mechanisms to change the health of the skin. Learn more at dannemking.com, that's D-A-N-N-E-M-K-I-N-G.com.
0:00:49.8 Speaker 2: You are listening to ASCP Esty Talk where we share insider tips, industry resources, and education for estheticians at every stage of the journey. Let's talk because ASCP knows it's all about you.
0:01:05.3 Ella Cressman: Hello and welcome to ASCP Esty Talk. I am Ella Cressman, licensed aesthetician, certified organic skin care formulator and content contributor for Associated Skin Care Professionals.
0:01:16.3 Maggie Staszcuk: I am Maggie Staszcuk, licensed esthetician and ASCP's cosmetology education manager.
0:01:22.2 EC: And guess who's back? Tracy Donley, our Executive Director. Hi, Tracy.
0:01:27.0 Tracy Donley: I am so excited about this topic. It's my favorite. I love sales.
0:01:29.9 EC: We're gonna talk about retail sales in 2022 and how they're different. So we asked the question, since COVID, how have your retail sales changed? And here were your answers.
0:01:43.8 MS: So we heard from Valerie's Beauty Skin Makeup, and she said, "My retail has helped keep my doors open. Plant the seed, give a sample if you can, they will almost always come back. I started with a small amount of retail and have been able to grow it, utilized retail sales on days where I had no bookings or cancellations. I post about a product or send an email blast, and I get one to two orders. Doesn't seem like a lot, but it helps make up the difference."
0:02:20.8 EC: Oh, I bet it would. Skin lever rights are way up. Mine started going up during the shutdown. Clients began buying home care kits to get by, and things have just gotten better since.
0:02:25.7 MS: I think a lot of people were doing that.
0:02:27.3 EC: I think so too.
0:02:28.3 MS: Yeah.
0:02:28.4 TD: Thank God they did. Because otherwise, what would you be doing with your face when we were in shut down?
0:02:33.9 MS: Yeah, exactly.
0:02:36.5 EC: Turning your zoom camera off.
[chuckle]
0:02:37.1 TD: That's right. Putting it behind a mask all the time.
0:02:39.8 MS: Yeah, picking out those pimples...
0:02:40.4 TD: Oh Maggie.
0:02:43.4 MS: NicoleBorn83 says they've gotten better as clients started coming in again. I had a lot of clients that COVID helped them realize that they want to take care of their skin and their self better.
0:03:01.6 EC: You know, this was a trend actually in New Beauty magazine. This was among the top trends of less Is More, the latest New Beauty. Less is more meaning less makeup and more skin care. I thought that was fascinating and they attributed it directly to Zoom and people being at home and not having to put on makeup, but having the time to really take care of their skin, and so our jobs are pretty solid right now. We are among the essentials, in my opinion.
0:03:23.4 TD: Oh, for sure. We've seen a statistics too of just how many men are now engaging in skin care and different types of procedures, because they've had to look at their faces all day long in Zoom cameras.
0:03:34.0 EC: They see what we see.
0:03:37.0 TD: Yeah. Yeah.
0:03:39.4 EC: Aesthetics by Jennifer writes, "My retail sales actually got better. Surprise I focused hard on FaceTime/Skype consults, while closed, and checking on clients often, and I did skin care deliveries and door drops. Packaged them cute with cute notes of positivity," well, I like that, and would throw in an as needed item to roll...
0:04:01.9 MS: Like a roll of toilet paper...
0:04:02.2 EC: And throwing in a needed item like a roll of toilet paper, paper towels or a little hand sanitizer.
0:04:07.9 TD: Hey, I love that. Remember when we would go to the grocery store and there would be no toilet paper?
0:04:14.2 MS: That's a really cute idea.
0:04:14.6 EC: She's so cute.
0:04:14.6 MS: She covered from face to everywhere.
0:04:16.3 TD: Booty. Face to booty.
0:04:22.8 EC: "Clients love extra attention as many were home as well, and started good skin care habits. When re-opening it helped bring those clients in for consistent facials and product refills. It was a tough few years, but glad to have made it through it. This is my 27th year in the industry and so much has changed and is changing, but I remained true to myself and giving my clients a great experience with me." Good job, Jennifer.
0:04:44.9 MS: Good for her.
0:04:44.9 TD: Oh yeah.
0:04:48.3 MS: Brilliant Body Works says, "Ours are way up." I'm seeing a trend here. "We ensure that our clients are well educated and leave with the proper tools to achieve their desired results."
0:04:58.6 EC: This is my favorite. This is my favorite because they hit the points that I like, that their clients are well educated.
0:05:07.3 TD: And proper tools, proper products. That's how they're gonna achieve results, right?
0:05:12.4 EC: That's how they're gonna achieve results, but it also takes it away from just selling and now you're in a different realm.
0:05:20.4 TD: Ooh, touche. Good point.
0:05:23.2 EC: Smart.
0:05:23.6 TD: Yes.
0:05:23.7 EC: So let's talk about why it's important to have retail sales? So why do we do it? Yeah, let's talk about reason number one. Statistically, I don't know where this came from, I tried to find it, but I've heard this for years and years...
0:05:36.6 TD: You've made it up.
0:05:38.9 EC: Maybe, but it's brilliant if I did, that 80% of results come from Home Care. So this is the analogy. It's like going to the dentist and getting a deep cleaning, would be facial treatment protocols, micro dermaplaning, chemical pills, and then not brushing your teeth at home, would be not having the proper home care.
0:06:00.7 MS: Gross.
0:06:00.8 EC: Yes, so maintaining what you do as an expert at home requires your client to be in on the game and that in on the game is home care.
0:06:09.7 MS: Yeah, for those clients that want to see change in their skin, it's not happening going for that one treatment with the esthetician, it's happening by using that home care, and I think that's where that 80% comes from. So the point of the statistic, those clients that are wanting to see change, it's not coming to the esthetician for that one treatment, it's using the products that are being retailed to them at home, so 80% of the change happening in their face is happening at home, with the products you're selling to them.
0:06:40.4 EC: With the professional guidance, I would say, yeah.
0:06:40.9 MS: Exactly. Yeah, you're educating them on how to do that.
0:06:43.2 TD: And then if they do see that change, then you're not even selling any more retail products because they'll know.
0:06:48.2 EC: They are are locked in.
0:06:50.0 TD: That it's like the change is occurring because I'm using it at home on a regular basis.
0:06:55.3 EC: And I'm gonna again say professionally guided.
0:06:57.4 TD: Professionally guided.
0:06:58.0 EC: Because what's happening now is that... Have you seen this shift in the industry, where... I've seen it, where we're going... We've been talking about ingredients and how they affect the skin for a long time, we had ingredient decked out podcasts, we have the rogue pharmacist who's talking about it, we have a section in Skin Deep Magazine, we know that ingredients make a difference and mainstream beauty is catching on.
0:07:23.5 TD: I Know... They are consumer brands that are direct to the consumer, now they're having them take a quiz in order to prescribe what they should be using, but there's not a professional in there, looking at their face someone could say, I have dry skin. No, you don't... You have dehydrated skin, you might think you have dry skin, but it's dehydrated.
0:07:48.5 MS: Ohhh.
0:07:49.9 TD: Right?
0:07:50.0 MS: Yeah...
0:07:50.0 TD: So don't self evaluate. Don't self-evaluate.
0:07:53.9 MS: Yeah, there's definitely a blur, I think between now what is over the counter, if you will, or consumer product and what is a professional product, and certainly a client could go to a big box store and buy products with active ingredients, but the esthetician needs to educate the client on how are we really going to create change in the skin and help your skin be at its best, don't just go to that big box store, buy what you think is right for you, let me show you... Let me teach you, let's see what's happening on the surface of the skin and also within the body and down into the layers of the skin and create a plan that's right for you.
0:08:37.7 TD: Confession. So I have gone to a big box store. Not any time recently, and have picked out a product that has active ingredients in there, and it has messed up my face because of the fact that I didn't know what I was doing, right? I just remembered hearing like, "Oh, retinol is so good, if you wanna get rid of those wrinkles." And then where do I have to go? A professional. So why even go through the pain? Right? Just go to the professional and then they can step you through it, walk you through the whole process versus all that drama.
0:09:12.4 EC: Confession...
0:09:13.6 TD: Oh confessions.
0:09:14.6 EC: I went to a big box store last week...
0:09:17.5 TD: Ella!
[laughter]
0:09:17.5 EC: But I couldn't help but notice that... What a change... What a change from a year ago, what a significant change from three years ago.
0:09:32.8 TD: About what's offered... Is that what you mean?
0:09:33.0 EC: And how it's presented. And there is a section in the big box Beauty Store that ingredient focus and lines, and I was like, "Good for them." And then there's another section for a well-known brand that is really plain, that's all I'll say, and what they're selling in the price point that they're selling, and I thought, "Good for them." And I think what that does for us as that helps emphasize... We've been saying this for a long time, that this is the ingredients that matter, but to Tracey and to Maggie's point is, it does not mean that it's good for you, and I want to emphasize that you are the expert, not Jennifer Aniston and not Eva Longoria, not Cindy Crawford, they are the experts in their skin, but you are the expert in Skin. Point number one point number two, that there is a change that happens when you start correcting or when you get the right products, and for that, that is why you need the professional guidance, because then something that hasn't been addressed yet, is the... Then what. You're gonna need this product for a period of time until your skin changes, and then what will you need... I don't know, as a skin expert, you have to come back to me so we can see what you're gonna need, and I'm sure Jennifer Aniston doesn't know that either.
0:10:52.4 TD: Well, and even to... When I was saying that my face got really messed up, if that product, in my opinion, I thought it was really messed up, right, but maybe that's the intention of that product, but it scared me as the consumer and I needed the guidance of a professional esthetician, licensed esthetician, to be able to say, "No, no, it's okay, this is what's gonna happen, it's gonna be dry and flaky and that it'll eventually transition. And it won't be like that, that you need to stick with it."
0:11:20.9 EC: To set the expectation ahead of time, so you know what to anticipate is not as scary.
0:11:26.0 TD: Yep.
0:11:27.9 EC: That's a great point. So let's talk about how you do it. How do we sell retail? We talked about why, basically, it's a continuation of what we're doing in our practices, but also they're getting it from somewhere. It might as well be you, and you're professionally guiding them.
0:11:44.0 MS: Totally.
0:11:47.0 EC: So how do you sell retail?
0:11:48.5 MS: Well, I think every esthetician has their own approach, and bottom line, we've been saying it, I think in all of our podcasts, it's educating your client and to Tracey's point, maybe she just needed to be guided that that product was intended to do what it did to purge the skin or to cause that flaking, and she had to just get over that hurdle, and then to Ella's point, the client just means that education about, it's gonna do this product until this point, and then what? We also talked in our podcast about client management, if you have the passion, you're gonna pass that on to the client, and it's really not retailing, it's really not selling, it's and I'm repeating myself, it's education, but that passion will pass on to the client as well, and they're going to want this product because they wanna see the change in their skin, and they're passionate because you're passionate.
0:12:42.3 TD: Hey guys, stop, let's take a quick break.
0:12:45.9 Speaker 1: Esteticians looking for their skin care and lash and brow products should look no further than Universal Companies. Why? We have licensed pros on staff, so when we test products, we know that estys can trust them, and we provide a one-stop shop for everything you need from cotton rounds to serums to microderm equipment, and more. ASCP Esty talk listeners can save 10% on a minimum order of just $99 on select brands. Simply go to universalcompanies.com/ASCP.
0:13:23.9 Speaker 2: Let's get back to the conversation.
0:13:27.6 TD: Okay, guys, I love what you guys are saying, and it makes a ton of sense and it's real. But being the sales lady that I am, and some people are like this out there too, are there any tips that we can give people that are triggering their sales hat?
0:13:46.8 MS: Yeah.
0:13:47.8 TD: What's the trigger?
0:13:50.0 MS: Yeah, well, if you're talking, what are ways in which we can retail, I would say that your client comes through the door, you're gonna consult and analyze, sales starts from that moment and it carries through the whole treatment. In consultation, you're having a conversation, what brought your client in that day? That may be a trigger to... The client says, "I'm feeling super dry." "Awesome, I have a treatment we can add to your facial." That is sales, that's an upsell, or maybe you say, "Awesome, I have a serum, I'd like to introduce them to the treatment." Already, you're starting the sales process, they can make a correlation to the conversation you're having in consultation, they feel it during the treatment, at the end of the treatment, you pull out that product and say, "This is what I used on you today, remember you felt it was amazing. Remember, you commented on the smell." From the very beginning, you are introducing, having a conversation, making a correlation. At the end of the treatment, you pull out that product and say, "This is really gonna help that dryness that we talked about. I recommend that you use this product, whatever, every night after you cleanse, blah, blah, blah, blah, blah, and blah, blah, blah, blah."
[laughter]
0:15:03.2 EC: Buy it.
0:15:04.2 TD: Buy it.
0:15:07.5 MS: Done.
[laughter]
0:15:09.5 EC: I take an audit standpoint in my consultation. Same as Maggie, it begins in the consultation, initial consultation, they bring anything that touches their face. And so that's all their skin care products, even if they haven't used it for three months, I wanna see what they've got in their cupboard, and from that, I'm able to create an old sales strategy of filling the holes.
0:15:29.4 TD: Well, that's what I was gonna say. It's like sometimes some people need a method. Whether it means mentioning of a certain product, putting it to the side and then putting them all in a basket at the end of the treatment and saying, "Here's what I used on you. What would you like to buy?" Or like you're saying, an audit.
0:15:51.6 EC: I audit and I tell them, this is what they told me that they wanted, and so... Or based on your needs, this is why this product you have... I give them like, "You're doing a great job. You've got a system here, you're already doing something, now let's make what you're doing work for you, so let's do this, let's add these three products today, I'm gonna look at your skin and then we go back, but I think you're gonna need an antioxidant of some sort, a different kind of hydration, a better SPF or some kind of exfoliant." I start it then I let them know I will be selling you something at the end of this because you told me you needed this, and then in the analysis, the hands-on part. Okay, yep, that's exactly what I thought. Based on your lifestyle, based on your history, that's what you told me, this is what I thought and "Oh, I'm surprised, this is not what I thought."
0:16:36.8 EC: And I explain them through the process, "Here's what we're going to do today in the room." 'cause I'm picking it, we're picking it together, but they can't sign up for... Like I was talking to Maggie the other day about tropical facial, they can't sign up for something like that because it might not be appropriate. And then at the end, I say, "These are the three things I told you that you needed. And I'm actually thinking, I wanna not give you the third thing yet, I wanna see you back in three weeks and see how these two things are doing." So I'm setting that tone of sales.
0:17:08.0 TD: I have a question, you said maybe their products would be like three months old, do you just take it and throw it in the garbage?
0:17:13.7 EC: We do it together. We have a ceremony.
0:17:15.8 TD: Okay.
0:17:16.8 EC: And I even look at their make-up, because I look at their brushes, I look at all those things. I had someone come in last week, they had to make up sponge, and I rolled it and you could feel this hard piece in the middle and I said, "Okay, I want you to roll this." And she's like, "Okay". And I go, "That's the makeup." She grossed out, she threw it, she walked and threw it away herself.
[laughter]
0:17:37.2 EC: But okay, if you're breaking out, this could be a culprit, could be but let's go examine what. But these are three things that might. You have talc here, you have bismuth oxy-chloride here in your make-up, so these... If you already are sensitive, these could be making things worse. You wanna do it or do you want me to do it? And then I'm an enthusiastic esthetician, I'm not soft voice, I'm like.
0:17:58.2 TD: But I'm thinking, as you're saying this, that is actually a line that I would pay someone to come to my house, Ella, and just literally look at my situation, look at my brushes and go, "Tracy, have you ever cleaned them? You should cleaned them."
0:18:16.0 EC: Or so to let them go.
0:18:17.8 TD: Look at my, yeah... You know how they have those... I'm getting off topic, but you know how they have those people who come and organize your house? What if you had a service where people came in and looked at all the expiration dates of your make-up and looked at the cleanliness of your brushes and stuff that you're doing?
0:18:32.5 EC: You want me to Marie Kondo, your face stuff?
[laughter]
0:18:34.9 TD: Pretty much, I pretty much do.
0:18:35.5 MS: I'm in.
0:18:36.4 TD: Okay.
0:18:37.3 EC: No charge. This does not bring me joy.
0:18:40.1 TD: Just a business strategy out there for you people who feel like wanting to be mobile.
0:18:44.6 EC: And you can do that, have them bring their stuff into you as well, and that's a technique I learned from working for a make-up artist. He did that and I said, "Oh, I'm using that, but I'm adjusting it to fit me."
0:18:54.8 TD: I love it.
0:18:55.6 EC: Yeah, I think that why we need these triggers, why we need these sales point is because often, sales seem scary, right? I hear that a lot.
0:19:10.2 TD: All the time, all the time.
0:19:11.5 EC: Like, "I didn't become an estetician to be a salesperson." But we know that it's... As we've said before, it's the continuation of the service. So I guess another question would be, how do you take the fear out of sales?
0:19:24.6 MS: Well, don't think of it as sales. Like we've been saying through the whole podcast, you're not selling, you're helping, you're educating, if you believe in it, it will sell naturally.
0:19:36.0 TD: Yeah, that's the job, right? It's why you got into it, is that you want your client to achieve better skin, and if you cannot get behind giving them recommendations on how to do that, like Ella said, "Brushing their teeth", then why are you doing it? You just like to touch people's faces? No, you don't, you like to improve people's skin, that's why you're doing what you do.
0:20:02.7 EC: I agree, and I think that if you're not doing it, you're actually... If you're not adding retail sales to your service, you are providing a disservice to your clients, or if you listened to the client retention podcast, you are not taking a customer to a client level, you're just rubbing faces as Tracy said. And some of the excuses we heard is that "I don't want to be salesy", so to Maggie's point, you'd be recommendy, and "I don't want them to say no", or "I don't know if they can afford it", and for that... Have you guys read the book, 'The Four Agreements' by Don Miguel Ruiz?
0:20:47.3 TD: I've heard of it, I want to, it's on my list.
0:20:49.6 EC: Oh, it's a quick read, and it's so good. And so, here's the very short version of The Four Agreements; "Be impeccable with your word, don't take anything personally, don't make assumptions, and always do your best". So if we're going to apply the four agreements to retail sales, be impeccable with your word, is you're providing the service, make sure that you're doing your job by at least recommending home care products. Don't take anything personally, if they say, no, no problem.
0:21:20.2 TD: No problem.
0:21:21.3 EC: But you miss a 100% of the shots you don't take, so what's the worst that can happen by at least... At least you gave them the information or the opportunity.
0:21:22.0 MS: It's not no to you, it's no to the product.
0:21:31.8 TD: Yeah.
0:21:31.9 EC: Absolutely.
0:21:32.4 TD: And I think going back to the first agreement that you had mentioned, I mean, professional integrity, right? It's your job... It's recommending, it's professional integrity, it's what makes you be able to stand up here on this bigger taller box and be able to do the best every day.
0:21:52.5 EC: I agree.
0:21:53.2 TD: Yeah.
0:21:53.9 EC: The other one is, don't make assumptions. I learned early on not to assume what someone else would find value in.
0:22:00.5 TD: Or could afford.
0:22:01.6 EC: Or could afford.
0:22:03.4 TD: Yeah.
0:22:03.8 EC: Or would afford, and that includes people who were loaded. When I say loaded, I mean disgustingly loaded.
0:22:11.6 TD: Like dripping with money? Like where money... Just like they shake their hand and money flies off of it?
0:22:17.2 EC: Not that loaded, like a little less loaded.
0:22:17.6 TD: Oh, okay.
[laughter]
0:22:20.3 EC: But this isn't the time when they would come in with their Ed Hardy hat...
0:22:23.9 TD: Oh God, I loved Ed Hardy.
0:22:26.9 EC: With Ed Hardy embellished T-shirts, and their Chanel glasses, Chanel purse, and want to haggle over a $50 serum, or other people who are working class, and I knew that they lived with three other people, they shared an apartment and would not bat an eye at a $100 serum. And so it's a don't assume, don't make assumptions and assume what someone else would be willing to pay for, that's none of your business.
0:22:49.2 TD: You're saying, don't be judgy, don't be judgy judgerton.
0:22:53.0 EC: [chuckle] Yeah. Or just... That's none of your business either.
0:22:56.9 TD: Yeah, yeah.
0:22:57.6 EC: And then always do your best. To Tracy's point too, if you're not recommending, are you doing your best?
0:23:01.4 TD: No?
0:23:03.2 EC: Professional integrity.
0:23:03.9 TD: No results.
0:23:05.1 EC: Yeah, do we have anything else to add for retail sales in 2022?
0:23:08.9 TD: Well, I'm just gonna say, listen people, if you think that retail sales has hit its high, I can tell you that it is just gonna continue to climb, so get on this train 'cause it's leaving the station and you better make sure you're on board.
0:23:28.2 EC: Now, listeners, we wanna hear from you too. What are your sales tips, tricks and techniques that you use? What percentage of your profit is linked directly to retail sales? Let us know, reach out on our social media platforms, especially Instagram and Facebook, or by emailing getconnected@ascpskincare.com, we want to know all the details. In the meantime, thank you for listening to ASCP Esty talk. For more information on this episode, or for ways to connect with Maggie or myself, or to learn more about ASCP, check out the show notes, and stay tuned for the next episode of ASCP Esty Talk.
[music]
0:24:05.7 S2: Thanks for joining us today. If you like what you hear and you want more, subscribe. If you wanna belong to the only all inclusive association for esteticians that includes professional liability insurance, education, industry insights, and an opportunity to spotlight your six skills, join @ascpskincare.com, only $259 per year for all this goodness. ASCP knows, it's all about you.Page Break