50 million Americans suffer from some form of acne at some point in their life. Face Reality Skincare has made it their mission to help as many people afflicted with acne as possible using only safe and effective products and protocols. They train professionals from all over the country on holistic, adaptive methods for clearing acne.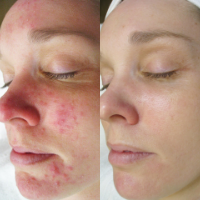 When people think of acne, they often think of common myths associated with this skin disorder: greasy food, poor hygiene… the truth is, there are several misconceptions surrounding the cause and treatment of acne.
One of the most important and common misconceptions about acne treatment is that it must be done using prescription drugs. Whether it be topical or ingested, prescription drugs are not a long-term solution for acne. Often overlooked, treating acne with prescriptions can have dangerous side effects.
Another myth is that clearing skin is a one-size-fits all process. We've all seen the three step kits that guarantee clear skin, but those kits do not account for the unique qualities of a person's skin, including acne and skin type. Like prescription drugs, these kits are also not a long-term solution and typically contain pore-clogging ingredients that worsen acne or strip the skin.
Acne is an inherited condition of the pore; though acne cannot be cured, it can be managed through proper skincare routines and conscious lifestyle decisions. Face Reality-certified Acne Experts are trained on diet and lifestyle choices that make acne worse and provide lifestyle guidance to ensure clients are healing their skin from the inside out. Using expert guidance and their award-winning professional acne line made of premium, chirally correct, and cruelty-free ingredients, you can expect to clear clients within 3-4 months at a +90% success rate and will gain life-long clientele.
In this video, Face Reality Skincare shares 5 life changing acne tips, including acne do's and don'ts and how to grow your business with comprehensive acne treatments.
Video not playing?
If the video is no longer available, it has been archived in our members-only video education library. This is just a small taste of one of the many online educational videos ASCP members have on-demand access to 24/7. ASCP's videos are designed to provide top-notch education and support to licensed estheticians across the country. Not an ASCP member yet?