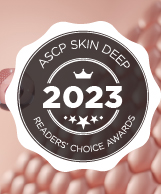 Many consider seven to be a lucky number. We certainly hope the number's reputation is true, because this is our seventh year of hosting the Skin Deep Readers' Choice Awards—and we're looking to make it the best one yet. As always, we're calling on you, the skin care expert, to tell us what your favorite products and devices are. As a changemaker and artist, you know the best of the best so why not share it with everyone?
This year, we're changing things up a little. We're accepting votes from any professional in the skin care industry—you don't have to be an ASCP member. Simply navigate to our voting page and submit your form by April 1, 2023. After April 1, we'll tally up the votes and announce a winner, runner-up, and honorable mention for each category. We'll also feature them in our summer issue of Skin Deep magazine. Not to mention, they'll get the very important prize of bragging rights for the next year.
The best part: We're throwing a party to celebrate. Winners will be announced at Premiere Orlando International Beauty Event in Orlando, Florida (June 3–5, 2023), and you're invited. Get ready to toast to the winners and celebrate another year of great skin care.
Is lucky year seven the year your favorite products win? Only time will tell. Get your votes in now!
Check out last year's winners here.