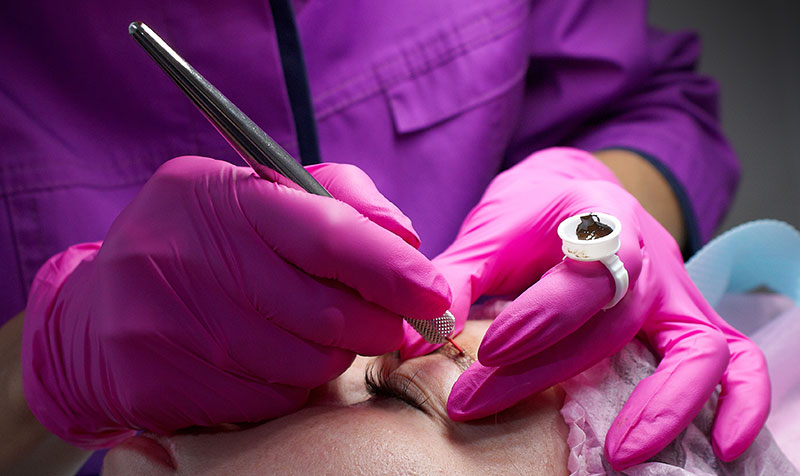 Microblading is fast becoming the most popular advanced modality performed in the esthetic industry. For guys and gals with thin brows, no brows, or falling-out brows, this may be the procedure for them. It's no secret, brows are now the "hot" feature and our clients are willing to spend a bevy of money to make them perfect. The options are endless to create the "perfect" brow: tweezing, waxing, gels, powders, and pencils. But the daily routine can become tedious and—you know you've seen it—the result can look frighteningly unnatural.
And so microblading is an attractive option for those who can't (or don't want to) apply makeup every day, have lost their brows for various medical conditions, have thin, sparse brows from years of overtweezing, or have scaring. This procedure goes by alternative names such as micropigmentation, permanent cosmetics, micro stroking, dermal implantation, and eyebrow embroidery. Whatever you call it, a career in this highly specialized field is rewarding, exciting, and profitable.
Microblading, Explained
Microblading is a semi-permanent cosmetic tattoo procedure that fills in sparse eyebrows by placing pigment into the skin. The technician uses a microblade, a hand tool consisting of a tight needle grouping of 7–18 needles. These needles are so thin they mimic the look of brow hairs by creating thin scratches the skin, into which pigment is then deposited. An actual blade or scalpel should never be used; it is considered a medical device and is not legally allowed to be used in this process.
Microblading is different from traditional tattooing in that each hair stroke is drawn in one by one, creating a more natural look than solidly filled eyebrow tattoos. This careful process can take up to two hours or more. The effects last anywhere from 12–36 months, depending on the client's skin. After that time, the pigment begins to fades, eventually leaving the brows as they were before (and in need of another visit to you). The procedure itself is relatively painless since most technicians apply a topical numbing agent.
The best part about this procedure is that there is no downtime. The brows will be ready for their big reveal immediately after the treatment. An after-care plan may be prescribed to aid in the healing process and prevent the pigment from fading.
Contraindications
Microblading is best received by those in good health and with healthy skin. Because microblading creates a wound that brings trauma to the tissue, those with autoimmune disease, bleeding disorders, and other skin conditions in and around the eyes are contraindicated. Further, people on blood thinners, taking acne medication like Accutane, and using antiaging products like retinol should proceed with caution. This list is not all-inclusive and performing a thorough consultation complete with a signed informed consent is necessary even if the client appears to be in good health.
After the initial session, it is not uncommon for the body to reject some of the ink and experience 60­–80 percent fading or peeling. As a result, a touch up is usually required within 30 days. While microblading is usually described as semi-permanent, the pigment is placed into the dermis just like any other tattoo. The reason it does not last as long is simply because not as much pigment is being used compared to other permanent makeup procedures.
Training Requirements
In order to become a microblading artist, you will want to check with your state's regulations. Every state is different, with some states having very minimal training requirements while others require as many as 300 hours or more. In some states, it is up to cities and counties, who may not regulate permanent cosmetics at all. Other states may require an additional license or an apprenticeship. Additionally, permits, licenses, and/or inspections may be required by the department of health in your state.
Whether or not your state requires you to have an additional license, you should still invest your time and money to properly advanced your training. Always choose a reputable and accredited company. The Society of Permanent Cosmetic Professionals and The American Academy of Micropigmentation are two associations that provide support and resources to permanent makeup artists, including education resources. Further, being part of an association provides many benefits, including the mark of distinction your clients can trust, keeping you informed of industry news, and allowing you to network with others in your field.
Liability Insurance
Professional liability insurance for microblading protects you in case a client sues. ASCP members have access to optional Advanced Modality Insurance coverage that protects you and your microblading practice. More information about advanced modality coverage, including the steps for applying, is available at www.ascpskincare.com/ami. Pricing for microblading coverage ranges from $612 to $717 per year, and you can bundle that coverage with other advanced modalities to save more.
If you can answer "yes" to the following three questions, you may be eligible for this advanced coverage:
Do I have proof of advanced training with hands on experience in microblading?
Am I practicing these modalities within the scope of practice authorized by the state in which I work?
Am I an ASCP member, or do I plan to be?
Learn more about ASCP's Advanced Modality Insurance program for members at www.ascpskincare.com/ami. —Maggie Staszcuk, ASCP's Advanced Modality Insurance Specialist
Resources
www.MicrobladingHub.com, "How to become a Microblading/Permanent Makeup Artist." Accessed December 2018. www.microbladinghub.com/how-to-become-a-microblading-specialist.
Jessica Migala, Prevention.com,"Is Microblading Worth it for Fuller, Thicker Eyebrows?" Accessed December 2018. www.prevention.com/beauty/makeup/a23550144/what-is-microblading-eyebrows.
Society of Permanent Cosmetic Professionals, "Microblading Fact Sheet," Accessed December 2018. www.spcp.org/information-for-technicians/spcp-guidelines/microblading-fact-sheet.