HAVE A QUESTION FOR DR. TESSA?
Email her your question at askdrtessa@ascpskincare.com.

Q: "I'm looking to purchase the best mask for my practice, but there seems to be a lot of inferior or counterfeit PPE out there and I don't want to get scammed or worse, purchase something ineffective! What should I be looking for when buying a mask online?"
Counterfeit personal protective equipment (PPE) and respirators are products that are falsely marked and sold as being NIOSH-approved (the National Institute for Occupational Safety and Health). When a respirator has been approved by NIOSH, the user can be confident that the device will provide the expected level of protection, as long as it's properly fitted and worn correctly1. More information about counterfeit PPE can be found here. The Centers for Disease Control and Prevention (CDC) is still advising that non-healthcare personnel refrain from buying medical-grade PPE. PPE helps protect health-care workers from potentially infectious patients and materials, and other potentially dangerous substances used in health-care delivery. PPE shortages are currently posing a tremendous challenge to health-care systems around the world. Many health-care institutions are having to identify alternative ways to provide patient care including strategies that are not commensurate with US standards of care but are considered necessary during periods of PPE shortage. I would urge you to save the PPE for health-care providers. The process necessary to determine if it's counterfeit is complex and best reserved for an industrial hygienist. It involves (at least for N95 respirators) verifying that it is NIOSH-approved by checking the approval markings or the Certified Equipment List2 or the NIOSH Trusted-Source page.3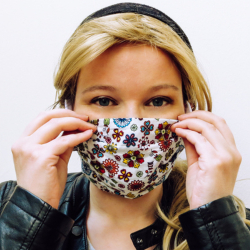 It is for these reasons that I recommend that you not purchase PEE, rather use cloth masks. For N95 masks to be effective at preventing spread of virus, they need to be fitted to the users face, and "donned" and "doffed" properly ("put on" and "taken off"). Surgical masks protect against splashes and sprays, but not airborne infectious particles. They are not regulated by the Food and Drug Administration (FDA), thus you will see a bountiful supply on the internet. Surgical masks (any mask) will become contaminated after wearing, so unless you are prepared to throw away numerous face masks per day, I would stick with a fabric mask which you can launder in hot water (and soap) and reuse.

Masks work. A recent article published in Lancet4 evaluated 172 studies on COVID-19, SARS, and MERS (other coronaviruses) across 16 countries and found that face masks (both N95, surgical face masks, and cloth masks) were associated with a substantial reduction in the risk of viral transmission to those exposed to infected individuals. Also, eye protection was highly effective. I have several pairs of safety goggles from my laboratory days that I've been dying to accessorize.
REFERENCE:
ASCP DISCLAIMER:

Please be sure to always work within your scope of practice as determined by your state and to adhere to all local and federal rules and regulations regarding COVID-19 protocols. To learn more about returning to your practice or to access free resources to assist you with reopening, access the ASCP Back-to-Practice Guide!
About the Author:
Dr. Tessa Crume is an Associate Professor in the Epidemiology Department at the Colorado School of Health at the University of Colorado Anschutz Medical Campus. Her research focuses on the development and utilization of public health surveillance systems to understand the burden of disease. She has been an academic researcher since 2011, before which she worked for a decade as an applied epidemiologist at the state and federal level, analyzing surveillance data and evaluating public health impact. Dr. Crume has taught the core epidemiology class at the Colorado School of Public Health for nine years.
HAVE A QUESTION FOR DR. TESSA?
Email her your question at askdrtessa@ascpskincare.com.