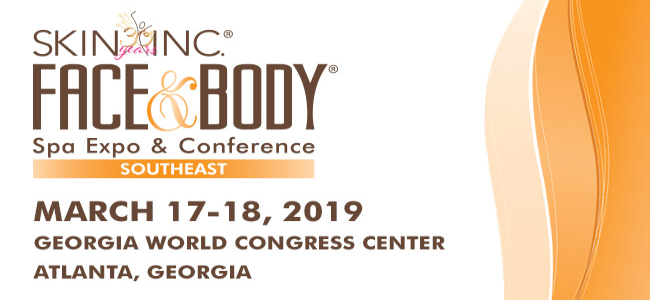 Bonus: ASCP Members pay only $15 for Expo Hall registration and receive $25 off any Advanced Education Conference registration! Check out these exclusive discount codes here.
What's Hot in Esthetics?
Face & Body Southeast is excited to return to Atlanta, March 17–18, 2019. This will be the third Face & Body Southeast show to be held in "the big peach," and it is bringing all that is hot in esthetics and spa with it. So, what do you have to look forward to and why should you register now? Here is a little glimpse into what will be hot at Face & Body Southeast 2019.
All registered attendees are now able to attend daily keynotes, each with a message designed to motivate spa industry professionals to set bigger goals in their career and life. Get excited to see the likes of "the bald queen of self-esteem" Sandra Dubose and "the retail diva" Carol Phillips.
What is a good spa show without some shopping? Expect to see all the spa industry's hottest brands on the Face & Body Southeast exhibition show floor. Also, don't forget to check out the schedule for the supplier classes, and attend a great presentation by an industry expert for free.
Celebrate Skin Inc.'s 30th anniversary by visiting the Skin Inc. LIVE! stage, where you can walk our U.S. Spa Industry Timeline. On the stage, we will also be hosting an anniversary cocktail party and an anniversary keynote panel, so make sure you attend.
The Advanced Education Conference is bigger and better than ever. Advanced Education is now during exposition days so you don't have to take another day off of work. In addition, a new format allows you to customize your education by selecting specific Spa Pods that appeal to you, while being easy on your wallet.
As you can see, when it comes to what is hot in spa, Atlanta is where it is at. Visit Southeast.FaceandBody.com to learn more and to register, and make sure you do it early to receive special pricing. We can't wait to see you there!