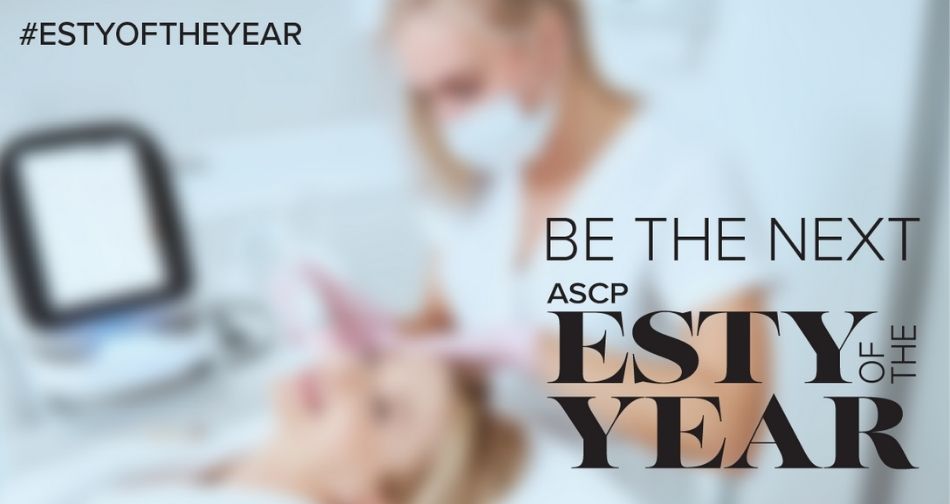 ASCP members are invited to write a short story describing your unique professional journey to be considered for this year's ASCP's Esty of the Year. The honoree will receive a professional photo shoot and their story will be featured in a future issue of ASCP Skin Deep magazine.
To submit your nomination (or nominate someone else), fill out the form here. We are looking for compelling essays that clearly describe the nominee's professional journey, including accomplishments, accolades, obstacles overcome, etc.
The winner will be chosen by ASCP staff. All decisions are final.
Deadline for submissions is midnight (MST) October 21, 2022.
The winner will be notified on or before November 18, 2022, and must agree to be available for a photo shoot and an interview during early December.
The winner will receive a feature article in a future issue of ASCP Skin Deep magazine.
Check out our previous ASCP Esty of the Year honorees:
ASCP 2021 Esty of the Year: Nicole Gauci
Nicole Gauci is a force to be reckoned with—a woman who does not back down from her fears. After learning to control her shyness, anxiety, and panic attacks, the owner of Belle Skin Spa in Livonia, Michigan, set her course to becoming a successful spa owner.
According to the Anxiety and Depression Association of America, anxiety affects 40 million adults, and an estimated 31 percent of all adults will experience an anxiety disorder at some point in their life. With those statistics and the struggles we all faced during the COVID-19 pandemic, Gauci's fierce determination to conquer her mental illness resonates.
ASCP 2020 Esty of the Year: Jessica Marie
The journey has not been easy for Jessica Marie, ASCP's 2020 Esty of the Year, but she continues to rise to the challenge with grace, dignity, and true success.
Jessica Marie is a warrior. At 39 years old, she is the mother of two, grandmother of three, and the owner of two medical spas. Both JMarie Skin Studio locations are in Longmont, Colorado, a thriving community of 100,000 people 30 miles north of Denver. Jessica is also the Associated Skin Care Professionals 2020 Esty of the Year.

ASCP 2019 Esty of the Year: Pamela Bolado
ASCP's 2019 Esty of the Year Pamela Bolado knows how to make an esthetics career soar.
Master esthetician. Business entrepreneur. World traveler. Military spouse. Mother of three. These attributes do not begin to graze the surface of the woman we were about to meet at Joint Base Lewis-McChord in the Pacific Northwest, 40 miles south of Seattle. Dressed in a soft pink pea coat, her blonde hair falling gently around her shoulders in loose curls, and greeting us with a warm smile was ASCP's 2019 Esty of the Year: Pamela Bolado.