posted on: September 12, 2023
Join Associated Skin Care Professionals (ASCP) for the 9th annual FREE education summit Monday, October 16th, 2023. Tune in this Fall to learn about pro-aging with sessions focused on topical aging treatments, pro-aging ingredients, the skin's microbiome, and more! 
Beauty in Simplicity. Quality Over Quantity
Featuring Ghada Abuhakmeh, Founder/CEO, My Skin Buddy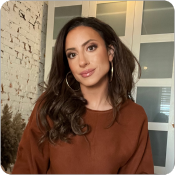 Ghada Abuhakmeh is the creator and CEO of MYSKINBUDDY, a beauty product company featuring MSB Boost, an LED light therapy skin care device.  Ghada is an innovator in beauty products and has been a nationally recognized trainer for skin care lines and cosmetic medical devices. She is an experienced skin care professional with more than 15 years in the beauty industry. Throughout her impressive career, Ghada has worked with skin care professionals—estheticians, plastic surgeons, dermatologists, makeup artists, cosmetologists, and world-renowned celebrities and skin care formulators—to create and deliver beauty solutions that people love.