There are very few spa body treatments that can go seamlessly from the treatment room to home care. Dry brushing is one of them. Used in combination with other services, it can produce profound results in just one treatment.
The service uses no product—just a brush—to stimulate skin circulation, smooth the epidermis, and polish away dead cells and rough skin. It is an invigorating treatment, rather than a relaxing one.
Ancient Roots

Many cultures have used some form of dry brushing as a body treatment. The Finnish use birch twigs, the Japanese use loofah sponges, the Native Americans use sand or dried corncobs, and the ancient Greeks used scraping tools called strigils. The common denominator across all cultures is that the brushing routine is a preliminary step to bathing; a dry brushing service would not be complete without a sauna, shower, or soak afterward. When you incorporate dry brushing into your service menu, you'll want to pair it with one of your wet treatments.
Claims and Effects

Dry brushing has been in and out of vogue within the spa industry several times. As with everything in esthetics, treatments that give a visible, proven result will last. This service does have one well-verified result—exfoliation—but many other claims have been made for what it can do. Often, practitioners just don't know how to incorporate the treatment or are using it for the wrong reasons, leading to unrealistic expectations. When used with exfoliation in mind, it's a worthy addition to your menu.
Many proponents of dry brushing believe it increases circulation (especially right after a treatment) and stimulates the lymphatic system. Others go further, stating that the circulatory effects lead to a whole host of other benefits: detoxification, improving the digestive and immune systems, stimulating kidney function, removing cellulite, and more.
When you incorporate dry brushing into your service menu,
you'll want to pair it with one of your wet treatments.
Although there is no research to support claims of internal or systemic benefits, the idea that dry brushing helps clear the skin is as valid as it would be for any other mechanical exfoliation method:
the treatment sloughs dead skin cells that would normally clog pores, and is effective in removing dull, rough layers of skin from areas like the elbows, feet, and knees.
Article by Lynn Parentini
This article appears in the March/April 2014 issue of ASCP Skin Deep magazine.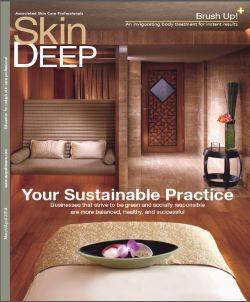 The award-winning ASCP Skin Deep magazine is the premier estheticians' source for the latest trends, techniques, products, and news from the biggest names in the industry. In this issue:
• Your Sustainable Practice: Going green
• The Wellness-Focused Spa: Create a village of allied therapists

Smart estheticians realize that being named in a lawsuit is not worth risking your career. In this sue-happy age, it's expensive to defend yourself even when you've done nothing wrong. Why chance it when excellent protection is so affordable?
Associated Skin Care Professionals (ASCP) offers protection with the industry's best value in liability coverage for skin care professionals. For only $259 per year, you receive:
$2 million per occurrence
$6 million total per policy year (for YOU, not shared with other professionals)
Covers professional, general, and product liability
Covers you wherever you work, no matter how many settings