posted on: September 27, 2023
by Trisha Dowling
You've either known for a while or you were today years old when you discovered building your backbar is like the Selena Gomez/Hailey Bieber saga: Everyone has an opinion, and everyone has a favorite. According to the US Bureau of Labor Statistics, there are more than 60,000 estheticians in the US.1 Because there's no universal scope of practice for so many estheticians, the backbar is far from one size fits all. Many of us are either making our opening product order or looking to get off autopilot—consider this a refresher to the backbar knowledge you already have in your back pocket.
Your backbar covers any products used in the service itself that deplete and need replenishing, such as cleansers, exfoliants, wax, spatulas, sponges, and disinfectants. While some of these supplies can be bought at any big box store, we double down with "pro only" and "pro pricing" because let's be honest quantity matters here. Pro skin care distributors offer up to 10 times the amount product for a fraction of the cost; they also offer products guests can't purchase due to higher percentages of actives, pH adjusters, or technique dependent results.
If this is your first seat at the esthetics table or if you're going solo for the first time in your career, your start-up capital has afforded you staple pieces to get you started. Remember, you can always add to your backbar. But that doesn't mean you should buy everything at once. Many professionals who are just getting started have eyes bigger than their wallets and end up sitting on too much inventory. So, start with just the essentials and build from there after you understand your needs and your clients' desires.
If you've been around the industry for a while, you've probably had long love affairs with product heroes, some not-so successful relationships with product zeros, and impulse purchases based on industry trends that got the best of you. You've been through it all! After a while, you might find yourself staring at a beloved backbar that has turned into last season's wardrobe, with pieces that no longer fit in, or fit together. In that case, it's time for you to give your backbar a refresh—or at least a new creative approach.
The Essential Products
These essentials will either start or scale your business. Depending on the size of your budget, some splurges may not work for you—so you may want to stick with the basics. First, clean up your cleansers. In the treatment room, it's my opinion that we only need two cleansers that effectively remove dirt, oil, and makeup. One pre-cleansing balm and one universal cleanser serve as a the "little black dress" of the backbar wardrobe: they go with any occasion. To prep the skin for dermaplaning, chemical peels, or microdermabrasion, you may also want a keratolytic cleanser. Toners and astringents have very low price points, making them excellent additions to your backbar.
Your largest area of the backbar will be exfoliation products to account for all skin types, concerns, cautions, contraindications, and seasons—like birds, exfoliants will need to migrate seasonally. Depending on the season, you'll need to lead your guests to different chemical peels and enzymes. It is recommended to have both physical and chemical exfoliation options that are both far from and close to the natural pH of skin to keep the skin performing at its best.
For facial massage, there are lots of noncomedogenic mediums to choose from that give the perfect amount of slip while also being nutrient dense for the skin. Some of us use vendors for just massage products and depending on the volume of your business, you may want to order it by the gallon for your backbar. Moringa, jojoba, or white camellia oil will always be my favorite; if I have the luxury of time on my side, murumuru butter slays all day, but it requires 15 minutes of high touch or it won't turn into velvet on the skin.
Having options when it comes to treatment masks is my jam—or should I say my jelly, as in hydrojelly. There are seven major types of masks you can include in your toolkit—gel, cream, jelly, clay, peel-off, powder, and sheet masks—so it's really the dealer's choice. Consider your clients' needs and most-booked services to determine what you'll need to keep on hand. Also, keep in mind that you need to vet your vitamins with chirality, permeability, and bioavailability. Many are both protective and preventative, but retinol, hyaluronic acid, and all forms of vitamin C are the GOATs. This is likely the biggest spend of your backbar, so don't be worried about breaking the bank.
My purchase power for moisturizers tends to be led by aromatics and textures. I retail six or seven, but I only carry three in my backbar: one that's occlusive, one that's breathable, and one that completely disappears to satisfy every skin type from a desert camel to an oil derrick. Finally, make SPF your BFF. Look for an SPF that can work for a variety of skin types and consider supporting sustainable brands and ingredients by going with sun protection with Protect Land + Sea Certification.
Other Supplies
Once you've built your stairway to heavenly skin, you need the tools and supplies that will accompany your magic hands. You can either build kits ahead of time for your disposables or you can pull directly from closed and labeled containers. Because these items often don't go bad, cases or multiple quantities are usually the most cost-effective, as long as you have the space to house the extras. I tend to prefer 4x4s to aromatic steam towels for both texture and temperature, but they're not as eco-friendly. Some spas are even turning to large wooden spatulas for mask applications, so I like to have a plethora of those stocked up. I'm not a fan of breaking the sticks into smaller ones due to the risk of splintering, so I go for the gold with my options. Telling you specific amounts I keep on hand would only be relevant if our spaces were identical in size and productivity, so instead I'll share that your room should be stocked so you only need to refill at the end of your shift. We want to minimize the number of times we walk out of the treatment room.
We are nothing as an industry if we are not also upholding public safety. If you are including hospital-grade disinfectants in this category, I have two words for you: stock up. At the end of the day, I can't keep my business open without a wet disinfectant and the ability to turn my room over from one guest to the next following universal precautions. An organized owner should have a living document of every surface, implement, and scenario as well as a list of the infection control each surface, implement, and scenario requires. This document can be used to train new team members consistently and thoroughly.
Inventory Management
In terms of your profit and loss statement (P&L), your backbar should fall between four and six percent of your service revenue. You'll use your previous week's or month's service revenue to generate budgets up to 10 percent. Trust me, margins matter. If the product line(s) you choose offer a five percent margin (1:5), every dollar out needs $20 in to break even and for a10 percent margin (1:10), every dollar out requires $10 in. Whether you keep these items in the treatment rooms or dispense them, it's important that everyone who accesses them has a strong understanding of your processes. Tracking your backbar turnover will measure key performance indicators: who's following protocols, who's charging correctly for enhancements, who's heavy handed, which products you/your team loves, what products are getting vetoed, or if product is walking away. Use your monthly cycle counts to forecast future revenue and balance "first in/first out" rotation. Spa software allows you to code products to the correct department as you receive shipment (retail, backbar, marketing, etc.). This way, you can monitor inventory levels from home and notice if you dip below your preset part levels and need to place an order.
Trust the Process and Yourself
If you build it, they will come— and by "they," I of course mean your guests, your budget, and your revenue. You have to look at your backbar as "cost versus potential." It's time and cost intensive up front, but the return on investment will pay off and pay YOU in the end.
Note
US Bureau of Labor Statistics, "Occupational Employment and Wages, May 2022: 39-5094 Skincare Specialists," last modified April 25, 2023, bls.gov/oes/current/oes395094.htm.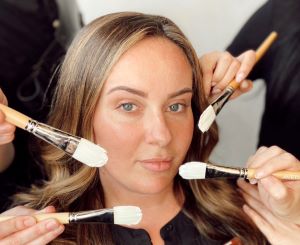 Trisha Dowling is a woman who is dipped in hyaluronic acid, bathed in SPF, and whose email signature reads "have a collagen filled day." She is the Lead Esthetics Educator at The Aveda Institute of Phoenix, where she's hung her license for nine years and discovered her love of leadership. Her 20+ years in the luxury spa industry keep her students and education team gushing in glass skin and glamour.
Trisha is described by her students and team as detail oriented, highly structured, and a skin care expert. She's passionate about educating others on how to be the best version of themselves through integrated wellness practices, ayurveda, and, of course, skin care.