The Busy Skin Pros Guide to Volunteering
By ASCP Staff
You love to help others. That may be one of the reasons you started a career in the skin care industry. According to a study by the Corporation for National & Community Service (CNCS), 77.3 million people in the US (about 30 percent of the population) volunteered their time to some sort of charitable organization in 2018, which yielded an estimated economic value of around $167 billion. But where does a busy skin professional like you find the time?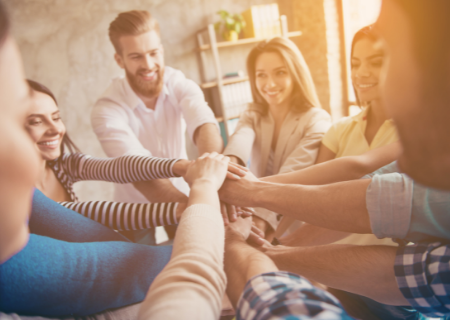 When your resources like time, money, and energy are limited, you have to decide what your priorities are. Lack of time is the top reason why most people don't ever consider volunteering. "Research has shown that while 90 percent of us want to volunteer, only 1 out of 4 Americans actually do," says Amy Yotopoulos of the Stanford Center on Longevity.
As estheticians, we lead busy lives. Sometimes it seems there are not enough hours in the day for all our clients, our family, and our self-care. But we are also very nurturing beings. We all know time is precious, but the feeling you will have when you've chosen to donate your time to a cause you really care about is well worth the sacrifice of a few hours a week. Giving from the heart brings a spark of joy to your life.
While your time may be limited, volunteering is a great way to connect with the community. Research the local charities in your area to see whether any of them resonate with you. If you don't have time to spare, you can also donate resources or money to your favorite charity if your financial situation allows. Whether it's cancer survivors, underserved communities, or special needs, many national organizations exist to serve specific causes. Below are just some of the many easy solutions to volunteer and feel good doing it.
Charities for Cancer Patients and Survivors
Look Good Feel Better is a non-medical, brand-neutral program designed to empower people with cancer to feel good about themselves. The Look Good Feel Better program aims to teach beauty techniques including skin care, nail care, and cosmetics, and to help recipients manage the appearance-related side effects of cancer treatment, such as lessons on cosmetic application and wig/scarf styling. www.lookgoodfeelbetter.org   
Charities Serving Women
The Empowering Through Beauty Foundation is a nonprofit organization whose mission is to empower women and girls by providing after-school and summer mentoring to middle and high school students in low-income areas and working with men and women in recovery and victims of domestic violence. www.empoweringthroughbeauty.org 

Makeovers That Matter is a nonprofit organization that provides hair, makeup, and wardrobe counseling to female veterans and to women struggling to find employment. This organization not only provides women with makeovers, but it also teaches them how to successfully prepare and interview for employment. https://makeoversthatmatter.org

The Justice and Soul Foundation empowers trafficked and at-risk young women and men to become confident and self-sufficient individuals through vocational training in cosmetology and to help them earn a sustainable living to keep them from returning to trafficking for survival. www.justiceandsoul.org  
Charities for Seniors
Beauty Becomes You is a program for seniors living on low fixed incomes. Both skin care professionals and esthetician students can volunteer to provide skin care services. The program also offers senior massage, hair, and nail services. While boosting the self-esteem of these individuals is important, this nonprofit organization also aims to raise awareness and recognition for seniors, who the group calls their "National Treasure."
If you are feeling inspired and have time and energy to give, consider an online volunteer matching service like Volunteer Match or Idealist. You can search these sites by location and the type of volunteer activities available. Just find an opportunity that interests you, fill out a volunteer application, and you'll be on your way!
Giving your time, energy, money, and other resources feels great, but you can also make a real impact if you have the resources. Find a way that is right for you. You'll know it's right when you're giving from the heart.

"We make a living by what we get, but we make a life by what we give."
Winston Churchill