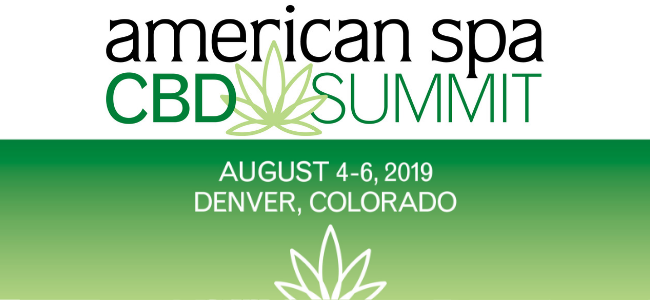 The American Spa CBD Summit will bring together the elements of wellness, education, and discovery of CBD in a three-day experiential summit designed for the wellness professional.
This August 4–6 at the Gaylord Rockies Resort and Convention Center, the industry leaders at American Spa Magazine — along with our expert speakers — will unlock the potential of incorporating CBD products into your wellness facility and learning to manage the unique issues of these brilliantly buzzworthy products. Featuring 30+ speakers, 25+ sessions, and covering a large variety of topics, this event is the one-stop shop for learning everything you need to know about bringing CBD into your spa or wellness destination. Additionally, you will be able to sample products and services in the exhibit hall with over 13 hours of dedicated networking time, which will be open throughout the entire summit. Attend educational sessions that will answer all your questions around CBD, including treatment options, legalities, products, ingredients, and so much more. You will take part in sessions led by experts and spa professionals sharing everything they wish they knew before they brought CBD into their spas, as well as increasing ROI and working through challenges like customer education, legal considerations, and more.
SOME OF OUR FEATURED SESSIONS WILL ADDRESS:
• Best practices and strategies for selling, marketing, and promoting CBD products and treatments
• The benefits of using CBD in your spa treatments and why you should be incorporating CBD into your spa menu
• How to ease customer concerns about CBD treatments to ensure a comfortable spa experience
• Discussions on how we can continue to further our education in the CBD space and the impact CBD will have in the future
• The variety of products for CBD that are available for internal and external use and how they can help relieve numerous ailments
• The chemical makeup of CBD and simplifying the science behind it
• Advice for selecting an effective CBD brand that aligns with your spa's values and branding
• Review of certain state and municipal laws and regulations regarding CBD that may apply to your wellness facility
• Guidance for managing social media and other promotions amid "illegal substances" rules and regulations
Check out all of our sessions and the exciting networking receptions we have to offer.
ATTN ASCP MEMBERS:
Be sure to use ASCP's special discount code to receive $50 off the three-day VIP Pass. Check out your discount here!

Plus, check out our feature on CBD and skin care is the latest issue of ASCP Skin Deep magazine.