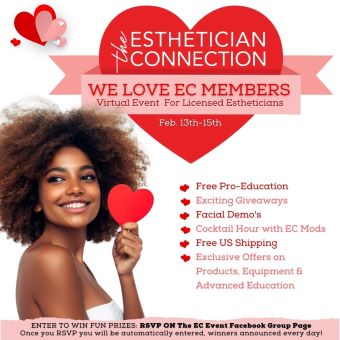 Esthetician Connection is kicking off the new year with a Valentine's Day present to you, the annual We LOVE EC Members Event February 13th - 15th!
RSVP now on the EC Event Facebook Group page
What can you expect from this free virtual trade show?
To start, there will be exclusive savings on skin care products, professional equipment, retail items, education, and more from over 30 professional esthetic and wellness brands.
Look forward to six live educational sessions (two per day) with a wide range of topics from cutting-edge ingredient technology to holistic practices and services. Session sponsors include Chakralicious, Aesthetic Science Skincare, Lightwave, Naturaverde Pro, DEHAZ Skincare, and ClearFX.
The event will feature three live deep dive panels (one per day) featuring industry leaders with various backgrounds discussing overcoming obstacles and trending topics. These are must-see panels for both new and seasoned estheticians.
During the cocktail hour, watch three live community facials (one per day). Members of the team will come together and give themselves a self-care facial that includes the products they love enough to add into their personal skin care routines.
Additionally, there will be six facial demos, accessible January 27, showcasing products and modalities from award-winning esthetic brands, including Rezenerate NanoFacial, Green Envee, Hale & Hush, Dawn Lorraine, XO8 Cosmeceuticals, Methode Brigitte Kettner, DermaMed Solutions, TAMA Research, and Hale Cosmeceuticals.
Finally, there's a new event guide composed of exclusive interviews, essential business tips and insights, ingredient spotlights, illuminating articles, and more!
RSVP now on the EC Event Facebook Group page