By Danné Montague-King
For over 50 years, I have witnessed how professional skin care protocols have globally changed millions of lives—from scar revision and dermatitis to acne and age management. However, there is a little secret for lasting results not attainable by professional treatment, no matter how advanced and potent.
First, the professional esthetician or esthetic physician must realize there is no "one-off" with any treatment. If a one-off treatment is truly effective, it usually depends on altering the pH of the skin dramatically, from an acid basis (under 3.8) to an alkaline basis (11–12 on the pH scale).
Of course, these radical shifts in pH are controllable and temporary, but they change chemical ions in the skin. If the client goes home after treatment and slaps any old product on, no matter how innocuous, it could be either ineffective or have contraindications unknown to the client. Home-use products must be chemically attuned to the professional treatments—indeed, they should be modified versions of the professional treatments to achieve progressive results over time.
This is why I have never advocated for online sales of products in our industry. Professional practitioners have spent time and money obtaining a license, setting up a business, training themselves, and working long hours on clients with skin anomalies. These clients should not just go online, self-diagnose their problems, and order products. It's not only unfair to the profession, but also less effective for the client.
Yet, many skin product companies sell so-called professional products online with a product knowledge booklet or sheet describing the usage. This is analogous to a plastic surgeon selling scalpels online with a "do it yourself" surgery manual! I admit the comparison is a bit extreme, but the principle is the same.
Skin anomalies vary from ethnicity and age to internal and hormonal problems; there is no way for clients to self-diagnose their problems and order products that actually work.
However, there are a few home protocols that depend on enzymes for results that nearly everyone can benefit from. Enzymes are safe for almost everyone of any age or gender, and for most skin problems, including acne, psoriasis, eczema, and age management.
Enzymes and enzymatic treatments enhance optimal skin functioning by working with the body's internal systems to increase circulation, oxygenation, and lymphatic drainage, which tightens and strengthens the skin through improved collagen production. When a client receives an enzyme treatment, a cascade of deep-reaching effects takes place, including pulsing, reverse osmosis, and dilated capillaries (that flush out toxins). Enzymatic messages via transferase send regenerative messages across the cell membranes telling all systems to "wake up" and start acting like they are supposed to: 10–20 years younger, smoother, and clearer.
In addition to these treatments, there are a few enzymatic products people can use at home—after being prescribed a regimen—to maintain their results and improve their skin health in the long run.
DMK Skin Care
Enzyme Masque Protocol
An enzymatic treatment that encourages optimal skin functioning
Before and After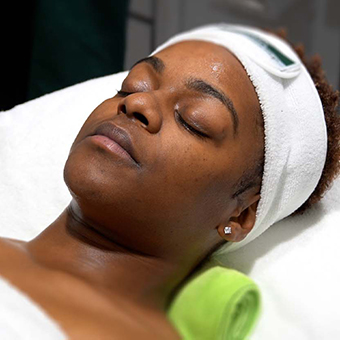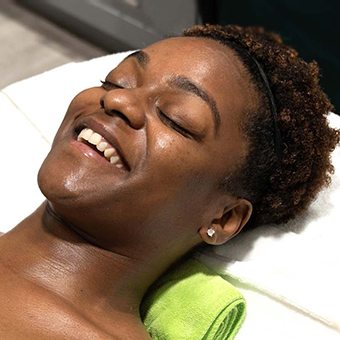 STEP 1: CLEANSE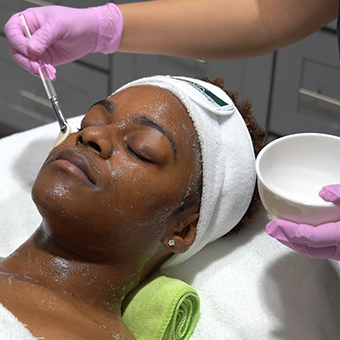 Mix a pea-sized amount of DMK Deep Pore with warm water into a bowl with a fan brush. Using circular motions, brush cleanser onto the client's face, neck, and décolleté for about 30 seconds. Wash away with warm water and pat dry with a microfiber cloth.
STEP 2: MIX MASQUE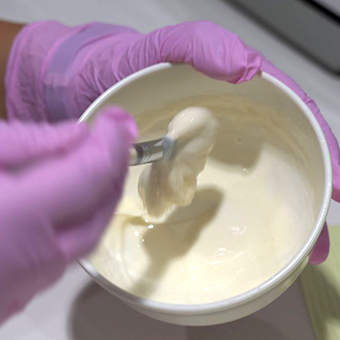 Measure out 2 tablespoons each of Foamy Lift and Exoderma Peel into a bowl and mix well. It should be the consistency of cake batter. If the consistency is too runny, add a little more Foamy Lift; if the consistency is too thick, add more Exoderma Peel.
STEP 3: APPLY MASQUE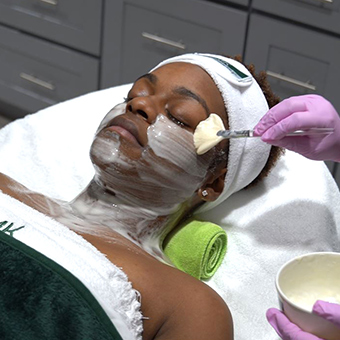 Apply the masque with the fan brush starting on your client's décolleté with V-shaped strokes upward. Next, brush the masque from the shoulder to behind the ear before finishing the neck with upward strokes. Next, apply upward on the forehead, down the nose, across the upper lip, and from the cheek to ear, keeping strokes upward and outward.
STEP 4: WAIT
Let dry for 30–45 minutes and avoid movement or talking to allow the masque to harden.
STEP 5: REMOVE MASQUE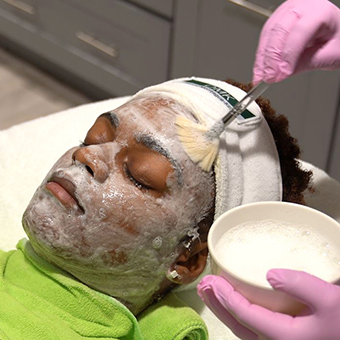 Remove the masque by mixing another bowl of Deep Pore and warm water. Brush on the cleanser, firmly pressing brush bristles to break up the masque. Finish removal with a
warm microfiber towel.
STEP 6: RESTORE THE ACID MANTLE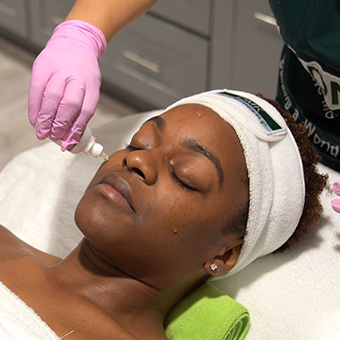 Apply 2–3 drops of Seba-E to the cheeks and forehead, firmly pressing the oil into the skin. Next, spray the skin with Herb & Mineral and massage it into the skin, mixing with the
Seba-E to recreate the skin's natural acid mantle.
STEP 7: FINISH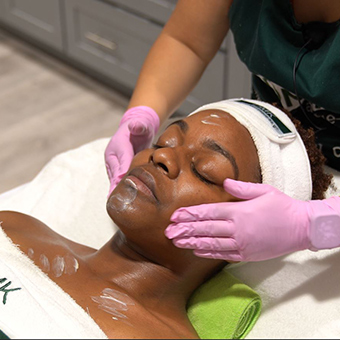 Finish the treatment by applying DMK Serums (Beta Gel, Super Serum, Direct Delivery Vitamin C), and then DMK Creams (Biogen C, Nite Firming, Hydroloc, etc.).
About DMK Skincare
DMK is the world leader in Paramedical Skin Revision education, with certification programs that have been designed to give licensed professionals a thorough understanding of the skin, an in-depth study of the DMK concept to Rebuilding Skin, Rebuilding Lives, and access to all their renowned enzymatic treatments and home prescriptives. DMK professional treatments and protocols are exclusively performed by DMK-certified licensed estheticians. Begin your DMK journey today at dannemking.com/education.