By Lira Clinical
Regardless of age, gender, or circumstance, we have fundamental requirements to live. Even Maslow's hierarchy of needs begins with a foundation of basic necessities: air, water, food, shelter, and sleep. Additional needs are met with the goal of self-actualization.
A successful skin care professional weaves additional needs of care, compassion, and creativity into every treatment experience. With the practical knowledge of skin correction, skin care professionals direct clients to the goal of living their best skin life. Each treatment is infused with the energy of human touch. As technology integrates into nearly every aspect of our lives, maintaining an equivalent priority on fundamental human needs becomes more important. 
Skin needs are the road map: Assessing skin health provides the safest and most efficient pathway for real, unfiltered, bright, beautiful skin.Working with natural pathways energizes a stronger organization of cells maintaining skin structure for all skin conditions. Maintaining the skin's structure is only one of the primary skin functions. Hydration, defense, exfoliation, and protection must be evaluated. Each of these fundamental functions works together and is considered when recommending any skin care treatment.  
Skin Need: Antiaging
A skin condition everyone experiences is skin aging. External factors of aging can be prevented; however, internal factors will continue to affect the skin's appearance. The keratinocyte's journey to becoming a corneocyte on the skin's surface is managed throughout each layer of skin. As we know, as we age, this trip increases from 28 days to over 35. Stimulating proper cellular turnover and performing consistent exfoliation aid in healthy skin renewal management.
Skin age is only a number that can be corrected through proper product application and guided modalities for healthier skin function and vitality. Regardless of the primary skin condition you have been tasked to manage, there are always co-occurring issues to consider. For example, aging skin does not only present fine lines and wrinkles, but also unwanted pigmentation, dehydration, and sometimes adult-onset acne. Clinical treatments need to address these issues while also targeting the primary skin condition. 
Skin Need: Brightening
Regardless of the skin condition, dull skin is always a factor to tackle. Skin brightening can be presented in many ways for multiple skin conditions. Aging skin can exhibit photodamage, acne can cause uneven pigmentation from inflammatory lesions, and rosacea's continued state of erythema can challenge the skin's immune response time. Just as exfoliation is managed throughout each step of the keratinocyte's journey, managing melanin must be addressed along the entire melanogenesis process, not just with enzyme activity. This gives all skin types the opportunity for correction and maintenance.  
Addressing Skin Needs
A comprehensive skin care system continually conditions skin, preventing future damage. Just like a three-sided triangle, a skin care system should have three components: daily home care, weekly home treatments, and monthly in-clinic treatments. Daily home care provides skin with brightening agents that tackle ongoing environmental assaults. Professionally guided home treatments stimulate the skin to maintain the corrected, healthier path initiated by in-clinic treatments. This establishes a connection between you and your client—and it provides skin with the desired result of bright, beautiful skin. 
Lira Clinical
Real Anti-Aging Treatment
This clinical yet sustainable treatment provides immediate results to signs of aging, pigmentation, and even acne skin conditions with no downtime.
Indulge in this treatment to diminish fine lines and wrinkles and slow the natural aging process with phytonutrient-rich botanicals and anti-glycation benefits. Suppress unwanted age spots and sun damage for a brighter, more even skin tone. The treatment's next-generation brightening peptides are infused with a vitamin C triple complex for healthy collagen production and added protection against environmental stressors.
Step 1
Cleanse the skin with PRO Exfoliating Cleanser. Then, do a second cleanse with MYSTIQ iLuminating Polisher, massaging it until the mastiha resin dissolves. Allow skin to rest for 5–7 minutes, then remove with a tepid barber towel.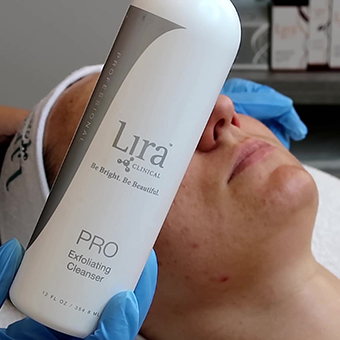 Step 2
Using gauze, apply Primer Plus Solution to the forehead, around the perimeter of the face, down the nose, and across the cheeks, chin, and upper lip.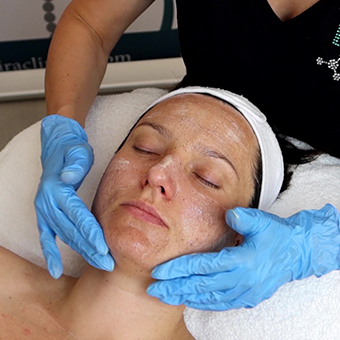 Step 3
Combine equal parts of Pumpkin Plus and PRO Retinol Crème with an applicator or mask brush. Apply to skin, gently massaging if applicable. Allow skin to rest for 3–6 minutes, removing with a cool barber towel.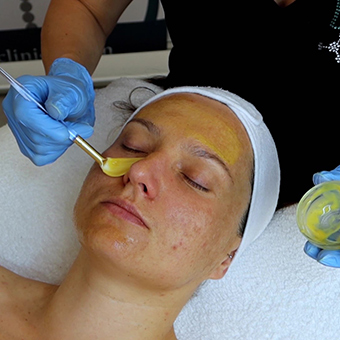 Step 4
Spritz pH Solution across the face and allow to absorb. Then, apply 3–4 drops of PRO Lite Serum, massaging it into the skin.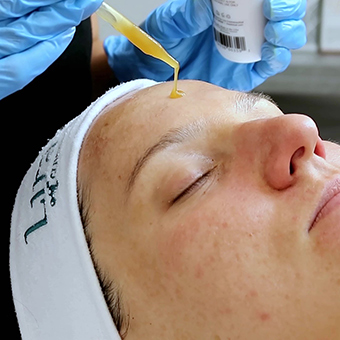 Step 5
Hydrate the skin by applying PRO Retinal-Plus Treatment all over the face until completely absorbed.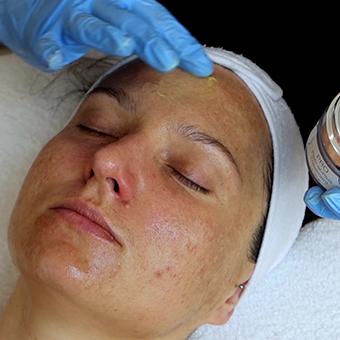 Step 6
Apply the MYSTIQ Cryo Masque with the first section of the mask extending from the nose to the forehead and the outer edges of the face. Apply the second mask piece from the nose to the chin. Allow the skin to rest for 20 minutes. Gently remove the mask and do not rinse.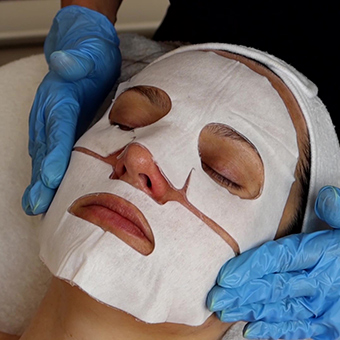 Step 7
Gently massage MYSTIQ Perfecting Eye Crème into the eye area and use an applicator to apply BIO Lip Factor to the lips. Finish with SPF Solar Shield 30 Classic Tint, using a pat-n-roll technique over the entire face.