We're certain you didn't enter the world of skin care to do paperwork. In fact, many of you were probably drawn to esthetics for your desire to help others. However, paperwork is an important part of the consultation and analysis. Further, if you are opening a skin care business of your own, it's impossible to avoid the office paperwork that comes with business ownership.
What do you do when a client returns with the same skin care conditions as their last appointment and wants the same treatment protocol you gave her a month ago? If you did not document your client's prior visit with her skin analysis, treatment plan, and products used, do you admit that you were in a hurry the day she left and her treatment was not documented?
The simple task of updating client cards, completing intake forms, and obtaining a client signature can help you and your future business in the long run. By not having the proper documentation, you not only risk upsetting and losing a client, but you also risk diminishing your reputation as a responsible, attentive skin care professional. Try to think of this as an extension of the great customer service you already provide your client.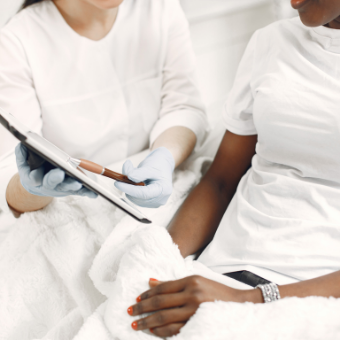 Make it a point to update your client's service record with every treatment.
Here are a few options you can try to achieve this:
As soon as you are finished with the consultation and have a treatment plan in place, document what you've discussed on the client record.
If you are using digital forms, document the treatment plan and products used on a scratch pad or white board. When you are finished with the service, that information is ready to be converted to the client's profile.
After the client checks out and leaves, immediately put their information into their record before moving your next guest. Allocate time for this in your schedule.
Whichever step you decide to use, know that any way is a good way to update client records. It's also helpful to jot down a few notes into their record of what you talked about. Is this client getting married, have a new significant other, or going on trip? These are great things to add to their profile so the next time they come in, you already have a great conversation starter and will show the client you remember them and care about them.
While it may not be the most exciting aspect of your day-to-day duties, these records are an absolute must. Aside from impressing your client with your professionalism, maintaining records of your client's skin care and history is insightful, saves you time, and keeps your client safe.
Client intake and consent forms are vital to a well-managed practice. To take the stress out of creating or locating your own client intake and consent forms, ASCP has a full library of forms available for download as an exclusive members-only benefit. If you're already an ASCP member, you can view them all here. If you are not an ASCP Member yet, join now for this exclusive benefit and much more!
By ASCP Staff