Traditionally, esthetic services and products have been geared toward women, and it used to be unthinkable for a man to consider using cosmetics or receiving spa services—until now. Today we are talking about men's skin care, and there are a lot of estheticians out there who would argue that skin care should not be defined by gender. Skin care is for all, but sometimes men need treatments made just for them.
For decades, men's beauty products fell into a category known as "men's grooming." This consisted of shaving, face and body moisturizer, deodorant, etc. The marketing for this segment of the beauty industry included colors and packaging that were often grey, navy, or black. Products included 3-in-1s that promised to do it all with an image of a lumberjack or the Marlboro Man. The thinking was that the key to bringing in the male client is to make them feel invited, welcome, and comfortable. However, the beauty industry is always evolving and that includes our perception of masculinity. Today we see gender norms changing, stereotypes lifting, and men embracing their skin's wellbeing.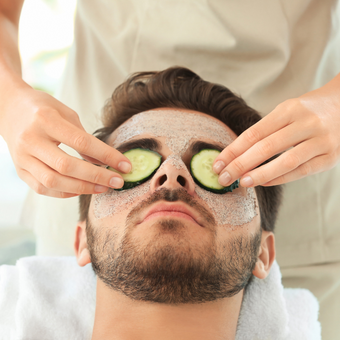 The men's personal care market is booming and expected to hit $276.9 billion by 2030. If that weren't enough, in a survey conducted by Euromonitor, more than 56% of US male respondents admitted to using some sort of facial cosmetic like foundation, concealer, or BB cream at least once. Google searches for male makeup have increased by 67.5%, and searches for 'male makeup looks' jumped nearly 80%.
Over the last few years, there's been a shift as men include skin care and beauty into their everyday awareness and grooming brands are now incorporating things like moisturizers, facial cleansers, eye serums, bronzers, concealers, and even nail polish into their male-marketed offerings.
Social media and influencers are shaping what it means to be a man, look beautiful, and be inclusive. Traditional men's grooming is no longer "traditional," as this market segment grows exponentially. Gender bender Harry Styles has launched his own skin care and nail polish line called Pleasing. Machine Gun Kelly launched a nail polish line called UNDN LAQR, and even Tyler the Creator has launched a nail line (what is it with nail polish?) called Gold La Fleur.
As the industry continues to evolve, more trends will emerge. According to Statista, there will be growth in products designed not only for different skin types, but also for different degrees of stubble.
Want to continue the conversation and read more about men's skin care? Check out 10 Things Estheticians Need to Know About Men's Skin Care. This is an excerpt from ASCP Skin Deep magazine. ASCP member benefits include an exclusive print subscription to this award-winning magazine.