Going Solo
By Crystal Ochemba-Powell
You've been in the beauty biz for a while, and you are more than ready to start your own solo business. Don't know where to start? Read on for four steps to set yourself up for success!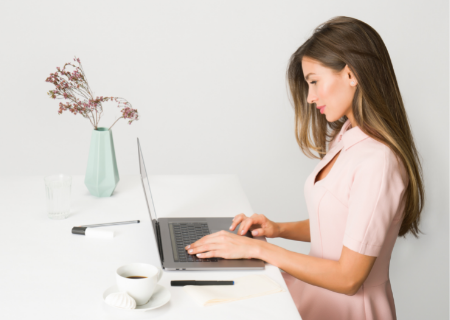 Step 1: Let's Get Legal
Right after you dream about striking out on your own, you need to get yourself set up to make sure you can legally practice as an esthetician or cosmetologist in your state. It's obvious, but not much else can happen before you check this key stage off your list.
That means three main things:
Obtain the proper licenses
Obtain the proper permits
Establish your LLC
Step 2: Let's Get Prepared
Chances are, before you decided to start your own business, you were working hard for somebody else while imagining yourself as your boss. To turn those vague ideas into reality, set up a savings account to squirrel away money. At what number would you feel comfortable jumping into your own solo beauty business?
Set up a real business account for all your business and beauty necessities. How much money do you need to open the business? What are your business growth goals once the company takes off?
Step 3: Let's Start Planning
Have you ever heard the adage, "You fail to plan, and you plan to fail?" You need some form of a business plan. The business plan can be as simple as you like if you're more the type to fly by the seat of your pants or as complex as you want if you prefer having every eventuality perfectly mapped out. At the very least, you need:
Set Your Business Intentions: For example, "My business intentions are working less and earning enough money to support my family. I want to have enough money for the essentials and the 'nice to have' luxuries like vacations."
Marketing and Business Plan: This is a living document that changes as your business evolves.
Establish Your Services: Have a good balance of the things you're good at, the things you enjoy, and the things that make a profit.
Competitor Research: It's good to know what the competition is doing, but don't chase what they're doing.
Set Those Prices: What salary do you need to earn a good living? Reverse engineer this to figure out what your base rate should be.
Step 4: Let's Define Your Niche
When you first start your own beauty business, it can be easy to try to please everyone. Usually, when you try to please everyone, you lose two people: yourself and your ideal client. Your ideal client isn't just anyone. Chances are, they have a lot in common with you and your skills.
For example, if your niche is waxing, in what particular area do you wax? You're fantastic at waxing top to toe, but you've always been known for your 7-minute Brazilian wax. Next thing you know, your marketing is about saving time and experiencing less pain with your unique 7-minute Brazilian wax technique. You can still market your other services, but it's that 7-minute Brazilian wax that will get customers to run through the door and set your booking system on fire.
Add more products and services for a premium package and premium price. Bingo, now you've found your niche!
Beauty Business Coaching
My niche is supporting people just like you in building the beauty business of their dreams. I specialize in teaching fellow beauty professionals actionable marketing and branding strategies that apply to our industry. No cookie-cutter content here! Everything from acquiring the (right) clientele to client retention and strategizing.
I will be launching FREE Monthly Beauty Business Group Coaching Sessions this OCTOBER!
About these sessions:
Learn marketing and business tips to grow your beauty business.
Ask specific questions about your business and get live, real answers.
Join the discussion with other beauty business professionals and learn how they are growing their businesses.
Learn more: www.crystalngozibeauty.com/monthly-group-coaching-sessions
Exclusive Discount Benefits for ASCP Members
From creating your stellar Opt-in Marketing Plan to working through your launch idea, Crystal Ngozi will talk it through with you and offer valuable strategic insights. Her coaching programs are designed to help new beauty professionals get their feet off the ground when it comes to building their businesses and perfecting their artistry. Crystal is an experienced licensed esthetician, makeup artist, business coach and licensed continuing education provider with a combined 10 years of experience in both business marketing and the beauty industry. In addition to her esthetics license, she holds Bachelors and Masters degree in Advertising and Marketing.

ASCP Members, to learn how you can access your exclusive benefit, click the link here!
Learn more about Crystal and her beauty business coaching at www.crystalngozibeauty.com/monthly-group-coaching-sessions