While there are many things that remain uncertain during a pandemic, rest assured that your business does not need to be one of them. We have found that the pandemic has served as an excellent lesson in pivoting not just the needs of your business, but the needs of your clientele. Remaining nimble in the face of change, whether it be the state of the world or the skin of your clientele, is a strong skill that will only benefit you! Let's dive into some of our tried-and-true methods to grow your business during a pandemic.
Acquire Virtual Clientele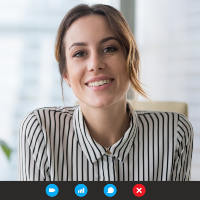 People will always need skin care guidance and are more than willing to receive that guidance outside the treatment room. When it comes to acne treatment specifically, acne sufferers need superior coaching, and that can be done successfully over the phone or on video calls. To acquire new clients virtually, make sure you develop a strong presence online:
Post regularly on social media, like Facebook and Instagram
Email past clients with an encouraging message letting them know you are offering virtual services
For websites, make sure your headline includes a strong call-to-action message
Partner with other local businesses like a hair salon to create a referral program
Transitioning Current Clients to Virtual
Skin concerns don't stop just because everything else in the world seemingly does—clients dealing with conditions like acne or hyperpigmentation rely heavily on home care and expert advice from their professional. Having different options for clients helps transition them from in-person to virtual, whether it's a quick check-in call, full video consultation, or scheduled email exchanges. You'll want to communicate these changes whenever and wherever possible with current and past clients by posting social media updates or sending emails or text blasts reminding your clients that your expertise is just an email or call away.
Achieving Clear Skin Virtually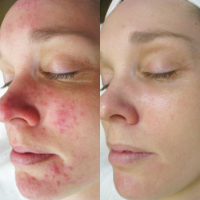 The key to clear skin is consistent use of an appropriate home care routine. Treatments act as a boost to home care and can expedite change in pigmentation and texture, but the real results are obtained by diligent home care. It's important to reinforce this message with current clients who have transitioned to virtual. With new virtual clients, conducting a thorough consultation, reviewing photos, and seeing your client's skin on video will help you determine home care. Having all your consultation forms and handouts available online will help streamline this process. Our adaptive approach requires biweekly adjustments to home care (as needed) to continue skin improvement.
*Results accomplished virtually by certified Face Reality Acne Expert Rebecca Meyers of Elements Skincare and Acne Clinic
Virtual Benefits
With or without a pandemic, virtual appointments are an excellent way to keep clients on track during the holiday season; people are always looking for convenience, especially during a busy time of year. You can also create a virtual bootcamp or other promotional offer for products and virtual services as a clear-skin gifting opportunity. Virtual appointments are also useful for those clients who can't always get into the treatment room or for students away at school.