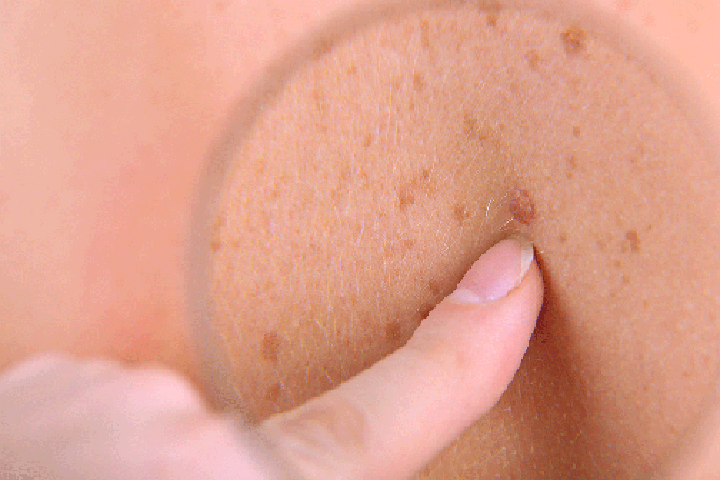 Men over 50 have a higher risk than the general population of developing melanoma, the deadliest form of skin cancer, so they need to keep a sharp eye out for signs of the disease.
Many women in this age group, however, would attest that they're more likely than their male partners to notice suspicious spots on the skin—which means women could help save their male partners' lives by helping them spot skin cancer.
Research has shown that women are nine times more likely than men to notice melanoma on others and that men assisted by women during skin exams are less likely to miss skin lesions than women assisted by men. In conjunction with Melanoma/Skin Cancer Detection and Prevention Month in May and Melanoma Monday, observed on May 1 this year, the American Academy of Dermatology is encouraging women to check both their partners and themselves for signs of skin cancer. According to an AAD survey of 1,250 married women age 40–64, most women don't currently assist their male partners with skin cancer detection, even though many of them believe they're more observant than the men in their lives:
Forty-five percent of respondents reported they would be more likely than their husband to notice a suspicious spot on his skin, and 35 percent reported they actually had noticed a suspicious spot on their husband's skin before he did.
Two-thirds of respondents (67 percent) said they examine their own skin for signs of skin cancer at least once a year, while only 44 percent help their husband do the same.
Just 37 percent of respondents reported that their husband examines his own skin at least once a year, and another 29 percent weren't sure if their husband conducts annual skin self-exams.
"Because men over 50 have an increased risk of melanoma, it's important for them to conduct regular skin self-exams to detect the disease in its earliest stages, when it's most treatable," says board-certified dermatologist Henry W. Lim, MD, FAAD, president of the AAD. "Since it can be difficult to examine some parts of your body on your own, it's best to ask a partner for help."
The AAD encourages women to help their male partners examine their skin for signs of skin cancer in a new video, "Check Him Out." The humorous piece demonstrates three common scenarios in which a wife is more observant than her husband before reminding women to regularly check their male partner's skin for new or suspicious spots.
"While women help their male partners in so many ways, the AAD's recent survey shows that less than half of married women age 40–64 help the men in their lives look for signs of skin cancer," Dr. Lim says. "We hope this video encourages women to check their partners and check themselves. If you notice any suspicious spots on your skin or your partner's, or anything changing, itching or bleeding, see a board-certified dermatologist."
For more information on skin cancer detection and prevention, visit the AAD website SpotSkinCancer.org. There, you can also find instructions on how to perform a skin self-exam, download a body mole map for tracking changes in your skin, and find free SPOTme skin cancer screenings in your area. SPOT Skin Cancer is the AAD's campaign to create a world without skin cancer through public awareness, community outreach programs and services, and advocacy that promote the prevention, detection, and care of skin cancer.