You walk into a room full of people you do not know and look around. There it is in all its terrifying glory: an esthetics networking event. People everywhere. Chatting. Exchanging business cards. Smiling. Laughing. Acting curious about each other's skin care businesses. Striking up pre-rehearsed conversation starters. You feel like throwing up and running away as fast as you can, but you take a deep breath, square your shoulders, and walk up to the check-in table.
Does this scenario cause you anxiety? Welcome to the club. You're just like most estheticians who would rather endure a root canal than a networking event.
To many of us, networking feels pushy and salesy. But it doesn't have to be that way. Networking can be natural, easy, and even fun! A change in perspective can make networking a more pleasant experience and, of course, help your skin care business grow.
Networking is not about pushing a bunch of business cards into people's hands or making sure they all know your Instagram handle. It's not selling yourself to total strangers or forced conversation about the latest skin care trends. Networking is the act of connecting. Resist the urge to make it complicated.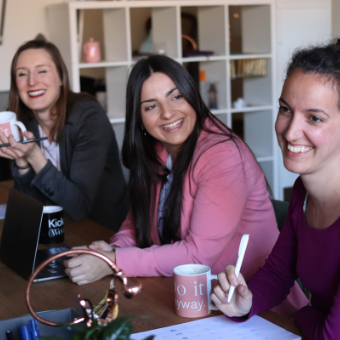 When most people go to a networking event or are in a networking situation, they concentrate on how to get skin care clients from it, interacting with as many people as possible, or worry about doing it wrong. When you flip your focus to helping others or acting naturally, everything changes.
Keep your conversation simple and natural. Consider saying something like, "I'm Liz, licensed esthetician for 10 years. Your skin is beautiful, and I love your eyebrows! Who is your esthetician?" Now you've started a conversation. No matter what the other person answers with, you have a chance to talk about skin care and why they should come see you in a conversational way rather than a recited pitch.
FAQs
What are 3 ways to network?
Make networking part of your daily routine. Start by networking with colleagues. They likely have tips and referrals you can benefit from.
Consider attending trade shows and continuing education events. This is a great way to meet people within the beauty community.
Introduce yourself to those within the industry you admire and look up to. Your heroes are a model for what you hope to achieve within your own business and are often happy to spend time giving advice.
How do you market in the beauty Industry?
In addition to networking in your community, your marketing strategy should include building a social media presence on channels like Facebook, Instagram, TikTok, and Pinterest. Connect with your clients, potential clients, and the beauty community.
How do you network with companies?
Attend local business networking events and reach out to your chamber of commerce.
Set goals and have a clear agenda before attending any events.
Expand your reach by trying to network and make business connections at your gym, bank, or even your child's school.
How do I start networking?
Focus on making friends, not network connections.
Foster meaningful relationships rather than focused on all business.
Focus the conversation on the person you are engaged with and not all about you.
Know your boundaries and when to move on. Never be salesy or pushy
About ASCP
As the only exclusively licensed esthetician association, Associated Skin Care Professionals provides membership that empowers you to reach your skin pro goals by delivering quality education, innovative business solutions, and skin care insurance. Achieve next-level success as a professional esthetician whether you're looking to make a big career move or just need some support for the day-to-day. Let ASCP give you the spa business planning tools, modern esthetic technique videos, and expert advice to help you blow past your goals and push the boundaries in your professional skin care career!
By ASCP Staff