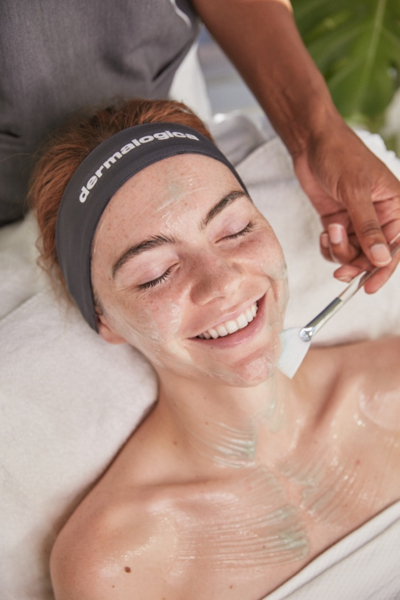 Service professionals often experience a common phenomenon: a client arrives for their appointment and immediately begins sharing stories and experiences from their personal lives. This interaction typically leads to a good chat, a good laugh, and—particularly during this last difficult year—sometimes a good cry. This confirms what service professionals already know—they play an important role in peoples' wellness. When we're in close proximity to one another, a mixture of oxytocin and psychosocial factors lead us to forge real, lasting connections. In the midst of a global pandemic, that role has taken on even greater significance.1 The world needs more empathy, gratitude, and compassion—and clients often need emotional support.
Addressing this inherent need for human touch is in Dermalogica's DNA, and this need served as the inspiration for the new Meaningful Connections Certification. Resources for this course come from the Greater Good Science Center at the University of California Berkeley. Greater Good studies research on positive emotions and social connection and turns it into tools and tips for people from all walks of life. The new one-hour, self-led course equips service industry professionals with interpersonal strategies to strengthen their own emotional intelligence and develop meaningful client connections.

Topics covered in the online course include:
Activating listening skills and being radically present to enhance client communication, especially during vulnerable or emotional conversations
Body language guidance and tips on how to tune into clients' nonverbal cues—even when they're wearing a mask
Practicing positivity by utilizing eustress (beneficial stressors) to change a negative thought into a positive one
Breathing exercises and supporting materials to assist with managing emotions
Vagus nerve activation massage techniques to help guide clients toward a state of peace and tranquility
Gratitude, a powerful practice that is scientifically proven to enhance serotonin and dopamine and lead to happiness2
"As the leader in skin care education, one of our core values is human touch," says Tabby Zamani, Dermalogica Head of Global Education. "It felt natural for us to fill an educational gap in the industry by creating a course that will empower service professionals to navigate emotional, challenging conversations during these unprecedented times. The world has shifted: mental health has taken on more significance than ever before, and the power of human touch is more precious than ever."
"It's no longer enough for brands to simply teach product knowledge and customer service," Zamani continues. "There's a real need to elevate our own expertise and to provide industry professionals with the tools to strengthen their emotional intelligence and cultivate lasting relationships. With this course, we're proud to share eight guiding principles that will support meaningful connections—both during and after the pandemic."
To earn your Meaningful Connections certification, visit www.learnmeaningfulconnections.com.
About Dermalogica:
Dermalogica revolutionized the skin care industry when it emerged into the marketplace in 1986 with innovative formulations that excluded common irritants, including SD alcohol, lanolin, mineral oil, and artificial colors and fragrances. Jane Wurwand developed the products to better support the advanced curriculum she developed a few years earlier for The International Dermal Institute, which she also founded. Wurwand led the company's growth from an idea to the world's most-requested professional skin care brand.
Today, Dermalogica is sold in more than 80 countries worldwide and trains more than 100,000 professionals per year around the globe. Dermalogica products are available in select skin treatment centers on the recommendation of a qualified professional skin therapist in addition to the brand's concept spaces located around the world and online at dermalogica.com. Dermalogica is made in the USA, with its global operations based in Carson, California, just south of Los Angeles. To learn more about Dermalogica, please visit www.dermalogica.com.
References:
Uvnas-Moberg K, Petersson M. "Oxytocin, ein Vermittler von Antistress, Wohlbefinden, sozialer Interaktion, Wachstum und Heilung [Oxytocin, a mediator of anti-stress, well-being, social interaction, growth and healing]," Z Psychosom Med Psychother. 2005; 51(1): 57–80. German. doi: 10.13109/zptm.2005.51.1.57. PMID: 15834840.
Roy Chowdhury, Madhuleena. "The Neuroscience of Gratitude and How it Affects Anxiety & Grief." PositivePsychology.com.