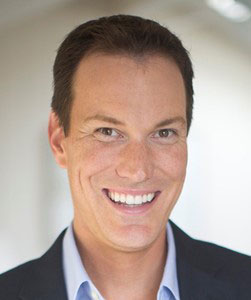 The International SPA Association (ISPA) is pleased to announce that New York Times bestselling author Shawn Achor will be the opening keynote speaker for the 2018 ISPA Conference & Expo at the Phoenix Convention Center in Phoenix, Ariz., from Sept. 24-26.
"Shawn Achor's opening keynote presentation and his passion for achieving happiness will be an amazing way to kick off the 2018 ISPA Conference & Expo. His message will bring this year's theme, CONNECT, to life, as he shows us all how to find our own happiness and use it to reach our ultimate potential," said ISPA President Lynne McNees.
The 28th annual event will open with Achor, who has become one of the world's leading experts on the connection between happiness and success. He is the New York Times bestselling author of Before Happiness and The Happiness Advantage. Big Potential, Achor's highly-anticipated follow-up to The Happiness Advantage released yesterday, introduces the theory that Small Potential is the limited success we can attain alone, while Big Potential is what we can achieve together, a message that speaks directly to the ISPA membership.
Achor's TED Talk, "The Happy Secret to Better Work," has been viewed nearly 17 million times and is the 15th-most-viewed TED Talk of all time. He has worked with over a third of the Fortune 100 companies, and with entities such as the NFL, the Pentagon and the U.S. Treasury. Achor has traveled to 51 countries, speaking to farmers in Zimbabwe, CEOs in China, doctors in Dubai and schoolchildren in South Africa. In 2014, Oprah Winfrey did a two-hour interview with him on the science of happiness and meaning.
The second day and closing keynote speakers will be announced at a later date. More information about attending the 2018 ISPA Conference & Expo can be found at attendISPA.com.