While there are plenty of ingredients in the skincare industry targeted at treating acne, there is none quite like L-Mandelic Acid. An alpha hydroxy acid (AHA), L-Mandelic Acid is perfect for the treatment of acne because of its anti-inflammatory and antibacterial properties. P. acnes bacteria has truly met its match with this antibacterial wonder. This active ingredient doesn't just address existing lesions, it also helps prevent breakouts from forming by offering consistent exfoliation. Additionally, L-Mandelic Acid has a larger molecular weight than other AHA's which allows for a slower epidermal penetration, resulting in a more even exfoliation with less irritation.
Not just any mandelic product, Face Reality's L-Mandelic Acid collection boasts a host of special benefits like chirally correct formulas and varying strengths to ensure that acne clients are receiving only the safest, most effective treatment. Though L-Mandelic Acid is a stellar ingredient, it's important to consider the entire approach of acne treatment. A holistic, adaptive protocol is necessary to not only achieve clear skin, but it's also necessary to maintain optimal skin health. Face Reality's proven, adaptive method of acne treatment considers crucial factors like skin type and acne type to determine a skincare routine that will render clear skin by targeting the unique needs of your clients. Clients can achieve clear skin in just 3-4 months with not just the right products, but with guidance provided every step of the way by a Certified Acne Expert.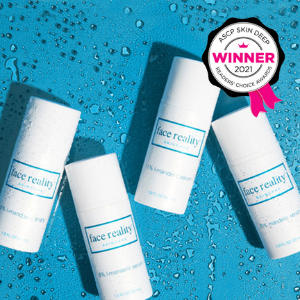 Join Face Reality's Education Lead, Alex Hernandez for LIQUID GOLD: Meet L-Mandelic Acid to learn more about why L-Mandelic Acid is a superior ingredient and what makes Face Reality Skincare the leading acne treatment among licensed estheticians. Get a taste for the success you can experience as a Certified Acne Expert—see you there!
If you are an ASCP member, you can check out this video in our On-Demand Video Library!
About the Presenter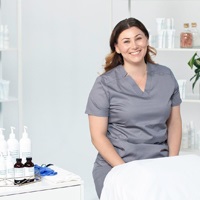 Alex Hernandez, a licensed esthetician since 2016, serves as the Clinic Manager and Lead Educator at the Face Reality Acne Clinic in San Leandro, CA. Alex has trained alongside Laura Cooksey, owner and co-founder of Face Reality Skincare, a nationally recognized acne expert with 28 years of experience in educating professionals on safe and effective acne treatment. Alex became a Face Reality Certified Acne Expert in 2018 through diligent, practical training and Laura's online course. Since then, Alex has worked with hundreds of acne clients and is a daily witness to the impeccable results achieved using Face Reality Skincare treatments and protocols.