Do you ever wonder how to choose the right chemical peel for your clients?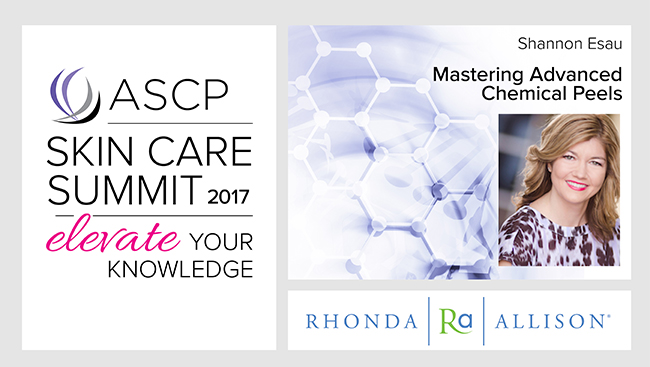 With all the acids on the market, it can be a difficult decision what to use, on who, and when. Along with variety of choices, there are also numerous ways to apply them. In this one-hour webinar during the ASCP Skin Care Summit on January 16, 2017, you will learn how to select the best acids for your clients from industry leader, Shannon Esau, the director of education for Rhonda Allison. Shannon will go over alpha hydroxy acids, beta hydroxy acid, flower acids and trichloracetic acid. You'll learn the fundamentals of each acid and how to achieve maximum results with each one.

Shannon Esau has worked in the esthetic industry for more than 15 years. After a career in software engineering, she became the owner and operator of three skin care salons in the Dallas/Fort Worth area, where she observed the importance of continuing education in achieving optimum results for her clients. Leading the way in developing instructional programs for Rhonda Allison in the late '90s, Shannon is now the national sales and education director for Rhonda Allison Clinical Enterprises, travelling nationally and guiding the advanced education initiative at the new Rhonda Allison Education Center in Golden, Colorado.
As an extra bonus, attendees of this course at the ASCP Skin Care Summit will receive an exclusive peel starter kit packed with acids and pre/post care products—at a hugely discounted rate!
For more information and to register for this free webinar and the rest of the ASCP Skin Care Summit, go to www.ascpskincare.com/summit. We'll see you on January 16, 2017!