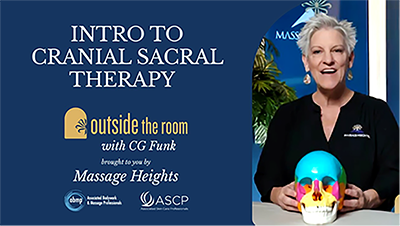 This article is sponsored by Massage Heights.
In the December 7, 2022, edition of Massage Heights' Outside The Room podcast, host CG Funk discusses the history of craniosacral therapy, explains the occipital base release on "Dana the Color Skull," and demonstrates the technique on a live in-studio guest.
ABMP is happy to support the mission of this podcast to build community and camaraderie in the profession. Can't get enough podcasts? Check out The ABMP Podcast at abmp.com/podcasts or subscribe to the podcast in the Apple Podcast Store, Google Podcasts, Spotify, YouTube, or wherever you access your favorite podcasts.