The skin care industry is as diversified as the estheticians who work within in it, and it's easy to find your niche. One esthetician may choose to focus their career on permanent makeup and scar camouflage while another skin care professional may choose to focus their solo business on sugaring or waxing and brow shaping. What all estheticians do have in common, however, is their thoughts on the "perfect client."
The perfect client shows up for their appointments on time, has realistic expectations, and has an appreciation for our professional recommendations. The perfect client is "trained" through our professionalism in the treatment room, our knowledge of the skin, and the experience we provide them.
1. Showing up on time
Clients need and love reminders. Most of them rely on it. If you have clients who are failing to arrive on time for appointments, look into a booking software system that will send automatic reminders via text or email. If this is not an option for you, make sure your front desk staff is properly trained and providing follow-up and reminder calls for all appointments. Another way you can be proactive is to offer old-school appointment reminder cards.
2. Set realistic expectations with your clients
Perform a thorough consultation and skin analysis on all clients. This gives you the opportunity to education your clients and discuss a treatment plan with thorough and honest expectations for meeting their skin care goals. It also establishes your credibility and solidifies your client/esthetician partnership.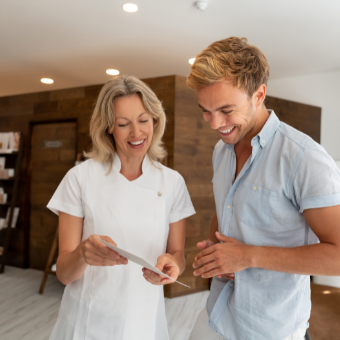 Your credibility can further be solidified with clients and prospective clients by sharing your knowledge of professional skin care in blogs, on social media posts, or by sending out a client newsletter. One of the biggest impacts we can have as a skin care professional is educating our client the moment they enter our treatment room. It all begins with the consultation and continues when the treatment ends, and ends as we recommend retail home care products.
3. Purchasing home care
We know retailing is a must for our clients to maintain fabulous results after they leave our spas. We understand the impact that retail products have on helping our clients continue to improve their skin between appointments, and yes, we get that it's an important portion of our income. Yet, some of us still aren't comfortable retailing. The key is to change your mindset from "selling" to recommending. You can raise both your clients' satisfaction and your profits while having fun at the same time .
Simply throwing out, "Do you need any products today?" does very little, if anything, to train clients to purchase home care from you. But when we educate and explain the why and how behind each product, it is no longer a sales pitch—it is prescribed home care to help your clients achieve their skin care goals.
How you conduct your business, speak to clients, and carry yourself in the treatment room directly affects how clients respond to you. If you want that perfect client, some training is necessary. Ideal clients can be gained through strategic marketing, but perfect clients are trained by our professionalism.
FAQs
How do I get my clients to pre-book?

Make pre-booking a habit with each client and have a script for offering choices for pre-booking the next appointment. This lets your client know you care about their skin health and how to maintain their skin care goals.
How long does it take to build a clientele as an esthetician?

As a new esthetician, building your client base can take 12 months or more. With the right marketing efforts, your perfect clientele can be built.
Why is it important to consult with my clients?

Client consultations are an important opportunity to discover indications, contraindications, and the skin care goals of your client. Over time, your clients' skin conditions and goals will also change. The consultation allows you to assess their goals and set a treatment plan to achieve those goals. It also is an opportunity to develop a rapport and establish trust between you and your client.
About ASCP
For more than a decade, Associated Skin Care Professionals has been the ONLY all-inclusive source for comprehensive professional liability insurance, education, and community for estheticians who want to thrive in their career. ASCP membership comes with countless benefits for skin care professionals, students, business owners, and everyone in between.