It's been more than two years since COVID-19 began its stranglehold on the world. And no doubt, it would be adding massive insult to injury if skin care industry leaders failed to learn lessons from a pandemic that has wreaked havoc across the globe. Our lives shifted and no one really knew what would happen next. Who could have imagined that we would be closing our businesses or rethinking the way we do everything—from interacting with our clients and selling retail to visiting with friends and family members and going about our daily lives.
The pandemic disrupted and challenged what we think is normal, comfortable, and possible. We need to use this example as a constant reminder to push our boundaries. It requires an intention and willingness to learn new skills, trends, and devices, and rethink obsolete technologies, methods, and philosophies. This can allow us to better innovate strategically in the good times and be more resilient in the face of challenges.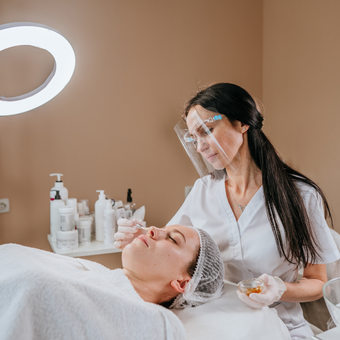 When salons, spas, and solo estheticians were able to reopen, some businesses set up shop outside, performing services under tents and umbrellas; others continued to offer virtual consultations and drop shipping. Businesses were thinking outside of the box and came up with new and intuitive ways to drive business. We quickly realized we were essential in so many ways; but we also had to be unique in the way we conducted business in the skin care industry. Our customers also expected more personalized care and a guaranteed sanitized environment. However, we may have had to say goodbye to that complimentary coffee and makeup touchup that make beauty appointments feel like a luxury. But perhaps the luxuries we once provided our clients is now a luxury of our clients knowing they are in a safe and clean environment.
Estheticians sharpened their approach, driving business with virtual consultations. This also meant new technology to accommodate the ever-changing world of COVID-19. In a world of human touch, we became touchless—forgoing magazines in waiting areas, clients were encouraged to bring in their own refreshments and reading materials or come with a charged smart device that contained entertaining apps and games. Some spas were even sending their clients a curated selection of online articles to read upon their arrival. In place of waiting rooms, many businesses asked that clients wait outside or in the comfort of their vehicle for a call or text to let them know their beauty professional was ready to see them. Electronic payment and cashless systems were also made available to our clients.
Post-pandemic sanitation practices are much more detailed and will remain in place for the foreseeable future. These practices include disinfecting surfaces, products, and tools thoroughly after each client; washing hands before and after services; limiting the number of shared materials such as pens and clipboards; and implementing sanitation stations throughout the spa. Another pandemic trend that will continue to be an industry standard is PPE, like masks, gloves, and face shields, that will keep both the esthetician and client safe and reduce any potential spread. Some businesses may also choose to continue requesting clients to do their part by wearing masks.
Another shift in the esthetics industry is some new post-COVID trends. Skinimalism, microdosing, and slugging, as well as retails trends that have changed as many salons and spas are now offering their professional products for sale through drop shipping.
While we can't say for sure if these changes will be permanent, one thing is for certain: The beauty industry is seeing a huge surge in sales following the pandemic. This "post-pandemic beauty boom" is the result of thousands of consumers spending big bucks on self-care and grooming products, and we can anticipate this continuing for the foreseeable future.
To stay up to date on the latest rules, regulations and back to practice for more information.