The global provider of premium health and wellness uniforms introduces discrete protective face shields for close contact treatments.
Noel Asmar Uniforms, a global designer of premium uniforms, continues its thoughtful design-sensitive approach toward Personal Protective Equipment with the launch of stylish new face shields and eye frames.
"Aestheticians and medi-service providers are heading back to work to provide facials and other close-contact treatments," said founder Noel Asmar. "Many were asking us what they could do to enhance their own safety from exposure—especially since their clients often can't wear a mask during their treatment."
"Shields and visors are important but the imposing ones are yet another barrier impacting the personal, peaceful spa experience," continued Asmar. "We saw a need to introduce a stylish, discrete face shield that looks and feels friendlier while protecting the wearer against liquid splashes."
Asmar's recently launched solution elevates confidence and professionalism through:
Translucent Eye Frames. Lightweight, discrete, comfortable frames minimize the impersonal nature of protective gear
Reusable Face Shield. The removable polyester PET shield is low distorting and optically clear
Wraparound Design. The thoughtful shield design provides optimal coverage and peripheral vision
Headband-Free System. The frames & shield system eliminates any challenges with hair, head coverings, or skin sensitivities
Eyeglasses & Mask Compatibility. The lightweight frames rest easily over your own prescription eyeglasses and face mask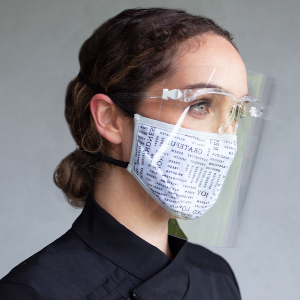 Each kit is priced at $10 USD for a set of frames and two shields, making this unforeseen cost as affordable as possible. The extra shield enables one to be worn while the other is sanitized in between treatments.
Beyond the design of face shields, face masks, and other safety uniform pieces, Asmar recognizes the need for caution and guidance. "Face shields, masks, and other PPE can help limit exposure but they're the last line of defense," says Asmar. "They're part of the new Standard Operating Procedures which are being guided by one value above all else: the health and wellness of our people."
For guidance in buying PPE or help in rolling out face shields and masks across multiple properties please visit their website or contact info@noelasmar.com.
DISCLAIMER: The product described in this article has not been cleared for medical use by the U.S. Food and Drug Administration. It is not recommended for use in settings with high infection risk levels. Personal Protective Equipment (PPE) including face masks and face shields are secondary measures of protection against hazardous liquids and airborne pathogens. While PPE can be effective at preventing exposure to certain particulates, use of these products alone will not prevent infection from microbes or viruses. They are to be considered the last line of defense.
Exclusive Discount Benefits for ASCP Members
ASCP members receive a 5% discount on Noel Asmar Uniforms elegant, stylish face shields.
To learn how to access your new, exclusive discount benefits, click the link here!