posted on: September 18, 2023
Join Associated Skin Care Professionals (ASCP) for the 9th annual FREE education summit Monday, October 16th, 2023. Tune in this Fall to learn about pro-aging with sessions focused on topical aging treatments, pro-aging ingredients, the skin's microbiome, and more! 
Pro-Aging with Passion Fruit and Peptides
Featuring Tina Buckley, LE and Lead Educator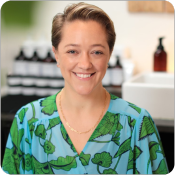 Tina Buckley, esthetician, lead educator, and product development specialist, has always loved skin care. She was the girl who woke up early to do her skin care routine all through elementary and high school. Inspired by her mother, Tina is committed to self-care with a holistic approach. In 2010, Tina was selected from the Southwest Institute of Natural Aesthetics to begin her journey in professional skin care and well-being. She then mastered full-body massage, reiki, and esthetics and became an educator in these modalities. Tina's extensive product and ingredient knowledge sets her apart from other beauty and wellness specialists. Complete immersion in the product for Tina includes intimate connection with performance and functional elements, as well as how it interacts with and enhances others. Living her motto of "good for the skin and good for the spirit," Tina measures her success by making a connection with and impact on anyone who comes within her reach. Achievement to Tina means uplifting and empowering other professionals to continue bringing their gifts into the world.