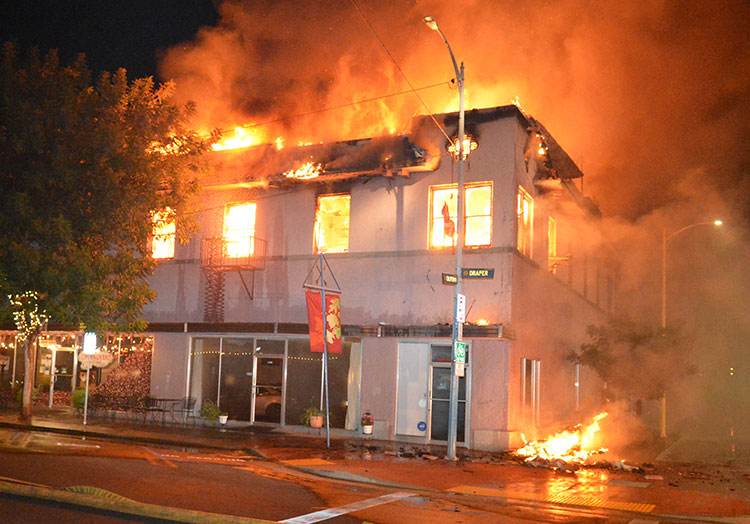 Kimmi White and her daughter Melissa poured their energies into attending esthetics school together and opening White Lily Day Spa in a Kingsburg, California, historic building. But just two years after the spa opened, a fire started on the abandoned second floor, destroying the building and threatening their dream.
"I was just devastated," White says. She woke to texts in the middle of the night telling her about the fire. "We lost everything because of fire, smoke, and water damage. It was so bad they had to stop investigating the fire because it was too dangerous. The walls were teetering."
White knew she had to start over. Luckily, she had receipts for the major items lost. Three days after the fire, she filed her incident report. She had $10,000 worth of Business Personal Property (BPP) contents coverage from ASCP and used it to replace a steamer, two spray tanning devices, and two beds destroyed due to smoke and flood damage. In less than 90 days, the claim was settled and she had a check in hand, minus the policy's $250 deductible.
"The whole process didn't take very long at all," White says. "Everyone there was really, really great."
ASCP Support
Taking calls from members in need, like White, keeps ASCP Risk Management Manager Debbie Higdon on her toes.
"We're a liaison between ASCP and the insurance company. We're the first point of contact when our member has a claim," Higdon explains. "We help walk them through the process so they can get all the paperwork in. We answer any questions they have about the process and what's going to happen along the way."
Most claims for ASCP members involve miscellaneous theft and building fires, Higdon says. She cites a litany of incidents that include fires and associated smoke damage, and pipes breaking and flooding an office space, both of which can shut down a practice for an indefinite amount of time.
"The toughest call is talking to a member who thinks they have the coverage and they don't," Higdon says. "They just assume it's part of their liability policy, but it's not." The additional coverage is either $95 a year for $10,000 in property coverage, or $250 a year for $25,000 in coverage. "We equate this BPP coverage to renter's insurance where they need a policy that covers their contents."
She says the BPP add-on to ASCP membership is particularly important and sought after because of the price of esthetic equipment. Talking shop with Higdon brings a real awakening about the kinds of catastrophes that can—and do—happen. But after 24 years with ASCP, problem-solving is second nature to her.
"I know it's upsetting when you have a claim," Higdon says. "You want to know you have somebody to support you and help you start the claims process. And that's what we're here for."
After going through her ordeal, White is an ASCP devotee now. "ASCP is an amazing association with amazing insurance and I wouldn't go with anybody else. I especially love getting the magazine! It's so helpful and useful. But you have to have insurance!"
Hearing rave reviews like White's is a source of pride for Higdon. "I enjoy the satisfaction of knowing I helped somebody through a really difficult situation."
Stronger Now
White Lily Day Spa opened in a new location about six months after the fire. Looking back, White calls the fire "a blessing." "There was a plus to this negative," she says, because her business is thriving and she even has four women working there now.
"In this new place, I made every person purchase their own insurance," she says. "If you have renters, do yourself a favor and make them responsible for their things." She tells others about her experience and says, "Don't ever give up hope. You can make it through this. But be responsible. You must have insurance."
Set Yourself Up for Success
ASCP Business Personal Property Insurance Contents Coverage for Your Business
—Leslie A. Young, PhD, ASCP's Vice President of Communication and Professional Outreach