Q&A with Cherissa Bonaparte
Q. How did you first become interested in skin care?
A. Back in 2016, I was diagnosed with hypothyroidism (low levels of the thyroid hormone), which caused several symptoms . . . including skin irritations that could be uncomfortable and embarrassing. Hypothyroidism causes dry skin, but other skin changes can be seen at times, such as dull and coarse skin.
In 2018, I had to have a thyroidectomy to remove my thyroid completely; I was horrified and worried how my physical appearance would change with no active thyroid gland. My skin became dry and flaky, and I was experiencing the appearance of gray and dull skin. No matter what moisturizer or serums I used, my skin would not absorb it. I became frustrated and decided to do something about it.
Q. What was the genesis of Komi Skincare?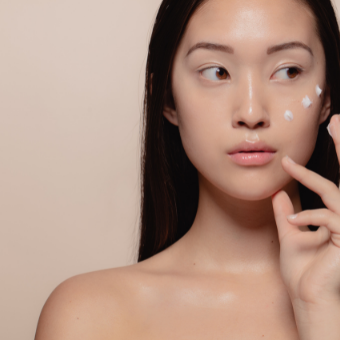 A. I specialize in helping men and women rejuvenate their skin, giving them the freedom to bare it all and take back control of their self-care. Komi Skincare has gained a cult following among its consumers, retailers, celebrities, and industry professionals alike.
When dealing with my own dry skin, nothing on the market was helping me. I worked with an in-house chemist who leveraged science, expertise, and nature to deliver the most potent formulations in the skin care and beauty industry.
Q. What should estheticians know about your products?
A. All of our products are made in-house by our chemists using high-end ingredients, both domestic and imported. Your customers will instantly see powerful, long-lasting results, with nonstop hydration for quenched skin, smoothing dull skin. Our products renew tired skin with long-lasting effects, leaving the face feeling smooth and nourished, while also improving the appearance of skin elasticity.
Komi Skincare's innovative formulas are made using premium luxurious ingredients, including aloe vera, chamomile, lavender oil, peony flower, bergamot oil, rose hip oil, hyaluronic acid, citrus stem cells, argan oil, retinyl palmitate, green tea, and vitamins A, B3, B5, C, and E, to name a few.
We are proud to be a company that provides cruelty-free essential skin care solutions; we do not test on animals. Our products are all vegan, paraben free, sulfate free, silicone free, gluten free, talc free, carcinogen free, and eco-friendly for all skin types.
Q. What type of education of protocols do you provide estheticians?
A. With every purchase of our products, estheticians will get inserts that explain the benefits and protocols on how to use the products with their clients.
Q. What characteristics make an effective leader?
A. The characteristics of an effective leader to me are being authentic, honest, and sincere; finding your own voice; and not being someone you're not. Always let who you are, where you come from, and what you value come through. Always show gratitude and be thankful to your team who helped you get to where you're at. This is pivotal. My favorite quote is, "Teamwork makes the dream work!"