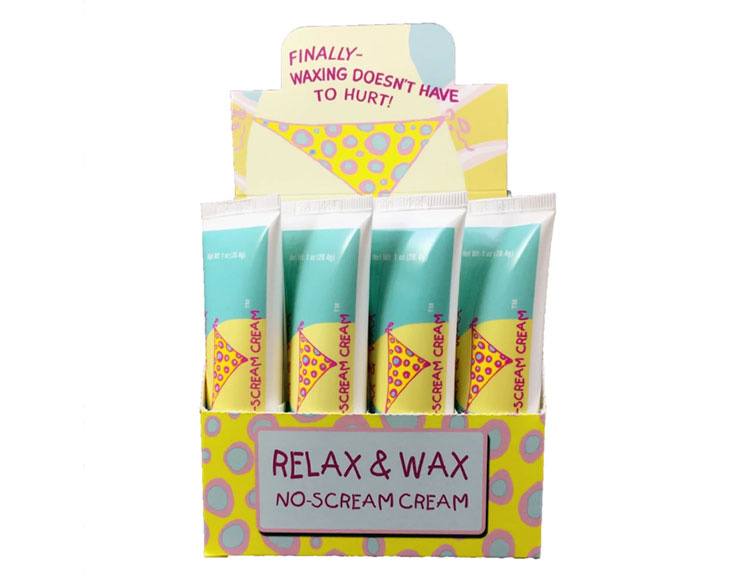 Q: What was the genesis of Relax & Wax?
A: Brazilian bikini waxing started becoming really popular, and there was nothing on the market to help with the discomfort. So, I created No Scream Cream, a 20% benzocaine—the strongest numbing cream allowed by the FDA. We launched our wax line six years ago to rave reviews, starting with one product to a full line of award-winning pre- and post-waxing products.
Q: What should estheticians know about Relax & Wax products?
A: As a working esthetician, I know how important it is to keep your costs down. We are a family-run business and we do not use distributors, as that type of business model would more than double the cost of our products. Instead, we pass that savings on to our customers. I started a Facebook group, The Waxing Mentors, and we have 23,000 members who love to help new or struggling estheticians. I offer free videos to members, as well as online video training that includes step-by-step directions for every body part. I never edit my videos—viewers get to see how I deal with any problems that arise. All of our products are originals and created by an esthetician—me. My goal is to help estheticians succeed with training and products to make their job easier and more profitable.
Q: Why do you think bikini and Brazilian waxing is so popular?
A: It's the way it makes you feel. You have a secret and can't help but feel sexy.
Q: What are your favorite products for intimate waxing?
A: Everything in our line is created to work together. Our hard wax consists of three natural ingredients: colophonium rosin (the most highly refined rosin), vegetable oil, and microcrystalline. When you prep the skin with our tea tree oil, the wax will only adhere to the hair, not the skin. Our Pearl Rose soft wax will remove every type of hair. Our cream wax contains microcrystalline and is designed for sensitive skin. Combined with No Scream Cream, it's the gentlest hair removal system out there. One of my favorite products is our Peach Treat-ment Kit, which is great for vajacials and acne. I added a 150-year-old homeopathic ingredient that literally pulls ingrown hairs to the surface. And then there's Hair Did it Go? Hair Retarding Enzyme Serum, a backbar treatment that will give the same results as laser treatments. Your cost per treatment is $5 and is sold as an add-on service to your waxing clients ranging between $15–$25. Our products are unique. They will make your business stand out.
Q: What do you believe are the characteristics of a good leader?
A: The ability to listen. The willingness to change your mind when presented with a new idea. Giving your employees the opportunity to grow.