Q&A with Mark Lees
Q. What was the genesis of Mark Lees Skin Care?
A. After completing college with concentrations in animal science and theater, I went to cosmetology school to pursue a professional career in theater and television makeup. During school, I attended a CIDESCO congress in New York City where I met skin care guru Christine Valmy and became immediately enamored with professional skin care. I signed up for a program at her school, and after finishing and completing my licensing, I started my skin care practice at a Florida salon. My science background fueled my passion for learning more about skin and cosmetic science, and I opened a private practice about two years later. I enrolled in graduate school in health, concentrating my studies in skin and cosmetic sciences, and in five years (of night school!), I completed my master's and PhD in health and health sciences. I built a "real" skin care salon and have been in practice ever since!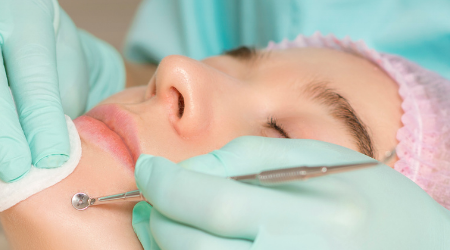 Q. What compelled you to create your own product line?
A. I found out soon after opening my practice that I was primarily treating "problem" skin. I kept seeing very clogged and acne-prone adult clients who had aging issues but were also clog-prone and acne-prone. I first pursued developing a product system that would help with aging and dehydrated skin but was carefully designed not to clog the skin and worsen acne-prone skin. I began developing noncomedogenic spreading agents that could provide good performance ingredients without the clogging fats that were in the spreading agents of many skin care and makeup products. The result was the beginning of the Mark Lees line.
With the help of my late friend and skin care icon Erica Miller, I began distributing the line and teaching across the US. I continued development, and now the line has specialty systems for acne-prone, clogged/congested skin; aging and sun-damaged skin; and sensitive, redness-prone skin—all science-based, independently dermatologist-tested, user-friendly, and practical, and with many case studies to document results!
Q. Your name is synonymous with professional skin care. What keeps you excited about this industry?
A. The evolution of new and amazing high-tech ingredients—I am constantly finding new ways to apply science for more specific treatments. I am also passionate about helping clients (consumers and estheticians) understand how to treat their skin for real results. I love to write (I have three books currently) and have contributed to many other texts in both skin care and medicine.
Q. What advice do you have for new estheticians?
A. Work for an experienced skin care professional for at least two years before venturing out on your own. Also, take all the classes you can and make an effort to attend at least one good skin care conference every year!
Q. How do you define an effective leader?
A. A good leader listens to others, is well-organized and current, and thinks things out before acting.