Q. Tell us about the position you hold with Fearless Beauties.
A. I am the social media coordinator. My job is to bring the Fearless Beauties' mission, "Treating Skin of Color with Confidence," to life through our social media platforms, our website, and as the co-host of the Fearless Beauties podcast.
Q. How does your background in psychology support the Fearless Beauties' mission?
A. "Treating Skin of Color with Confidence" includes embracing diversity and challenging inclusivity in the beauty industry. My background in psychology has taught me to never perform generalized mental health treatments, just like an esthetician should never perform generalized skin treatments. It's all about recognizing and respecting the individuality of our clients and treating them accordingly, whether it's their mind or their skin.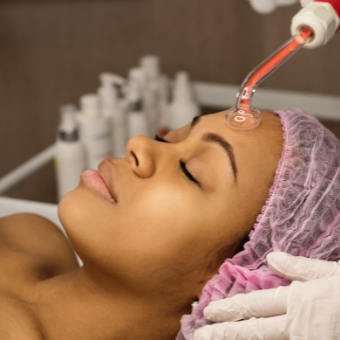 Q. The Fearless Beauties' message is focused around stronger education on treating skin of color and the LGBTQ+ community. Can you tell us a little about that?
A. The reason why the LGBTQ+ community experiences so many stressors that go untreated is because their doctors, therapists, estheticians, etc. have not received comprehensive education and have pre-existing biases that affect their professional diagnoses. It's so important to hold yourself accountable for getting the education to treat skin of color and building trusting relationships with your Black and Brown clients. It's more than just performing generic treatments—it's really learning who your client is and what they need.
Q. What can an esthetician, spa, or salon do to promote diversity and greater inclusivity?
A. In the world of social media, I think it would be beneficial to highlight entrepreneurs of color on your social media platforms. This is one of Fearless Beauties' missions: to increase the visibility of men and women of color and share their insights into success in the esthetic industry. I think it is important to give these entrepreneurs a platform to showcase their talents; this could help estheticians in training who may be hesitant in an industry where they are the minority. I also think it is important to reflect on others' adversities (especially people of color), check your subtle discriminations, and as I mentioned, help our young Black and Brown men and women see people who look like them being marketed.
Q. Any predictions about skin care in 2022?
A. I predict there will be a normalization of seeing men and women of color being highlighted in the beauty industry. I think past generations were confused about how to protect and treat skin of color, but those days are over. Now, when treating Black and Brown skin, there will be more confidence because the bridge of inclusivity is slowly being built.

Q. What's new for Fearless Beauties?
A. We are working on the second season of the Fearless Beauties podcast! We have some juicy topics that Mary Nielsen and I will be discussing, and I cannot wait for you all to hear it!