Founded in 1998 by cosmetic physician Dr. Geoffrey Heber, Ultraceuticals is a cosmeceutical brand with an Australian heritage and purpose to empower everyone via real skin care. It was created out of a passion for innovation and the desire to produce effective skin care with proven results for consumers while supporting estheticians to deliver the highest level of care.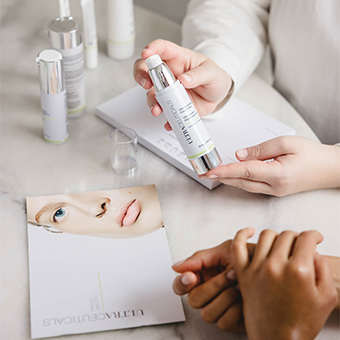 After decades of setting the bar in the professional skin care industry in Australia, Ultraceuticals has officially launched in the United States. Here, Tracey Beeby, global education ambassador for Ultraceuticals, shares more about the brand's unique approach to education, product development, and ingredient formulations.
Q. Can you share more about Ultraceuticals products and the skin care concerns they address?
The professional-grade products and in-clinic treatments address key skin concerns, including acne, fine lines and wrinkles, surface discoloration, and uneven skin. We use optimal levels of active ingredients and combine them with stabilization technology to capture and deliver potent ingredients to the deepest layers of the skin. All formulations are developed in-house and owned exclusively by Ultraceuticals, which means no other brand has them.
What's more, Ultraceuticals products are not tested on animals; their fragrance is created with natural aromas extracted from plants; their ingredients are obtained from sustainable resources; and they're formulated without propylene glycol and parabens.
Q. What is the brand's philosophy on scientific ingredient formulations?
Dr. Heber leads an in-house team of highly skilled PhD chemists dedicated to creating potent and effective formulations that are consumer-tested and shown to deliver visible results. Using a combination of sophisticated, patented delivery systems and potent antiaging ingredients like vitamin A, vitamin C, and AHAs, Ultraceuticals products help reveal a healthier, firmer, and more radiant complexion.
Q. How does Ultraceuticals conduct consumer panel testing?
The Ultraceuticals internal research and development (R&D) laboratory opened in Australia in 2004. Developing a brand that does not test on animals is very important to us, and that includes our salon, spa, and medi-spa partners as well as their customers.
Ultraceuticals tests for efficacy as well as product attributes, such as product texture and aroma. During the clinical trials, if the formulation doesn't meet our rigorous standards and visible results aren't achieved within 30 days, we perform further R&D. Additionally, we work in collaboration with external agencies and laboratories to perform dermatological testing for all new formulations and ophthalmological testing for products used near the eyes.
Our in-house R&D formulating and consumer testing are critical for us to create highly effective products with appealing consumer characteristics while also obtaining quick and direct feedback from our consumers so we can make necessary changes.
Q. If you had to sum up the brand in three words, what would it be?
Proven, personal, and powerful. With our strong commitment to the professional skin care industry, powerful scientific ingredient formulations, exceptional panel testing, and personalized product treatment plans, Ultraceuticals is a brand that spas and their clients can feel confident using. Our philosophy is a progressive rather than aggressive approach to a consumer's skin journey, offering formulations that are results-driven without ever compromising quality or skin health.
To learn more about Ultraceuticals, visit www.ultraceuticals.com/us.