Retinol & Acne
Sponsored by: Face Reality
Vitamin A has been a common ingredient used in the treatment of acne dating back to the 1960s when Dr. James E. Fulton Jr. co-founded Retin A® with Dr. Albert Kligman. Retinol is derived from vitamin A and is converted into retinoic acid for use in skin care. The co-founder of Face Reality Skincare, Laura Cooksey, was so deeply inspired by Dr. Fulton's philosophy that she implemented retinols, specifically vitamin A serums, into her acne treatment model. Fast forward to 2021, we have learned an immense amount about the treatment of acne, and we are still using retinols to do just that. Retinols have remained the skin care industry's secret weapon against aging and acne, and there are tons of incredible topical retinol products available that cater to various skin types and concerns.
Retinols help treat acne by penetrating deep past the epidermis into the dermis to neutralize free radicals and signal collagen production. This is usually where the focus is placed for antiaging, but the signal for collagen formation is just as important for acne as it is for antiaging. Acne-prone skin is also subject to wounds and irritation, which collagen assists with repairing. Retinol fights acne by generating comedolytic agents to impede the formation of comedones. As an acne-focused company, we have developed topical retinols that are formulated specifically for acne-prone skin. Face Reality offers two different retinol options: Vitamin A Corrective and Vitamin A Corrective II. Vitamin A Corrective is a high-performance retinal serum that contains microencapsulated retinaldehyde, the least irritating form of retinol. Vitamin A Corrective II uses microencapsulated technology to deliver a higher potency retinol (.55%) over time via controlled release, enhancing efficacy and minimizing irritation.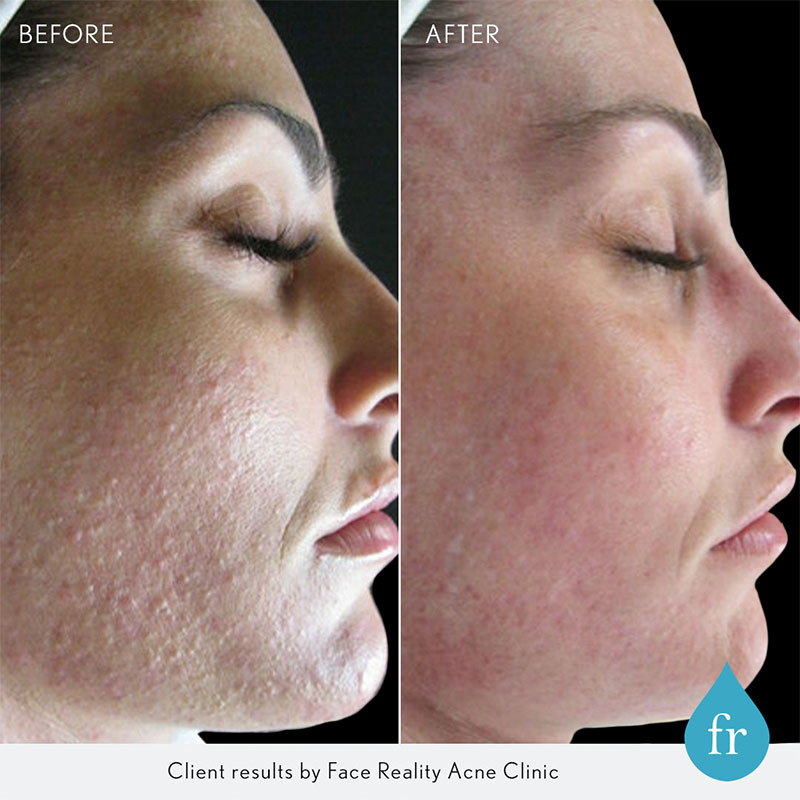 When introducing new acids or layering acids in a skin care routine, we must ensure there is balance to keep our clients' skin healthy and improving. Face Reality's customized routines need to be based on acne type, skin type, acne severity, Fitzpatrick rating, etc. When adding one of these serums to a client's routine, it is important to take an adaptive approach. Adding a topical retinol too quickly into a client's routine may result in dryness, irritation, and increased inflammation. To keep the skin healthy, providing adequate amounts of hydration and moisture as well as applying and reapplying sun protection is a must when using topical retinols. If your clients are also using a benzoyl peroxide product, they will need to wait 15 minutes after applying their topical retinol to apply the benzoyl peroxide.
While these serums have amazing benefits, they are not for treating all acne types. Retinols are ideal for stubborn noninflamed acne that has not been completely cleared by ingredients like l-mandelic acid, salicylic acid, or glycolic acid alone. In extreme cases, such as maturation arrest acne, retinols can be layered over a glycolic serum to provide more aggressive exfoliation to tackle those difficult-to-extract lesions. In addition to treating noninflamed acne, topical retinols are an excellent option for clients who have maintained clear skin for a considerable amount of time and now want to focus on hyperpigmentation, texture, wrinkles, etc. With the use of retinols, we can target two of the biggest skin concerns—acne and antiaging—with one powerhouse ingredient.