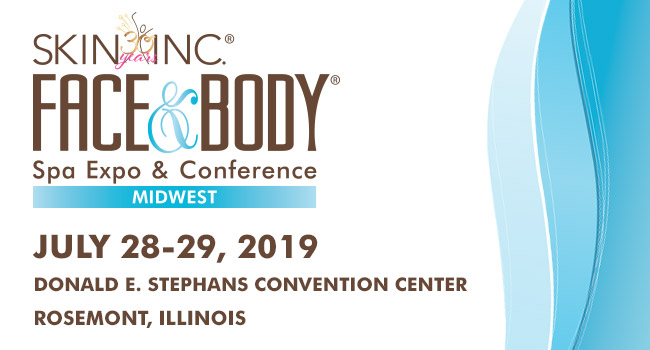 As the celebration of Skin Inc.'s 30th Anniversary sadly draws to a close, it provides the perfect opportunity to reflect upon the saying "all good things must come to an end." It's true that you can't make good things last forever, but you can follow up each good thing on your schedule with another good thing. Then, you've essentially accomplished the same thing, right? That is exactly what we are encouraging you to do by checking out Face & Body Midwest and Northern California!
It's summer, the weather is beautiful, and it's time for the biggest Face & Body shows of the year. With huge crowds of great attendees, tradeshow floors with amazing vendors, and a bevy of fantastic educators ready to broaden your minds, there is so much to look forward to this year. Once again, Face & Body will be bringing free motivational keynotes to all registered attendees, in addition to spa pods to allow attendees to customize their education. Whether you just want to improve your business, or you want to improve your science knowledge, Face & Body has the right education for you that fits your budget.
Can't make it this year, or feeling some post-trade-show blues after two jam-packed days of shopping, networking, and education? Just remember that Face & Body will be back next year, with the Southeast show right around the corner!
To register for Face & Body Midwest, July 28-29, 2019, visit midwest.faceandbody.com.
To register for Face & Body Northern California, August 25-26, 2019, visit northerncal.faceandbody.com.

ATTENTION ASCP MEMBERS:
For a limited time only, ASCP Members pay only $15 for Expo Hall Registration and receive $25 off advanced education conference registration! View your discount codes here.